Following the leaks about AMD Ryzen 9 7945X3D, AMD has announced the first X3D mobile processor, which it claims is the fastest notebook processor for gaming. The 7945X3D is a 16-core/32-thread processor that leverages AMD 3D Vertical Cache technology.
It stacks 64 MB of cache memory on top of one of the processor's two "Zen 4" CCDs, giving it a total of 96 MB of last-level cache. The second CCD has 32 MB of L3 cache, for a total of 128 MB of L3 cache.
The Ryzen 9 7945X3D is based on the "Dragon Range" multi-chip module, which is a mobile-optimized version of the desktop "Raphael" MCM. The processor features a maximum boost frequency of 5.40 GHz and supports dual-channel DDR5 memory. It also has a 28-lane PCI-Express Gen 5.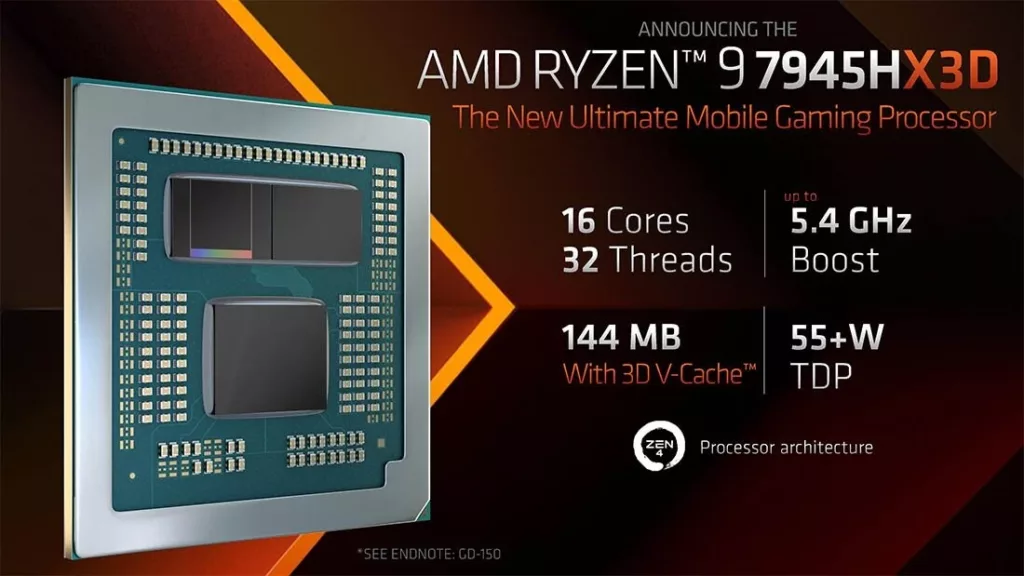 AMD claims that the Ryzen 9 7945X3D is on average 15% faster at gaming than its current flagship processor, the 16-core Ryzen 9 7945HX. This should mean that the processor is faster than the Intel Core i9-13980HX, which is currently the fastest notebook processor on the market. AMD also claims that it has achieved leadership gaming performance at 55W+.
It is able to reach a maximum boost frequency of 5.40 GHz, despite its power-constrained form factor. This is achieved by using two 5 nm EUV CCDs, as well as a 6 nm L3D die and cIOD die. The use of these different nodes allows the processor to achieve a balance of performance and power efficiency.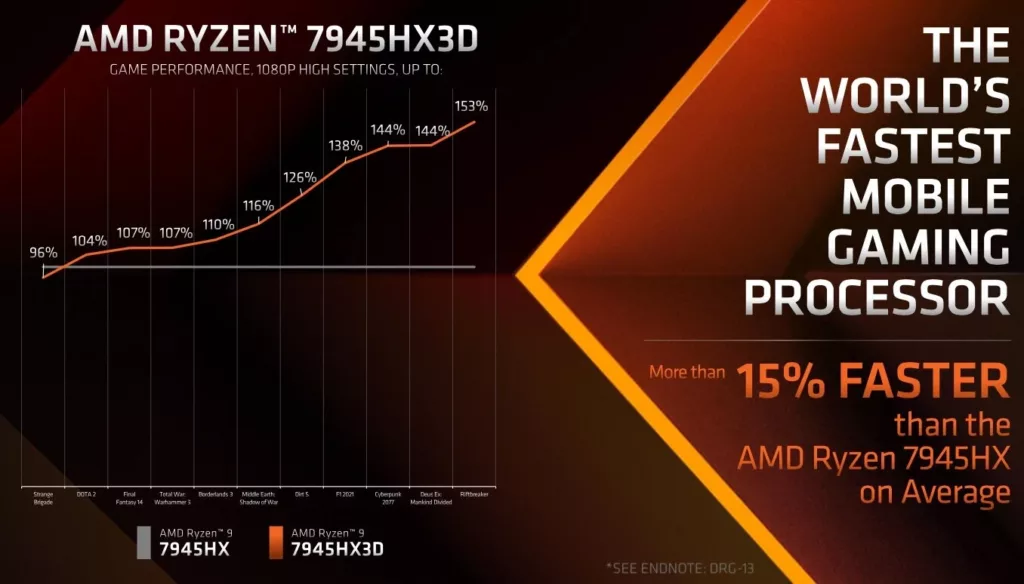 In addition to its gaming performance, the Ryzen 9 7945X3D is also a capable productivity processor. It can handle demanding tasks such as video editing and 3D rendering with ease.
Overall, the Ryzen 9 7945X3D is a powerful mobile processor that offers excellent gaming performance and productivity capabilities. It is the first processor to use AMD 3D Vertical Cache technology, and it is sure to set a new standard for mobile gaming performance.
Here are some additional details about the Ryzen 9 7945X3D:
It is built on the 5 nm EUV foundry node.
It has a TDP of 55 W+.
It supports PCIe 5.0.
It has a total of 128 MB of L3 cache.
It is compatible with DDR5 memory.
The first notebook to debut the AMD Ryzen 9 7945X3D is the ASUS ROG Strix SCAR 17 X3D, which goes on sale on August 22, 2023. The starting price for the notebook is $2,499.
The Ryzen 9 7945X3D is a significant step forward for mobile processors. It offers improved gaming performance, productivity capabilities, and overall performance. It is sure to be a popular choice for gamers and other demanding users.