Thanks to the tipsters, reports about ASUS's upcoming high-end laptop might be coming with AMD Ryzen 3D V-cache processor. It appears that ASUS is gearing up to introduce a new addition to their ROG Strix lineup, specifically the SCAR 17-inch model (G733PYV-LL046W), which is rumored to come equipped with a powerful and unannounced AMD processor.
The ROG Strix SCAR 17-inch model (G733PYV-LL046W), is rumored to be powered by the Ryzen 9 7945HX3D APU, which is the first laptop processor to feature 3D V-Cache technology.
The Ryzen 9 7945HX3D APU is a 16-core/32-thread processor with a maximum boost clock of 5.4 GHz. It also has a configurable TDP of between 55-75 W and a Radeon 610M iGPU.
The Ryzen 9 7945HX3D APU is based on the Zen 4 architecture and features 128 MB of 3D V-Cache. This technology allows the processor to store more data in its L3 cache, which can improve performance in some applications.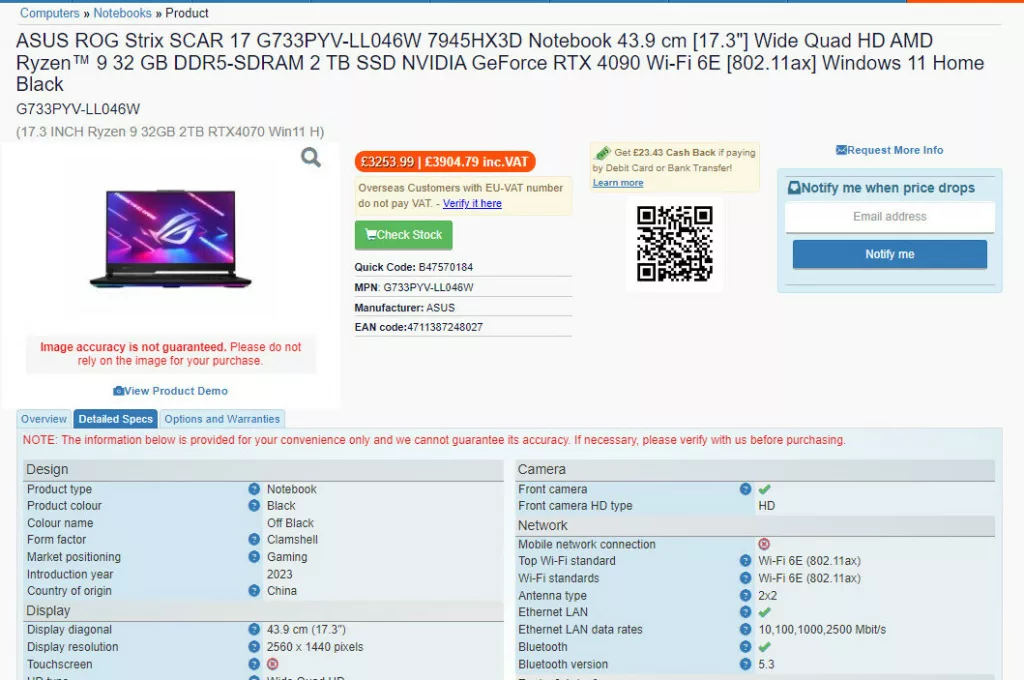 The ROG Strix SCAR 17 laptop is also packed with other high-end hardware, including a mobile NVIDIA RTX 4090 GPU, 32 GB of DDR5 memory, a 2 TB SSD, and a 17.3″ 240 Hz IPS display.
The ROG Strix SCAR 17 laptop is designed for gamers and creative professionals. It features a slim and lightweight design, and it has a number of features that are designed to improve performance and comfort, such as a vapor chamber cooling system and a per-key RGB keyboard.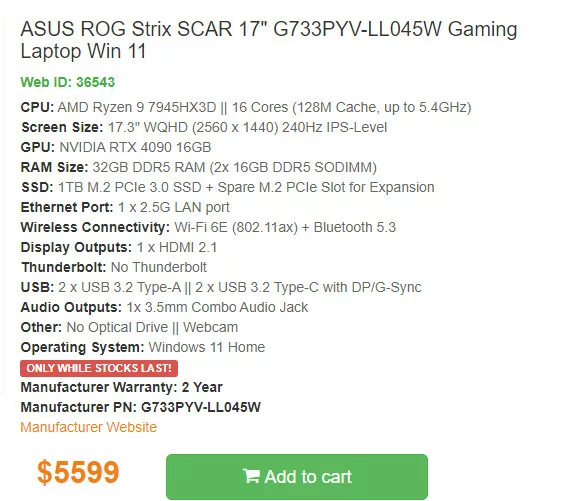 The laptop is expected to be priced at around $3,800 AUD (~$5,000 USD). While there is no information yet on when the laptop will be available for purchase, a screenshot shared on Weibo shows the laptop's specifications and a retail listing for a laptop confirms that this laptop is a true product waiting to be officially released.