On Monday, Axis Bank launched a co-branded cashback credit card with Samsung's Indian division. Users will earn 10% cash back on Samsung devices in addition to current discounts on equated monthly installments (EMI) and non-EMI purchases, the bank announced in a press statement.
According to a senior executive, Samsung Electronics (005930. KS) aims to increase customer retention from its 175 million Indian customers through a new cashback credit card to increase sales in the crucial market it once dominated. The introduction takes place in conjunction with ongoing holiday deals at major e-commerce sites like Flipkart, Amazon, and Snapdeal, where electronic products are offered at steep discounts. The Big Billion Days sale on Flipkart began on September 23 and runs through September 30.
"At Samsung, we believe in transforming the lives of our consumers through the power of innovation. The Samsung Axis Bank Credit Card, powered by Visa, is our next big India-specific innovation that will change the way our customers buy Samsung products and spend on services through a series of industry-leading features. We're excited to be able to put the control into our consumers' hands," stated Ken Kang, President, and CEO, of Samsung South-West Asia.
Benefits of the credit card.
Every time a customer uses their Samsung Axis Bank Credit Card to purchase goods and services from Samsung, they are eligible for rewards. When consumers buy products like smartphones, tablets, laptops, televisions, refrigerators, air conditioners, washing machines, or Samsung services like Service Center payments, Samsung Care+ mobile protection plans, and extended warranties, they will receive 10% cashback.
The 10% cashback will be valid at authorized Samsung Service Centers as well as online on Samsung.com, Samsung Shop App, and Flipkart, as well as offline channels selling Samsung items through Pine Labs and Benow payment interfaces. The Samsung Axis Bank Credit Card's 10% cashback benefit will be available all year long, which will heighten the anticipation.
The two options available to customers are Visa Signature and Visa Infinite. With a monthly cashback cap of 2,500 on the Signature version, users can receive up to 10,000 cashback yearly. With the Infinite option, cardholders can receive up to 20,000 in rewards per year with a 5,000 cashback cap every month. Due to the lack of a minimum transaction amount, users can receive 10% cashback on even the smallest Samsung purchases. Additionally, purchases made outside of the Samsung Ecosystem will earn cardholders Edge Reward Points.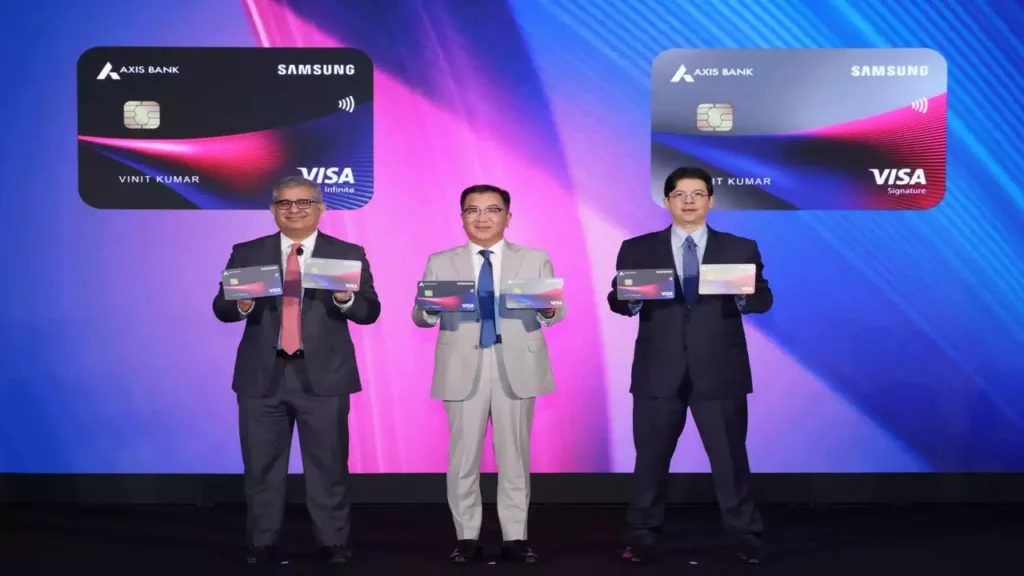 Through this co-branded credit card, in partnership with Samsung India and Visa, we are reiterating our commitment to drive access to formal credit in India, tapping the wide reach of Samsung India that extends beyond "Tier 1 cities and aids our objective of card penetration into Tier 2 & 3 cities," Amitabh Chaudhry, managing director and CEO of Axis Bank, said.
Additionally, the Samsung Axis Bank Credit Card enables free access to airport lounges, a remission of fuel surcharges, meal discounts, and access to a variety of incentives from Axis Bank and Visa. For the Signature variant, the annual charge is 500 plus taxes, while the Infinite variant's annual fee is 5,000 plus taxes. Both options include the welcome bonus of Edge Reward points, that users receive after completing the first three card-related purchases. As a one-time welcome benefit, Signature variant cardholders will receive 2,500 points worth 500 and Infinite variant cardholders will receive 30,000 points worth 6,000.
To provide cardholders extra incentives on their daily purchases, Samsung India and Axis Bank have partnered with major retailers including Bigbasket, Myntra, Tata 1mg, Urban Company, and Zomato.
"The card complies with all current RBI regulations and standards, including those relating to tokenization. We are among the first, along with Samsung, to harbor mistrust for the consumer electronics and technology sectors, which are vulnerable to disruption " said President and Director of Cards and Payments at Axis Bank, Sanjeev Moghe.
Samsung claims to be the leading consumer electronics company in India and sells everything from cellphones to washing machines there. However, smartphones accounted for roughly 72% of its $9.3 billion in total India revenue in 2020–21. Samsung's decision to offer cashback to customers through its new card arrangement comes after it lost smartphone market share over time to Chinese rivals like Xiaomi, Oppo, and Vivo, who provide numerous affordable handsets in the second-largest mobile market in the world.