Last Updated on September 18, 2023 by Team Yantra
RTX 4060Ti was announced on May 18 with two variants, 8GB and 16GB. The price for 8GB is ₹41,000 ($399) and ₹51,500 ($499) for the 16GB variant. As per multiple reports, the performance is expected to be on the level of RTX 3070 which isn't that great.
According to leaked 3DMark performance as collated by Videocardz, compares the RTX 4060Ti with RTX 3060Ti and AMD Radeon 7600. This clearly shows RTX 4060Ti to be 10-12% faster than RTX 3060Ti.

These benchmarks do not truly reflect the gaming performance, it gives a rough estimate of performance. However, XRIG, a custom PC builder in India put out a post showcasing their upcoming PC build with RTX 4060Ti 8GB.
The GPU used in their PC is the Zotac Twin Edge OC, Spiderman Spiderverse special edition. Paired with Ryzen 7600X and 32GB 6000MHz RAM, it shows performance in several games like Cyberpunk 2077, Shadow of Tomb Raider, Death Stranding, AC: Valhalla and more.
Also check: Best PC build with RTX 4070 (under 1.5 lakh)
Taking a 13-game average at 1440p resolution and high-quality settings, the RTX 4060Ti 8GB performs the same as RTX 3070 and 15% faster than RTX 3060Ti.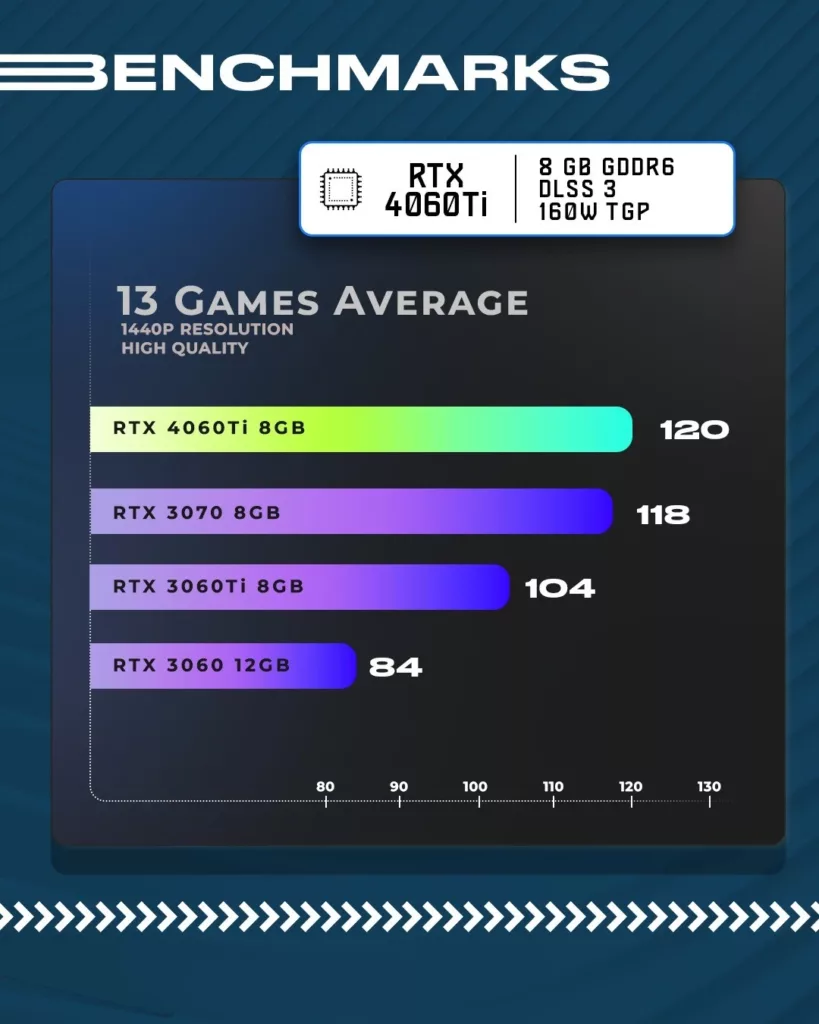 In Shadow of the Tomb Raider, RTX 4060 Ti (8GB) is 13% faster than RTX 3060 Ti which is essentially very similar to RTX 3070. Check their post on Instagram to see all the details.
According to the TechPowerup GPU database, the RTX 4060Ti is placed right before RTX 3070 at 2% slower. This matches with the leaked 3DMarkSpy and the XRIG benchmarks. Given that the RTX 3070 is available at around ₹48,000, RTX 4060Ti might replace the RTX 3070 as one of the best 1440p gaming GPUs currently.