Last Updated on November 19, 2023 by Nahush Gowda
Qualcomm's latest chip, the Snapdragon 8 Gen 3, comes with some impressive specifications. It boasts a 12MB L3 cache, an upgrade from the 8MB cache in the Snapdragon 8 Gen 2.
Contrary to earlier rumors of a '1 + 5 + 2' CPU cluster, the actual configuration features a single Cortex-X4 core running at 3.30GHz, five Cortex-A720 cores (three at 3.20GHz and two at 3.00GHz), and two Cortex-A520 cores at 2.30GHz.
The chip supports LPDDR5X RAM up to 24GB at speeds of 4,800MHz and features an Adreno 750 GPU with ray tracing support, Wi-Fi 7, Bluetooth 5.4, and the Snapdragon X75 5G modem.
Also read: Realtek showcases Wi-Fi 7 demo at Computex 2023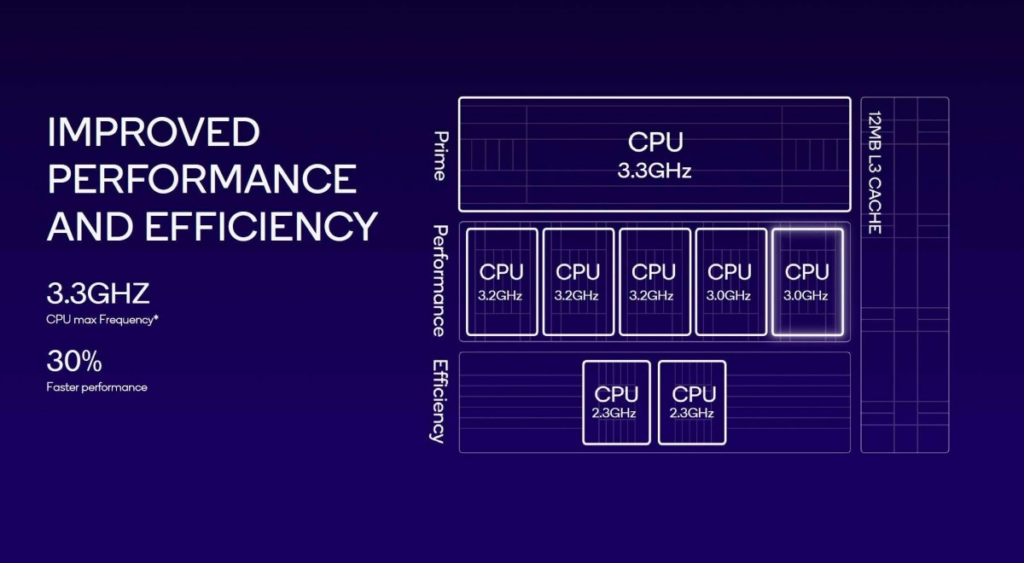 In terms of performance, Qualcomm claims significant improvements over the previous generation. The CPU in the Snapdragon 8 Gen 3 is said to be 30 percent faster while consuming 20 percent less power.
The Adreno 750 GPU offers a 25 percent boost in both performance and energy efficiency. It's important to note that real-world testing is needed to confirm these figures. Additionally, the Snapdragon 8 Gen 3 delivers a 50 percent increase in ray tracing performance compared to its predecessor.
There is also updated Snapdragon Game Super Resolution can upscale game scenes to 8K on external displays. Snapdragon Game Super Resolution was introduced early this year.
Then there is newly introduced Adreno Frame Motion Engine 2.0 which doubles the frame rate while maintaining the same power consumption for even higher-quality scenes.
Read more: Qualcomm Snapdragon 7 Gen 3 launched
Additionally, there is also support for Hardware-Accelerated Ray Tracing with Global Illumination, a pioneering feature for mobile devices powered by Unreal Engine 5.2. This chip supports refresh rates of up to 240 FPS on 240 Hz displays.
All these features of Snapdragon 8 Gen 3 are part of the full suite of Snapdragon Elite Gaming features.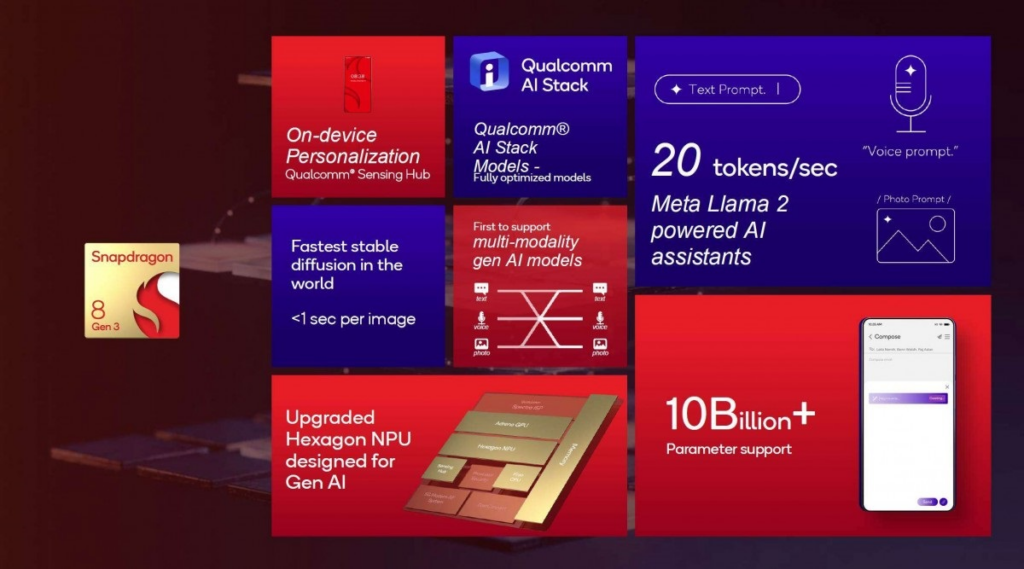 Qualcomm's focus on artificial intelligence (AI) is evident in this chip. It can run up to 15 trillion operations per second with over 10 billion parameters, enabling rapid AI assistant responses. The Hexagon NPU is a standout feature, being 98 percent more powerful while consuming 40 percent less power compared to the Snapdragon 8 Gen 2.
For gaming enthusiasts, the Snapdragon 8 Gen 3 supports external monitors up to 8K resolution with upscaling and a 240Hz refresh rate. On the phone's display, it can reach a 144Hz refresh rate at QHD+ resolution. However, some phone makers pushed the refresh rate even higher than the previous generation.
In terms of audio capabilities, the chip offers 24-bit 96KHz lossless support. Qualcomm has hinted at several manufacturers adopting the Snapdragon 8 Gen 3, and more details on their launches will be revealed in the coming weeks.
Notably, a Xiaomi 14 device featuring this chip outperformed the A17 Pro in Geekbench 6's multi-core test, making it the fastest smartphone SoC currently available.