Snapdragon 7 Gen 1 hasn't been used in many smartphones, at least not as much as the Snapdragon 778G or the 780G SoC. Despite this, Qualcomm is going to launch the next generation of the Snapdragon 7 series. According to rumours, the Snapdragon 7 Gen 2 and a new Snapdragon 7+ Gen 1 will be released. The probable launch date has been set – March 17.
As for the flagship Snapdragon 8 series, the latest Gen 3 SoC specifications have been swirling online as the Gen 2 has been used in several flagship phones like OnePlus 11 and Samsung Galaxy S23 series.
Snapdragon 7 Gen 2 launching on March 17
Shifting from the 7xx naming scheme, the Snapdragon 7 series is yet to receive an update with its next generation after the launch of the Snapdragon 7 Gen 1. Qualcomm China commended its Weibo followers for their patience immediately before announcing a new "Snapdragon product release" date of March 17, 2023.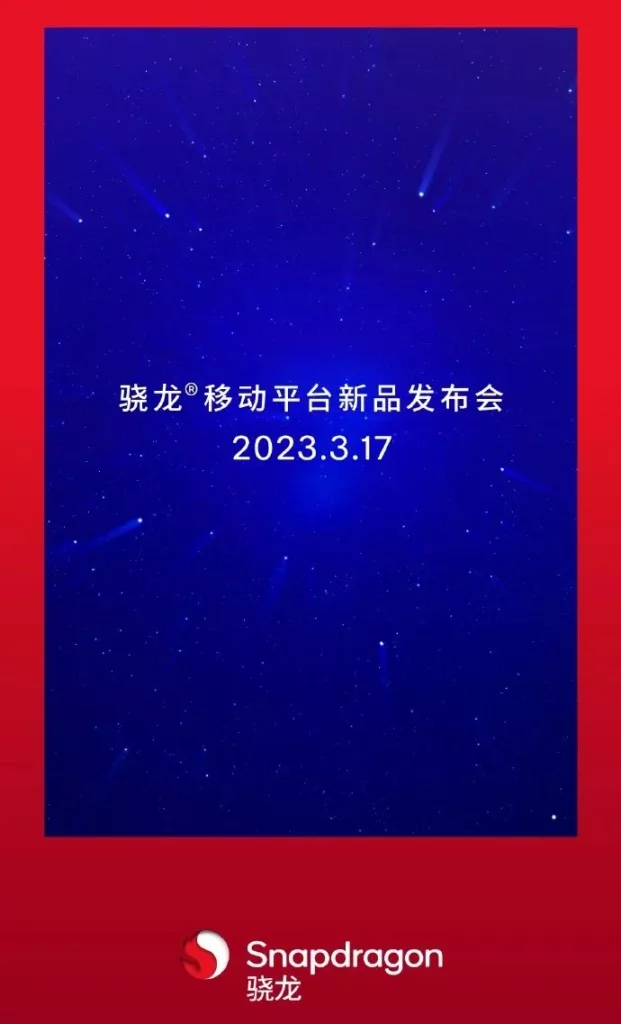 As a result, this event might definitively confirm whether a 7+ Gen 1 and/or Gen 2 exist and, if so, how accurate the disclosures about their specifications have been.
Online leaks and rumours
There is just one Geekbench entry for the Sm7475 chipset. It features one ARM Cortex-X2 core running at 2.92 GHz, three ARM Cortex-A710 cores running at 2.5 GHz, and four ARM Cortex-A510 cores running at up to 1.8 GHz.
The GPU is an Adreno 725 with a clock speed of 580 Hz. It's difficult to confirm right now, but these specifications would make the Snapdragon 7 Gen 2 the first mid-range SoC featuring a Cortex-X2 core.
Surprisingly, the processor has several characteristics with the Snapdragon 8 Gen 1 series. Therefore we wouldn't be surprised if it's an underclocked variant of the same thing. The GPU is known as Adreno 725, and it is one step behind the Snapdragon 730 on the 8 Gen 1 series.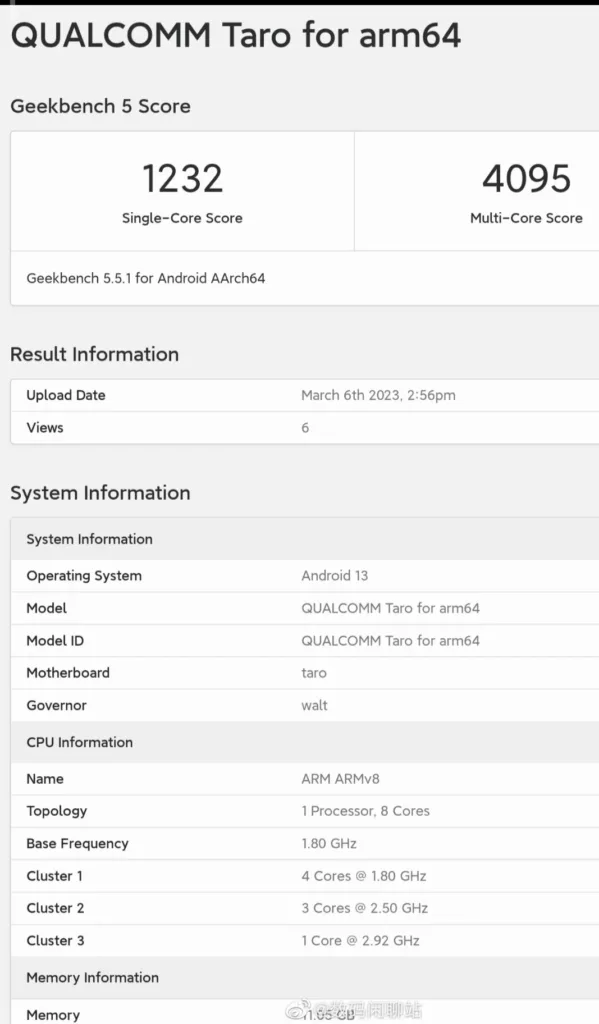 Naturally, the clock speed and number of cores will decide if the performance is comparable. According to the Geekbench results, the performance is superior to the MediaTek Dimensity 8200 and equivalent to the Dimensity 9000.
Several OEMs did not appreciate the Snapdragon 7 Gen 1, and MediaTek gained ground in the upper mid-range segment. 
Snapdragon 8 Gen 3 online leaks
While we may not see the Snapdragon 8 Gen 3 soon, considering the Gen 2 is very new and is being used in many flagship smartphones. According to RGcloudS (@RGcloudS), Qualcomm will release the Snapdragon 8 Gen 3 chipset with the same Processor layout as the Snapdragon 8 Gen 2.
The layout for Gen 2 is in the 1+4+3 arrangement. With a new 1+5+2 design, Qualcomm is increasing the number of performance cores while losing one efficiency core, according to a recent study.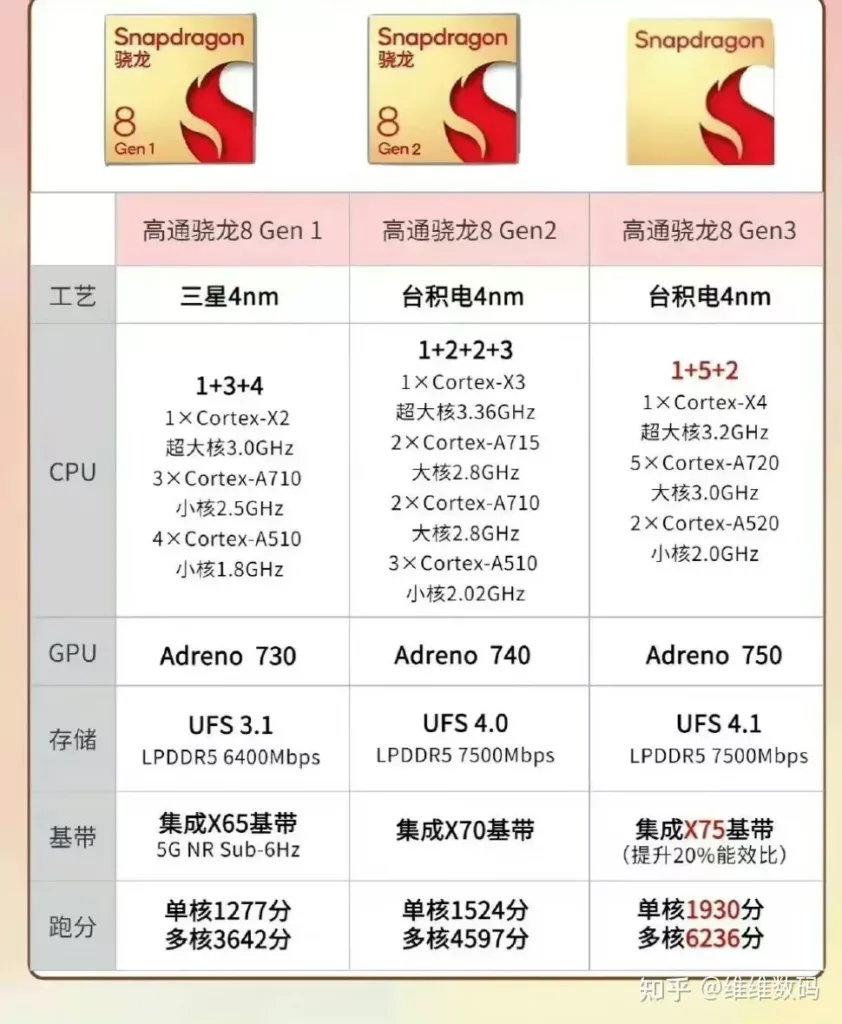 According to the leak, the Snapdragon 8 Gen 3 will be manufactured on TSMC's N4P node, suggesting that three generations of Qualcomm flagships would be locked on what are basically different versions of TSMC's N5 node.
According to another leaker Revegnus (@Tech_Reve), the Snapdragon 8 Gen 3 chipset will include a single Cortex-X4 core operating at 3.2 GHz. It will include five Cortex-A720 cores at 3.0 GHz and two Cortex-A520 cores at 2.0 GHz.
Another rumour projected that the Snapdragon 8 Gen 3 CPU will need all the performance cores it can obtain to accomplish 1,930/6,236 points in Geekbench's single and multi-core tests. Further Snapdragon 8 Gen 3 chipset might include UFS 4.1 memory, LPDDR5 7,500 MT/s RAM, an Adreno 750 GPU, and a Qualcomm X75 5G modem.