Micron today announced that it is now delivering qualification samples of its Universal Flash Storage (UFS) 4.0 mobile solution, built on its advanced 232-layer 3D NAND. Offered in high capacities of up to 1 terabyte (TB), the UFS 4.0 storage solution is being shipped to select global smartphone manufacturers and chipset vendors.
For those who need a bit of background, the UFS stands for Universal Flash storage. It is a storage technology, which is used in current smartphones and devices to store data. Just like SSDs in laptops, we have UFS in smartphones. The higher the UFS version, the faster and better it is. Like UFS 4.0 is the latest version, which is much faster than the previous version, UFS v3.1. We have already written a detailed articled on UFS with its origin, technology and more.
Micron's newest mobile flash storage outpaces the competition on several critical NAND benchmarks, delivering the industry's fastest performance for flagship smartphones with fast bootup, app launches, and video downloads.
Together, these technologies position Micron at the forefront of delivering the performance and low-power innovations our customers need to enable an exceptional end-user experience for flagship smartphones

Mark Montierth, corporate vice president and general manager of Micron's Mobile Business Unit
Key Features of Micron's UFS 4.0 Mobile Solution
Up to 4300 megabytes per second (MBps) sequential read and 4000 MBps sequential write speed, twice the performance of previous generations
25% more power-efficient so users can enjoy data-intensive apps longer without the hassle of frequent charging
10% write latency improvement over the competition, resulting in super responsive app performance
Allows users to quickly download two hours of 4K streaming content in less than 15 seconds, twice as fast as the prior generation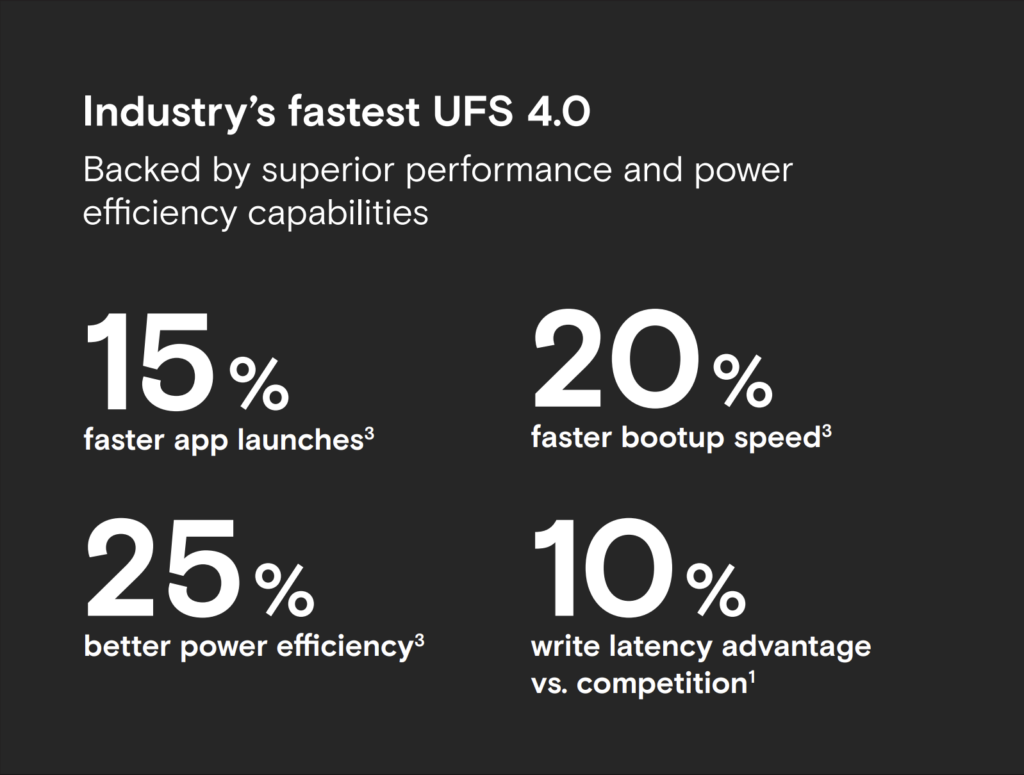 Benefits of Micron's UFS 4.0 Mobile Solution
Improved performance for flagship smartphones
Longer battery life for users
Faster app loading times
Smoother video streaming
Enhanced overall user experience
Availability
Micron is now shipping samples of its UFS 4.0 storage solution to key mobile manufacturers and chipset vendors worldwide in capacities of 256 gigabytes (GB), 512GB, and 1TB. The company will begin high-volume production of its UFS 4.0 storage solution in the second half of 2023.
Micron's UFS 4.0 mobile solution is a major leap forward in mobile storage performance. With its blazing speeds, improved power efficiency, and enhanced user experience, Micron's UFS 4.0 is ready to power the next generation of flagship smartphones.