Online world is full of information and numerous other things. One of those negative aspect is security and privacy.
When you are browsing internet. You're exposed to risk, whether through malicious links, dubious downloads, data thieves, or some other threat.
However, availability of security features in modern browser mean that you can avoid many threats before they even happen. Enhanced safe browsing is one such safety feature provided by Google Chrome browser.
What is Chrome enhanced safe browsing?
Enhanced Safe Browsing, is a Chrome browser feature that enable you to protect yourself against malicious software threats, phishing attacks and from clicking on unsafe domains. You can easily enable this by going to Chrome settings. This feature is similar to Google Safe Browsing, but is more proactive and requires Chrome browser.
What advantages of Chrome enhanced safe browsing?
Prevent malicious content from being displayed on web pages.
Protects you from phishing attacks
blocks access to any site that contains links to unsafe domains
How does enhanced safe browsing work?
Chrome's enhanced safe browsing feature builds upon its existing safety features to identify potentially malicious content before you ever see it. By default, this tool scans web pages for malware and phishing attacks.
Google Chrome Enhanced Safe Browsing helps protect against known phishing attacks and malware downloads. This feature also blocks malicious content before it reaches your computer, helping prevent dangerous software from being installed on your PC.
Google Chrome will carry out additional security checks on any extension installed on your browser and also any downloaded file.
If you aren't sure about anything, then wait until you receive confirmation before installing it. This means you won't be able to download anything immediately, but it does reduce the chance of being infected by malware.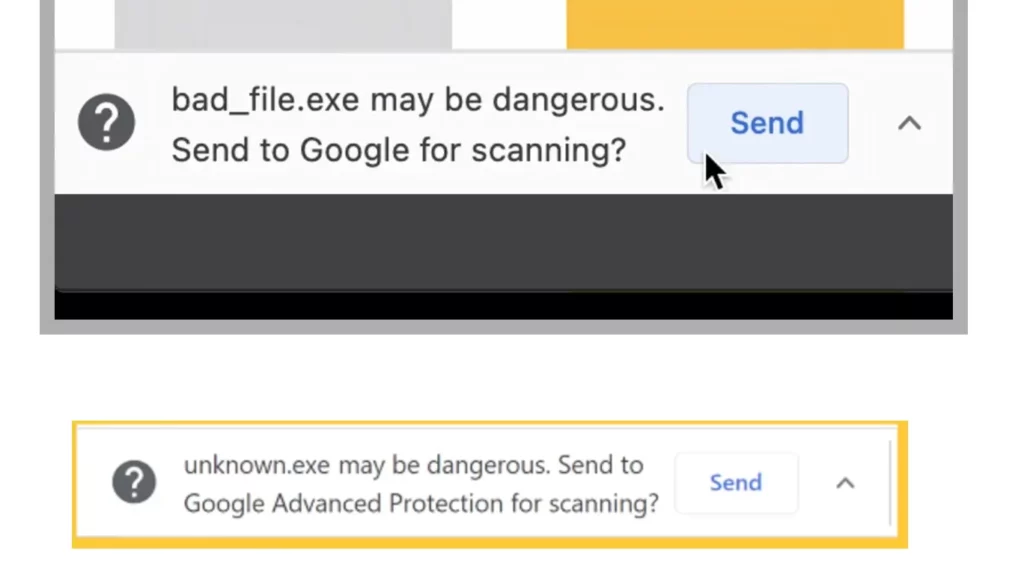 This option blocks access to any site that contains links to unsafe domains, meaning that you won't accidentally click through to a page full of popups or redirections.
In standard mode, Chrome checks sites you visit against a list of URLs known to be dangerous—a list that's updated every 30 minutes.
When you Turn on the additional security protections. Chrome uses an additional combination of machine learning models to recognize bad websites even if the site is not present in the list.
And while some advertisers pay to put misleading advertisements onto legitimate sites, others try to trick you into visiting fake versions of real businesses.
If you suspect that you've been duped, you can report the offending URL to Google directly via the given button
How to enable Chrome enhanced safe browsing?
On your computer or laptop, open Chrome. 
At the top right, select More   Settings.
Click Privacy and security  Security.
Then you can select the level of "Safe Browsing" you want to use.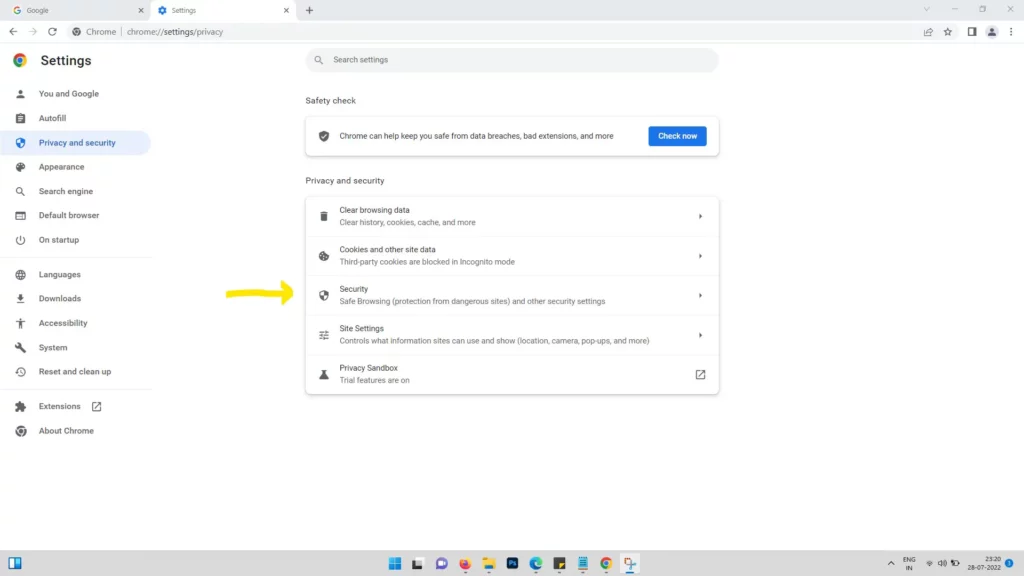 Select a protection level
Enhanced protection
Gives you warnings about potentially risky sites, downloads, and extensions.
Automatically warns you about password breaches.
Sends additional info to Google about your activity. Learn more about safe browsing protection.
If Safe Browsing can't confirm that a download is safe, Chrome warns you that the file may be dangerous. You have the option to send this file to Google to be scanned.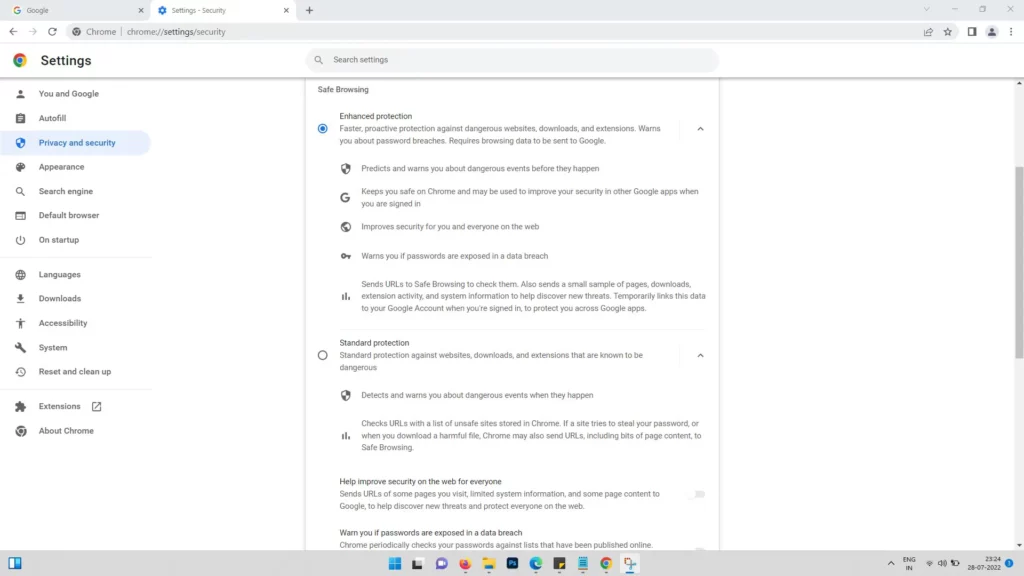 Standard protection
Gives you warnings about potentially risky sites, downloads, and extensions.
You can choose to get warnings about password breaches.
You can choose to improve security on the web for everyone by sending additional info to Google.
No protection
Safe Browsing is turned off.
Safe Browsing might still be turned on in other Google services, like Gmail.
Tip:If you use Standard protection, but you want extra password protection, turn on Warn you if passwords are exposed in a data breach.  
Which is better standard or enhanced protection?
Enhanced protection offers additional features like being able to detect phishing attacks aimed at stealing user information, while also checking whether your Gmail address and password have been exposed in any recent data breach leaks. You'll receive an alert if this occurs.