The NFT deployment across both Facebook and Instagram has been finished for all American users. According to an announcement by Meta, all users in the United States can now connect their digital wallets to Facebook and Instagram in order to share and cross-post their NFTs.
At the end of August, Meta gave a small group of creators and NFT collectors the ability to share their creations on Facebook and Instagram. Now, the digital collectibles function is accessible to all Facebook and Instagram users in the US and the 100 other nations where Instagram was initially rolled out.
From which point they can show off their favourite NFTs to their followers and friends. Currently, the feature supports tokens on the Polygon, Flow, and Ethereum blockchains; Solana support is anticipated to be added soon.
How to share NFTs on Meta platforms?
NFTs published on Instagram have a unique shimmer aesthetic treatment, and the content is credited to the NFT's owner and creator. Meta provided information on how users of Facebook and Instagram might start exchanging digital treasures.
It is necessary to use the most recent versions of the Facebook and/or Instagram apps.
Users' devices must have a digital wallet loaded and two-factor authentication turned on. Users can then connect their preferred wallet by going to the "digital collectibles" option under settings in the Facebook and/or Instagram app. At that point, they could be asked for their wallet password. It could take up to five minutes to finish this procedure, Meta advised. Users will then receive a notification, which they can confirm by clicking "Sign" and "OK" to connect their wallet. Facebook or Instagram users who have successfully linked their wallets to one or both applications can access their digital valuables there.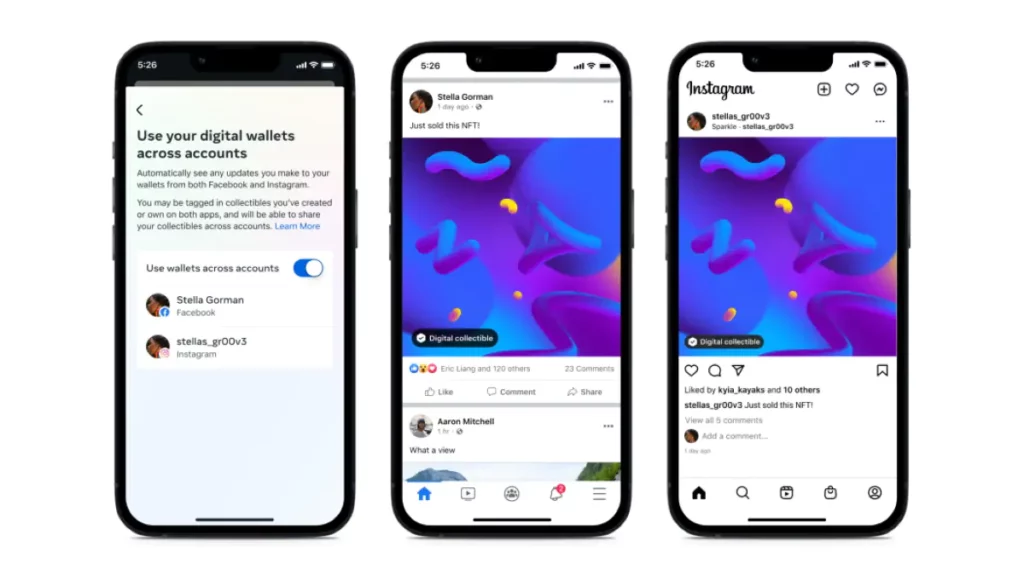 You can access your NFTs through the wallet within the Facebook or Instagram app after connecting your digital wallet. The new collectibles area will be accessible for you to choose from when you share your NFTs to your feed by posting as normal. By choosing "Share to Feed," you can also distribute your NFTs directly from your wallet.
Concerns related to wallet security
According to Meta, users can now link their cryptocurrency wallets to Facebook and Instagram. Crypto users expressed concerns about how Meta would use the data produced by uploading NFTs.
Several Twitter users voiced concern about the security and privacy of the data transmitted by integrating digital wallets with Meta's platform.Facebook has a well-deserved reputation of being an unsafe place to store personal information. Sensitive personal data for approximately 500 million Facebook users was exposed in April 2021 on a popular hacking forum.
Facebook's desire to enter Web3 when it's privacy and safety concerns make mass adoption hazardous could have serious repercussions for some users who are unaware of the fundamentals of blockchain safety. Facebook has a well-deserved reputation as being an unsafe place to store personal information.
It's important to be aware of the safety risks associated with sharing NFTs. Users will unintentionally expose their wallets to the public by sharing NFTs they own if Meta allows users to connect their crypto wallets to their Facebook and Instagram accounts. Meta will be in a position to construct a database of crypto wallets and users which may be sold to private entities or government agencies which would be considerably  more valuable than personal data.
By disclosing the NFTs they own, people unintentionally expose their wallets to the public. This is due to the fact that NFTs are all distinct, making it simple to determine a user's wallet address by conducting a reverse-image search of the NFT's image file, identifying its token ID number, looking up the collection's address, and connecting the dots using a block explorer like Etherscan. The user's address, as well as the contents and full history of transactions, are exposed  Meta isn't building a cryptocurrency wallet database to sell, but the possiblity of leaking the users database cannot be ignored.