Dimensity 9200 is the latest upcoming chip from MediaTek to be launched in November. But some performance benchmarks have already been leaked.
The Antutu benchmark scores of the chip was recently leaked in Chinese social networking site, Weibo. The Chinese whistleblower Digital Chat Station recently revealed Dimensity 9200 Antutu scores screenshot on Weibo.
The chip scored 1266102 beating Apple M1 score's.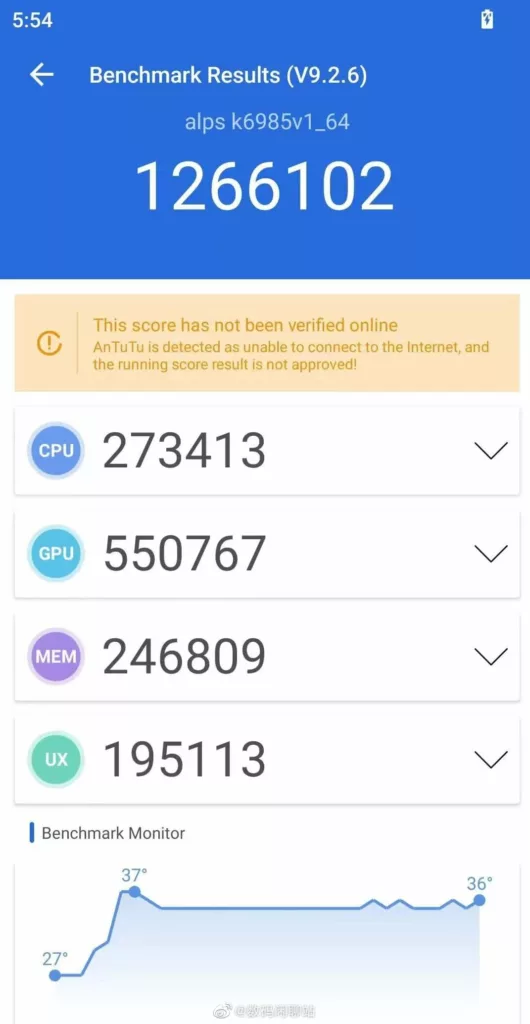 The Antutu score of Apple M1 chip is around 1.1 million. Dimensity, 9200 with 1.2+ million score beats it handsomely.
From the shared screenshot. We can clearly see GPU score of Dimensity 9200 reaching 550,000 points, which is a significant increase (33% increase) compared with about 420,000 points of Dimensity 9000+. This may be due to the adoption of Arm's new generation of Immortalis G-715 GPU.
The Dimensity 9200's memory score also shows a significant uptick. Sure, benchmarks do not necessarily tell about real-world performance. But they certainly do give us some idea about the performance.
Dimensity 9200 will definitely be a performance beast. The Dimensity 9200 will be based on TSMC N4 which is 4 nm node just like Snapdragon 8+ Gen 1. It is expected to be released in November, along with Dimensity 8200
The mobile phone company Vivo will be the first one to use Dimensity 9200. Vivo X90 may be the phone with Dimensity 9200. Since the Vivo X90 phone will also be announced in November, same month as Dimensity 9200 and Vivo X80 series already has Dimensity 9000 chip.
MediaTek is on total run lately with its recent launches. Starting with Dimensity 9000, which has been regarded as best Android chips on year 2022. Outperforming all other Snapdragon and Exynos variants.
Then MediaTek also launched Dimensity 8000 and 8100 based on TSMC N6 (5 nm)packing some of the best performance to efficiency numbers. With announcement of MediaTek 9000+ further consolidated their performance cornw.
Dimensity 9200 will be directly competing with Snapdragon 8 Gen 2, which is also supposed to be announced in November. Samsung next flagship Galaxy S23 will feature Snapdragon 8 Gen 2.
We will be certainly watching out for the release of MediaTek's next-generation flagship processor, the Dimensity 9200.
Stay connected to Yantragyan for more tech updates like these.