Google revealed the Pixel 6a at its annual Google I/O event. The phone is feels like a mix bag, but still a considerable value for the price ($449).
Pixel 6a quick Specifications
6.1 inches (15.49 cm), 1080 × 2400 pixels OLED screen
Google Tensor (5 nm) Octa-core processor
128 GB (UFS 3.1) storage 6 GB RAM
12.2 MP Main | 12 MP ultrawide | 8 MP front selfie camera
4410 mAh battery
Price – $449
6a gets great processor – Tensor core
Starting with most significant updates – the Google Pixel 6a has new updated processor Tensor core, same as that found in 6 and 6 pro. But a substantial upgrade from Pixel 5a which offered 765G processor. In other words, the CPU and GPU performance of 6a will be great.
The design of the 6a follows its premium counterparts 6 and 6 Pro, offering the iconic raised horizontal camera bump and a two-tone body. The Pixel comes in Chalk, Charcoal, Sage color. The pixel 5a came only in one color – black.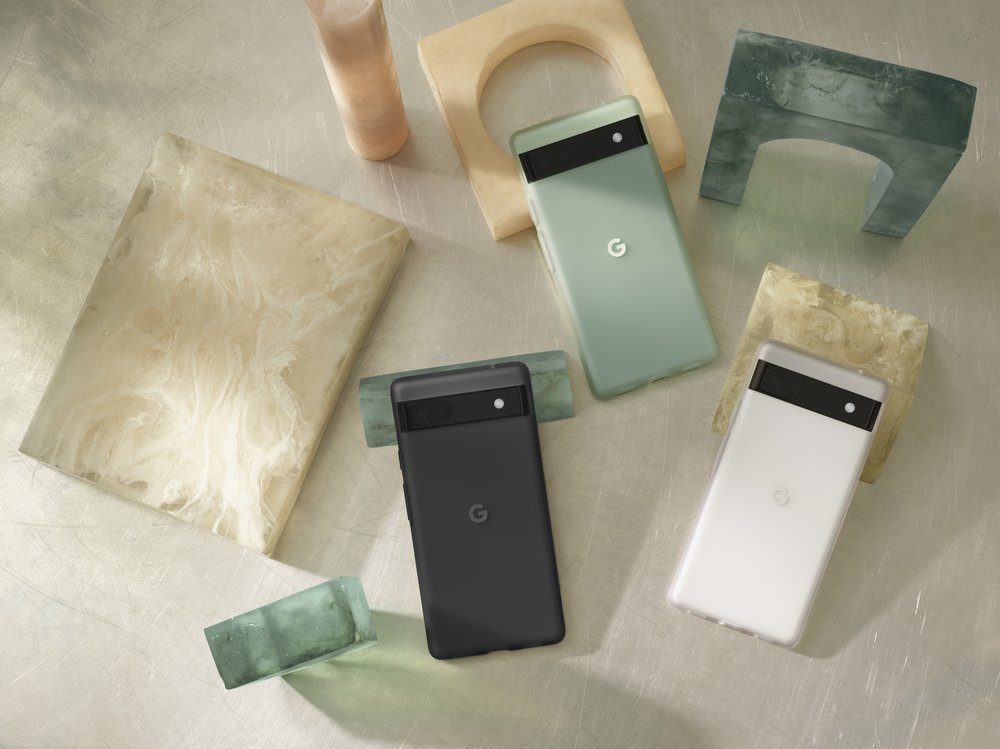 The phone is also now IP67 dust and water-resistant, which is a first for Google Pixel a series. This is a good thing to hear. Now, your accidental drops of phone in swimming pools can be a little less disappointing.
The battery capacity rating of the pixel 6a, even though less than 5a, at 4410 mAh compared to 4680 mAh. But, Google still claims same one day battery and even 3 days three days of use in Extreme Battery Saver mode. All thanks to new updated Tensor processor.
The same camera, display, and removal of headphone Jack
Now, the not so great updates. The pixel 6a offers the same camera as the 5a at 12 MP main and 12 MP wide in addition to 8 MP front. We were hoping for 6a to have the same camera as 6 and 6 Pro, as has been the case with the previous generation. The camera is still decent in the given price. Plus 6a also has camera software goodies of 6 and 6 Pro like real tone, magic eraser and updated Night Sight mode.
Then we have display, which is also the same as the predecessor. The quality of display is great with its OLED technology. But Google should have upgraded the refresh rate, which is still 60 Hz. Unlike most other mid-range Android phones, which are already offering 90 to even 144HZ refresh rate.
No Headphone Jack – yes, Google has removed the 3.5 mm audio jack from Pixel 6a. The disappointing move from consumer perspective but business mover on Google's behalf, considering they have also launches Pixel Buds wireless earphones.
Google Pixel 6a pricing and availability
6a will be available for pre-orders starting at $449 on July 21 and on will be available on offline shelves on July 28. The Pixel 6a is launching in more countries that 5a, which only launched in the USA and Japan. 6a will be launching in Canada, the UK, Australia, Germany, Taiwan, and France. You can see a full list of countries here.
Google Pixel 6a launch in India
Google will be launching Pixel 6a in India later in 2022 as confirmed by Google India.
Google has been ditching the Indian market for almost 2 years now. With last Google phone launched in India being Pixel 4a. But, for 6a, we have good news.
Even though, there is no mention of India in list of countries where Pixel 6a will be launching. Google has confirmed the launch of 6a via Google India Twitter handle as seen in tweet above. This is great news, previously Google did not launch Pixel 6 and 6 pro in India. But 6a launch in India might change the situation for other Pixel devices as well. Of course, we will be updating you more on this information.