CES 2023 has started and it has started with Nvidia's special address. Nvidia's RTX 40 series and DLSS were the focal points of the special address along with the announcement of the 4070 Ti and a new generation of RTX 40 series laptops and more.
Here's everything that was announced at the CES 2023 from Nvidia's special address.
DLSS 3 coming to a bunch of games in 2023
DLSS 3 was announced earlier along with the release of flagship RTX 4080 and RTX 4090 GPUs. Nvidia has confirmed the use of DLSS 3 in some of the biggest games in 2023 and also shared some gameplay footage. While DLSS 3 is already in effect on games like Spiderman: Miles Morales, Plague Tale Requiem, NFS Unbound, Warhammer 40K: Wartide, etc.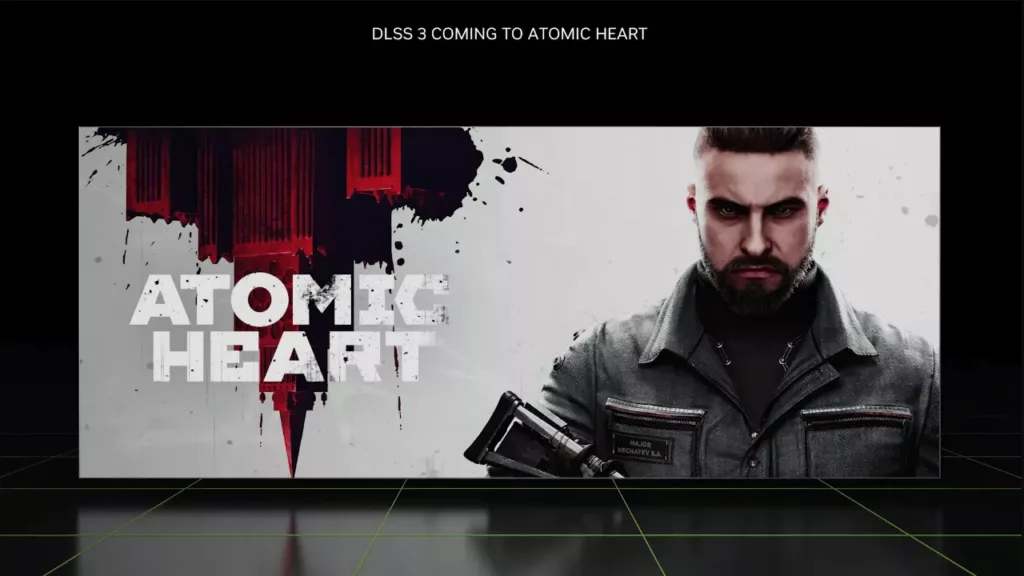 The new games that will use DLSS 3 are listed below:
Witchfire
The Day Before
Warhaven
Throne and Liberty
Atomic Heart
Nvidia announced RTX 4080 superpod for GeForce Now
Geforce Now is a cloud gaming service from Nvidia which is available in various countries. Nvidia announced their brand new RTX 4080 superpod for Ultimate membership.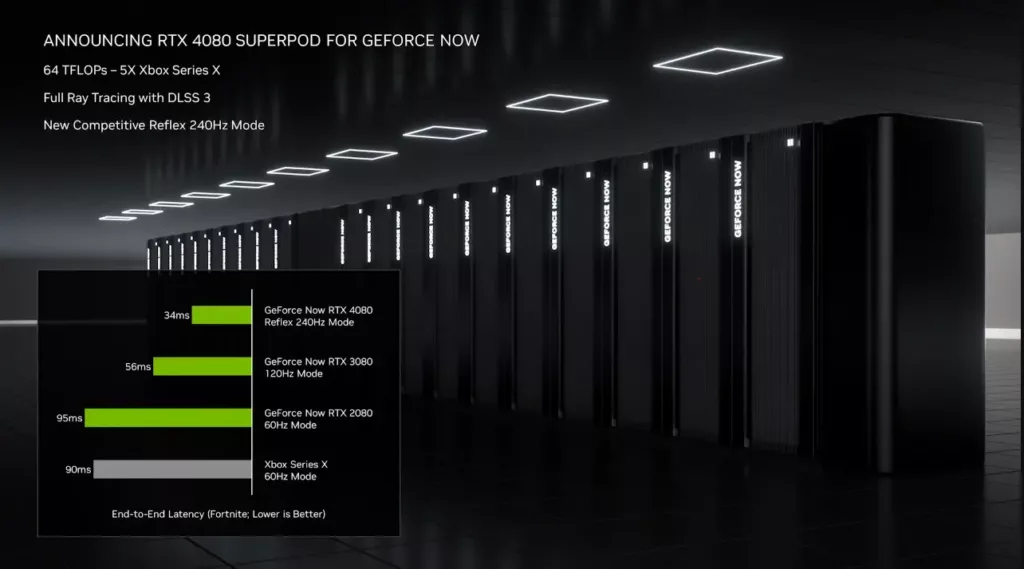 The new RTX 4080 enabled cloud gaming will come with full ray tracing support with DLSS 3 and 240Hz Reflex mode for competitive gaming.
Nvidia claims a very low latency of less than 40ms for the majority of games, especially in competitive titles like Fortnite. The shown latency figure is less than that of even Xbox Series X.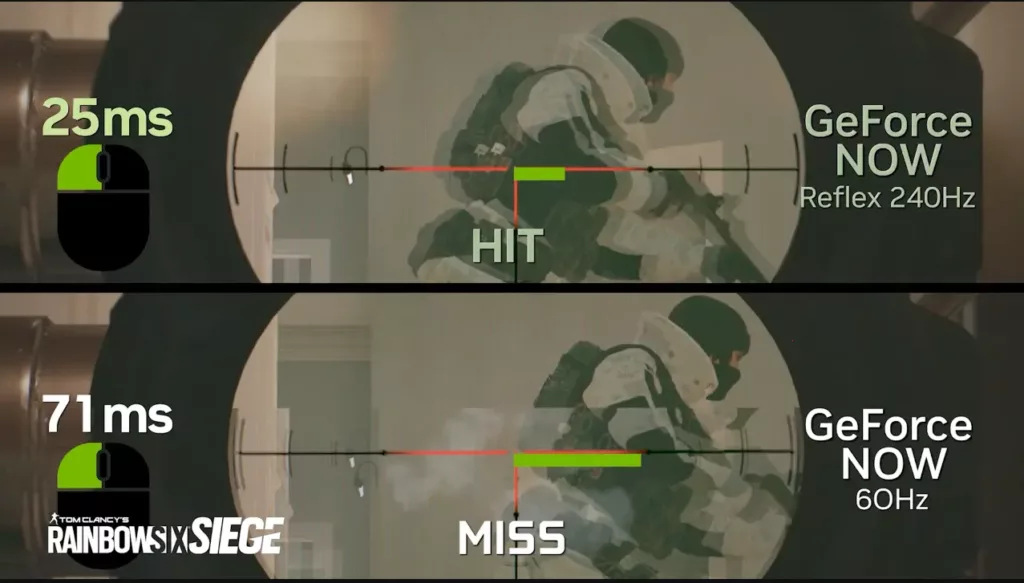 The Geforce Now Ultimate membership will now replace the RTX 3080 membership and RTX 3080 members will now become Ultimate members. The upgrade to the highest tier of subscription will start in Q1 2023 and is priced at $19.99/month.
Also Check: Asus Chromebook Vibe CX34 Flip will include free 3 months membership for Geforce Now
Nvidia announced RTX 4070Ti
Nvidia has already released their flagship RTX 4090 and RTX 4080 a couple of months back but wasn't received well, especially RTX 4080, because of the high prices. Nvidia has now announced its next RTX 4070Ti GPU.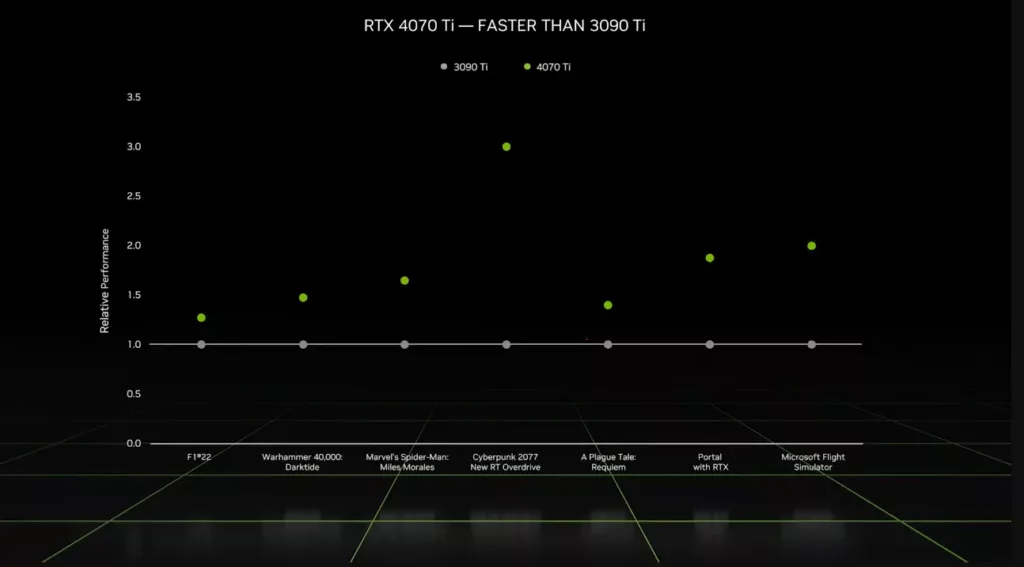 This RTX 4070Ti has been in controversy since the announcement of RTX 4090 and RTX 4080 as it was earlier launched as the RTX 4080 12GB model. It wasn't just reduced memory but with downgraded specifications as well which led to its "unlaunch".
According to Nvidia, the RTX 4070Ti will deliver up to 3 times the performance of RTX 3090Ti in games like Cyberpunk 2077 and an average of 1.8x more performance compared to the previous generation RTX 3090Ti.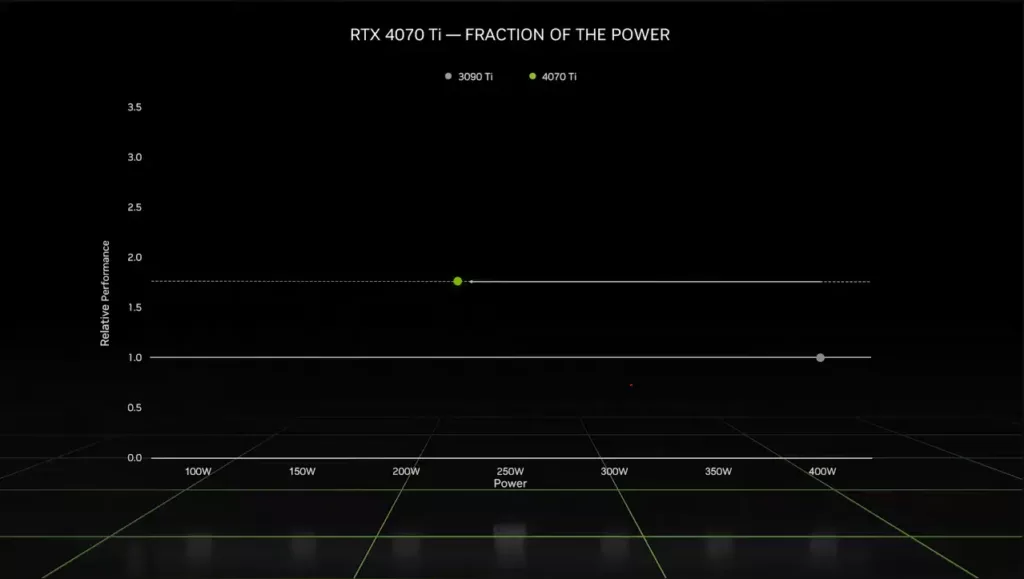 Although, it is interesting to note that the performance gain of 1.8x over RTX 3090Ti seems to be with DLSS 3 turned on. The huge performance jump claimed here might not be reflective of the pure rasterization performance.
It was also made clear that the GPU is being aimed at 1440p high refresh rate gaming targeting over 120FPS in titles like Plague Tale Requiem, F1 2022 and Spiderman Miles Morales.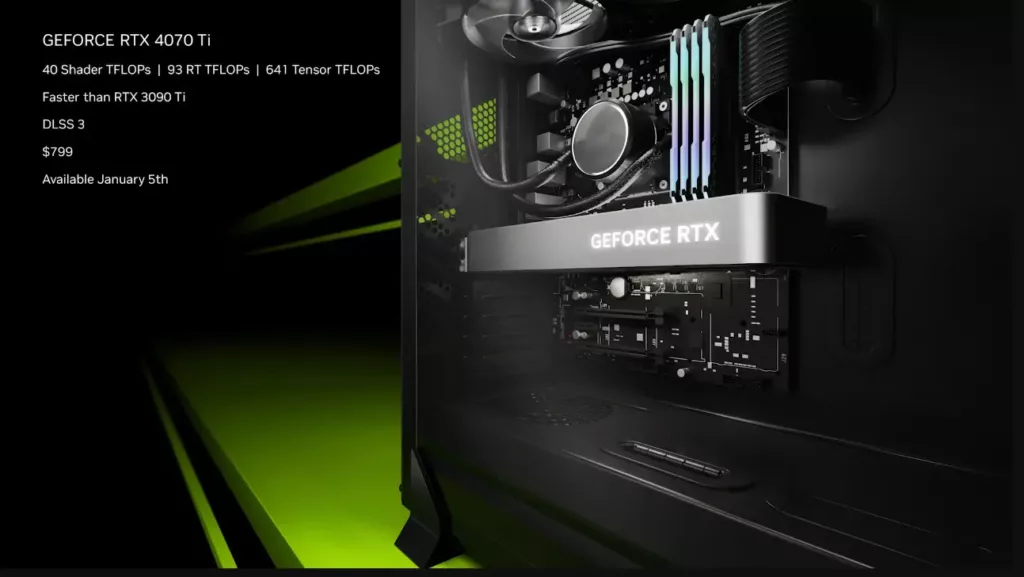 The RTX 4070 Ti is priced at $799! Yes, a 1440p GPU is priced at $799 (approx $77,000) and that is insane! RTX 4070Ti will be available very soon starting January 5th.
Nvidia launches their mobile RTX 40 series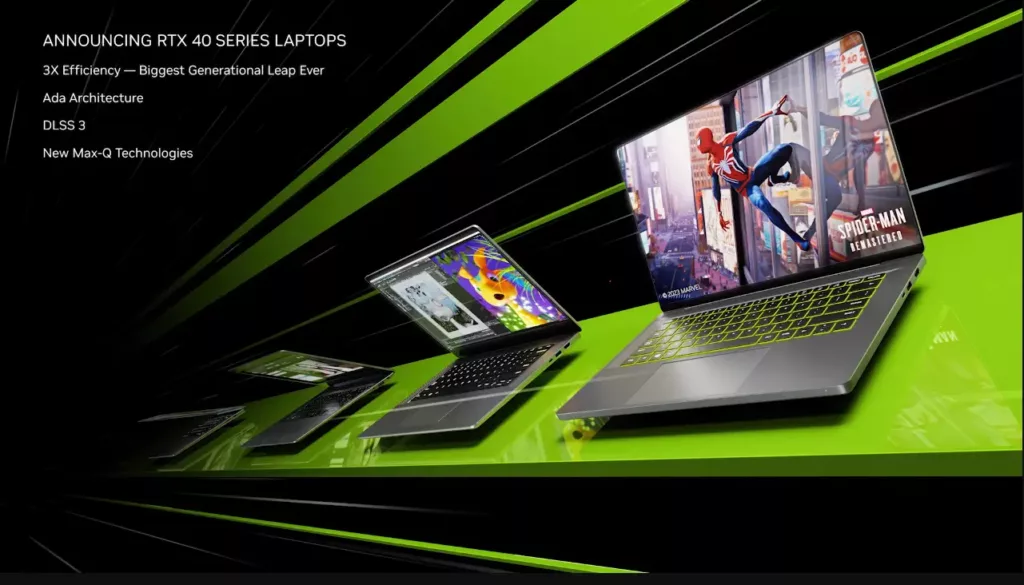 Nvidia claims that Ada based RTX 40 series will see the biggest generational leap in laptop performance with up to 3x more performance in production workloads like Blender and games.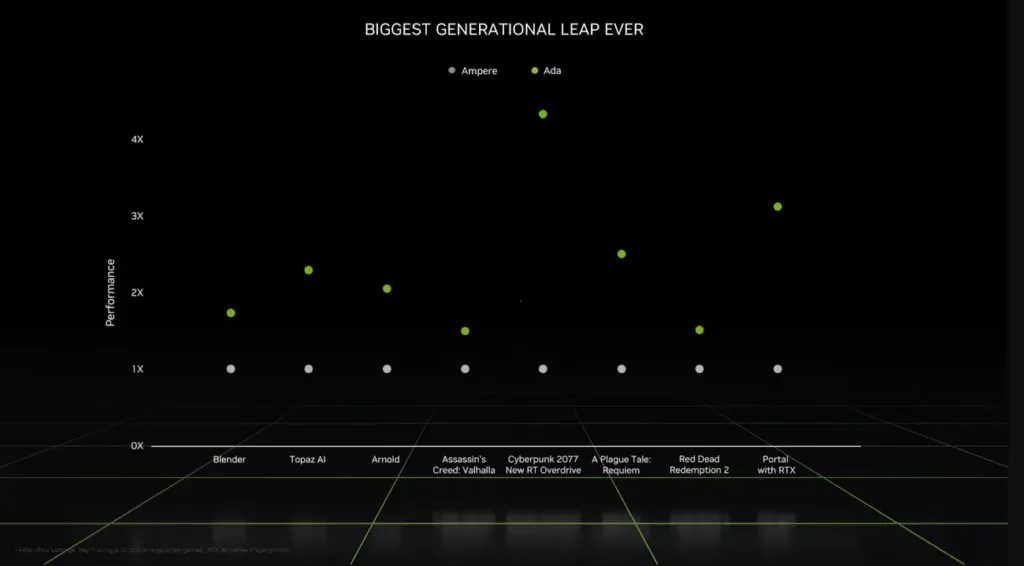 The new RTX 40 series laptop GPU will come with DLSS 3, new MaxQ technologies and improved efficiency. The new technologies include the improvement in Battery Boost, Whisper mode and DLSS 3.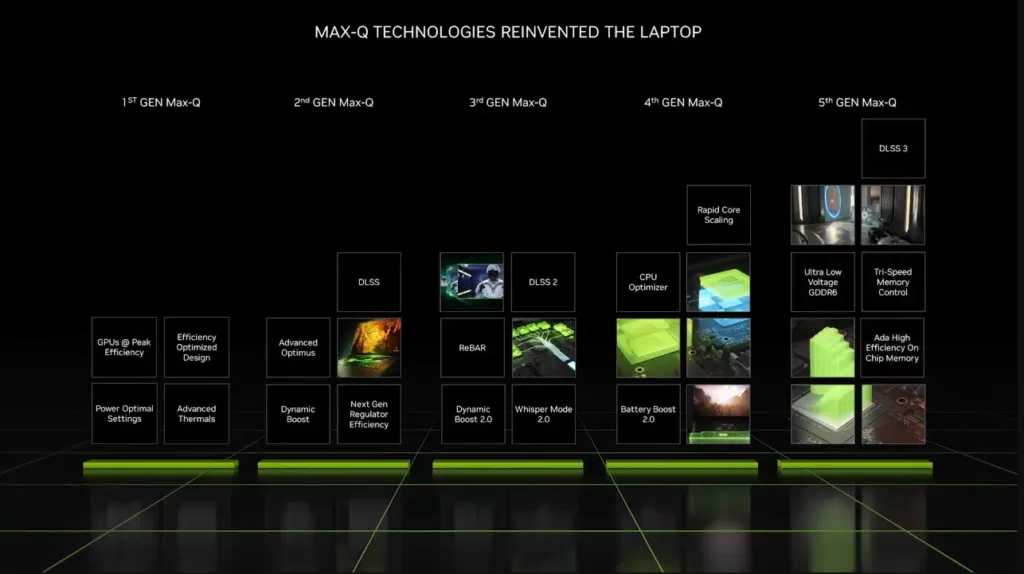 It will also include completely new technology like Ultra Low Voltage GDDR6 memory, and Tri-Speed Memory Control which will enable the GPU to switch to lower power memory states dynamically. Overall, Nvidia claims that the new gen of MaxQ will enable a huge boost in efficiency in RTX laptops.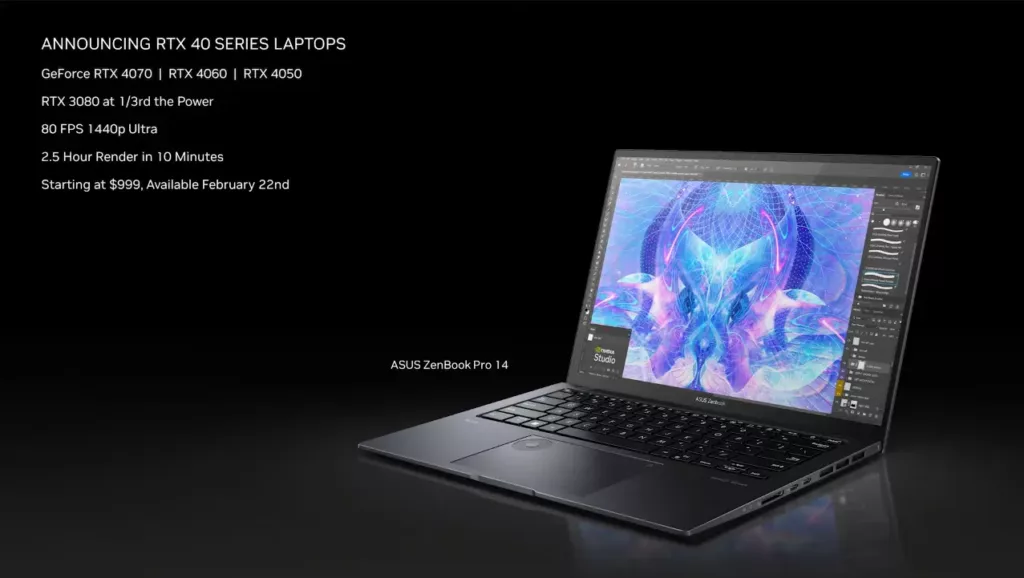 The lower-end and mid-range, RTX 4050, RTX 4060 and RTX 4070 will launch soon starting from Feb 22 and will start at $999 (approx. ₹97,300). Nvidia claims that it will be faster than last generation's flagship RTX 3080 laptop GPU at 1/3rd the power.
Also read: AMD's Radeon RDNA3 laptop GPU announced at CES 2023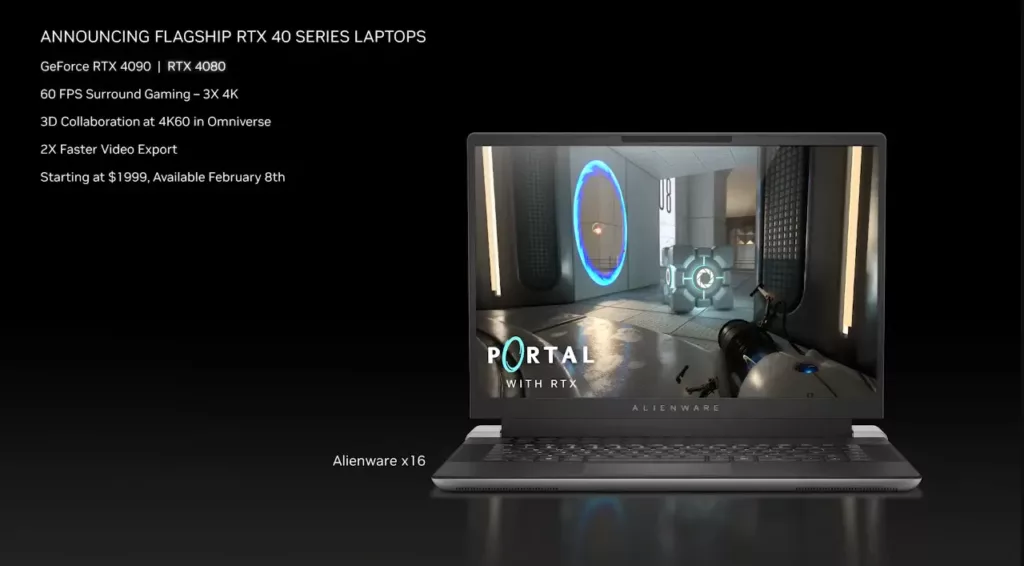 The flagship RTX 4080, and RTX 4090 laptops will launch a little earlier and the laptops will roll out starting Feb 8th. Nvidia claims that these laptops will be capable of running 4K games on up to 3 monitors for surround gaming (like a professional driving simulator) at over 60fps.
Also Read: Best RTX laptops in the market
Nvidia also stressed on the production workload improvement with up to 2x faster video export compared to the last generation flagship.
The RTX 4080 and RTX 4090 will be available starting from Feb 8 and the price will start at $1999 (approx. ₹1,95,000).
Also read: RTX 40 series powered laptops from Asus ROG unveiled at CES 2023
Nvidia has also kind of confirmed 2 new laptops that will carry RTX 40 series laptops including the Dell Alienware x16, Asus Zenbook Pro 14 and Acer Swift 14. More laptops will be rolled out from all the major OEMs like Dell, Asus, Razer, Lenovo, MSI, HP, Gigabyte, etc.