Lenovo has announced the Lenovo Legion Go, a new handheld gaming console that brings the power of Windows PC gaming to a portable form factor. The Legion Go is powered by AMD Ryzen Z1 Series processors and features an 8.8-inch Lenovo PureSight Gaming Display with a 120Hz refresh rate. It also has up to 16GB of RAM and 1TB of storage.
The Legion Go is designed for gamers who want to game on the go without compromising on performance or visuals. It has a number of features that make it ideal for gaming, including dual shoulder buttons, a D-pad, and analog sticks. It also has a built-in kickstand for comfortable tabletop gaming.
Here are some of the highlights of the Lenovo Legion Go:
AMD Ryzen Z1 Series processors
8.8-inch Lenovo PureSight Gaming Display with a 120Hz refresh rate
Up to 16GB of RAM
1TB of storage
Dual shoulder buttons, D-pad, and analog sticks
Built-in kickstand
Carrying case, docking station, and controller accessories
In addition to the Legion Go, Lenovo also announced a number of accessories for the device, including a carrying case, a docking station, and a controller. The carrying case will protect the Legion Go while you're on the go, and the docking station will allow you to connect the Legion Go to a monitor or TV for a larger gaming experience. The controller will give you a more traditional gaming experience, with analog sticks and buttons that are similar to those found on a console controller.
Lenovo Legion Go: Specifications
Legion Go is powered by the AMD Ryzen Z1 Extreme processor paired with AMD RNDA Graphics similar to the Asus ROG Ally. It runs on Windows 11, offering a familiar and powerful gaming environment.
The centerpiece of the Legion Go is its massive 8.8-inch QHD+ 16:10 Lenovo PureSight gaming display. With up to 500 nits of brightness and a 97% DCI-P3 color gamut, this display delivers stunning visuals.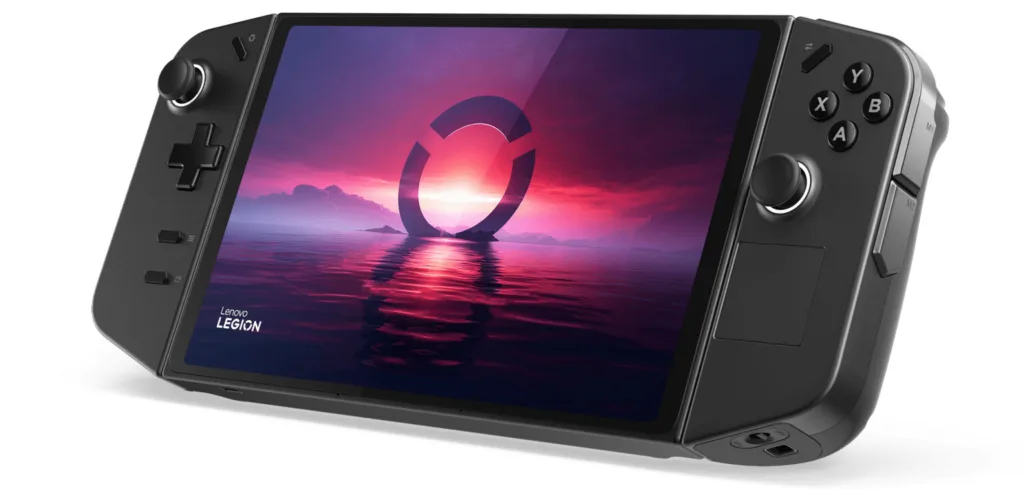 It's also adjustable to suit different playstyles and situations, supporting resolutions ranging from 1600p to 800p and offering both 144 Hz and 60 Hz refresh rates. The display's 10-point touchscreen functionality adds a layer of natural and intuitive control, enabling seamless scrolling, tapping, and swiping for an immersive gaming experience.
Under the hood, the Legion Go is equipped with up to 16 GB of LPDDR5X RAM running at an impressive 7500MHz, ensuring optimal gaming performance and faster loading times, depending on the gaming scenario. It also offers ample storage with up to a 1 TB PCIe Gen 4 SSD and a micro-SD slot that can support up to an additional 2 TB of storage.
The device's 49.2Wh capacity battery ensures extended gaming sessions without the need for frequent recharging. Plus, it supports Super Rapid Charge technology, allowing the battery to reach up to 70% capacity in just half an hour. When gaming while plugged in, the Legion Go features a power bypass mode that safeguards the battery from extra degradation and eliminates heat generation during charging.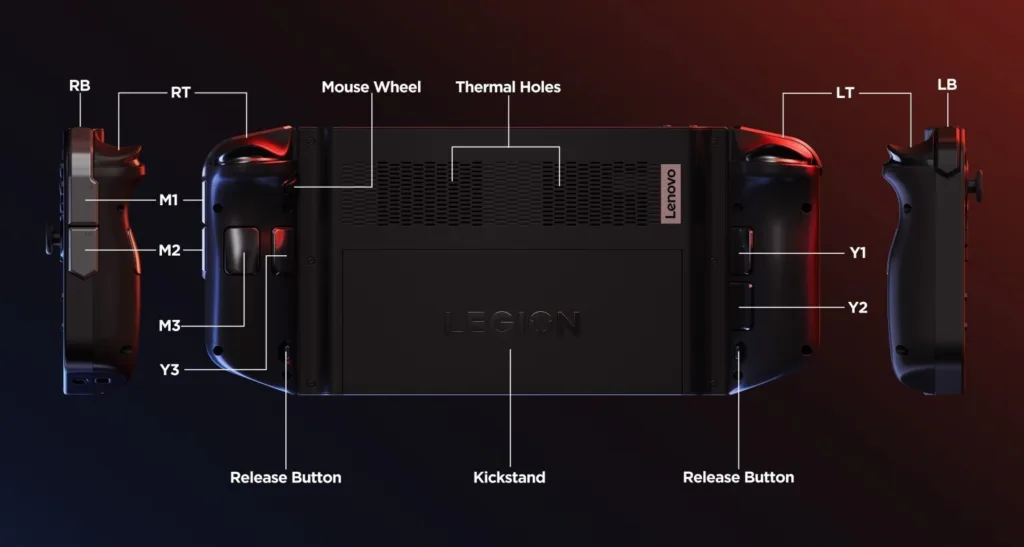 The Legion Go's controllers are a highlight of its design, featuring hall-effect joysticks that eliminate joystick drift and minimize dead zones, ensuring maximum responsiveness and accuracy. The controllers also include an integrated trackpad, a large D-pad, an angled mouse wheel, and a total of 10 mappable shoulder buttons, triggers, and grip buttons.
RGB lighting on the power button and customizable RGB rings around the joysticks not only add a touch of flair but also serve as a notification system for controller pairing. Additionally, the Legion TrueStrike controllers are detachable, providing flexibility in playstyles and enabling FPS mode for precision gaming. In FPS mode, the right controller can be detached and used with a magnetic controller base, offering more precise aiming akin to using a mouse.
Check out this video from Dave2D to understand how it works.
Keeping temperatures in check during intense gaming sessions is Lenovo's Coldfront thermal technology, featuring a 79-blade fan made of liquid crystal polymer. This fan keeps the device cool, producing less than 25dB of fan noise in Quiet Mode, while still allowing the Legion Go to reach its full 25 W of TGP in Custom Mode, preventing thermal throttling during prolonged gaming.
Connectivity options include dual USB Type-C ports supporting DisplayPort 1.4 and Power Delivery 3.0. It also boasts Wi-Fi 6E and Bluetooth 5.2 support for seamless wireless connections.
Lenovo Legion Go: Accessories
Lenovo Legion Glasses offers a private large-screen experience for gaming and content consumption, whether you're using them with the Lenovo Legion Go or any other compatible device, including most Windows, Android 7, and macOS 8 devices with full-function USB-C support.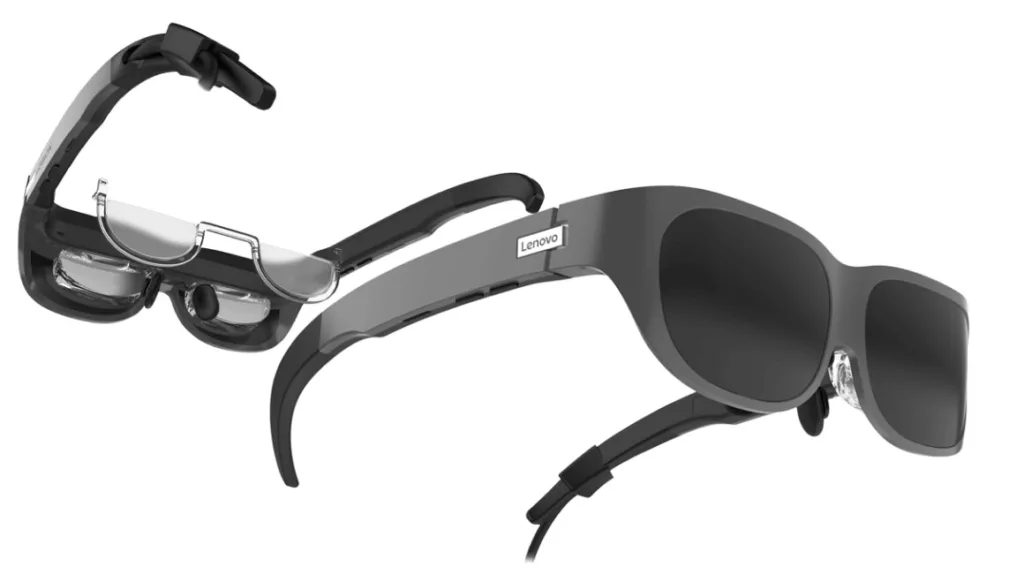 The Legion Glasses are an advanced wearable featuring micro-OLED display technology, which provides stunning Full HD resolution for each eye, along with a smooth 60 Hz refresh rate. This emulates the feeling of having a large, high-quality screen right in front of you, all while ensuring that what you see remains private, visible only to the wearer. To complete the immersive experience, these glasses also come equipped with built-in speakers that deliver high-fidelity audio.
In addition to the Legion Glasses, Lenovo unveiled the Legion E510 7.1 RGB Gaming In-Ear Headphones. These headphones provide a private surround sound gaming experience with their driverless 7.1 surround sound technology.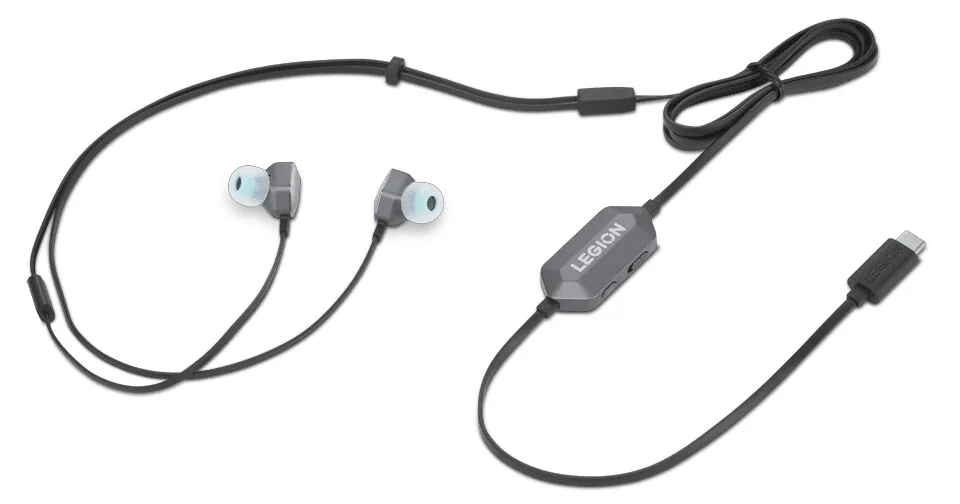 Featuring 10 mm armature drivers, these headphones deliver powerful, punchy bass, as well as well-balanced mids and highs, all without distortion. And when the gaming action heats up, the multifunction inline controller lets you make quick adjustments on the fly. The stylish RGB strip on the controller adds a touch of sophistication to the earbuds, while the USB-C connector ensures seamless compatibility with a wide range of devices.
Price and availability of Legion Go
The Lenovo Legion Go is expected to be available starting November 2023 starting at €799. Although the price in India is not officially announced, the price of Legion Go can be around ₹70,000. Similar to Asus ROG Ally which is priced at ₹69,990.
The Lenovo Legion Glasses and E510 headphones are expected to be available in October 2023 starting at €499 (₹45,000) and €49.99 (₹4500) respectively.