With the release of AMD's new generation of processors, the Ryen 7000 and the jump to an entirely new platform, you will need a new motherboard if you are upgrading. So, what are some of the best motherboards for the Ryzen 7000 series if you are jumping on AM5?
The new chipset of AM5 will be called B650 and X670 along with an -E version which guarantees PCIe 5.0.
The current problem with the AM5 motherboards is their ridiculous prices. The cheapest motherboard you can get for your new Ryzen build is ₹17,000! That's insane! This was one of the reasons that stopped people from upgrading to new Ryzen processors.
Although, the prices of the Zen 4 processors have been cut down significantly making it more affordable and viable for someone jumping on the AM5 platform.
Here is a list of the best motherboards for each Zen 4 processor
Best motherboard for Ryzen 5 7600X
Ryzen 5 7600X is the lowest tier Zen 4 processor available but, nevertheless a great processor considering its dropping price. Ryzen 5 7600X is a great processor for gaming and light production workload although the value proposition can be debatable.
Check: Ryzen 5 7600X vs 13600K
ASUS TUF GAMING B650-PLUS – Value Option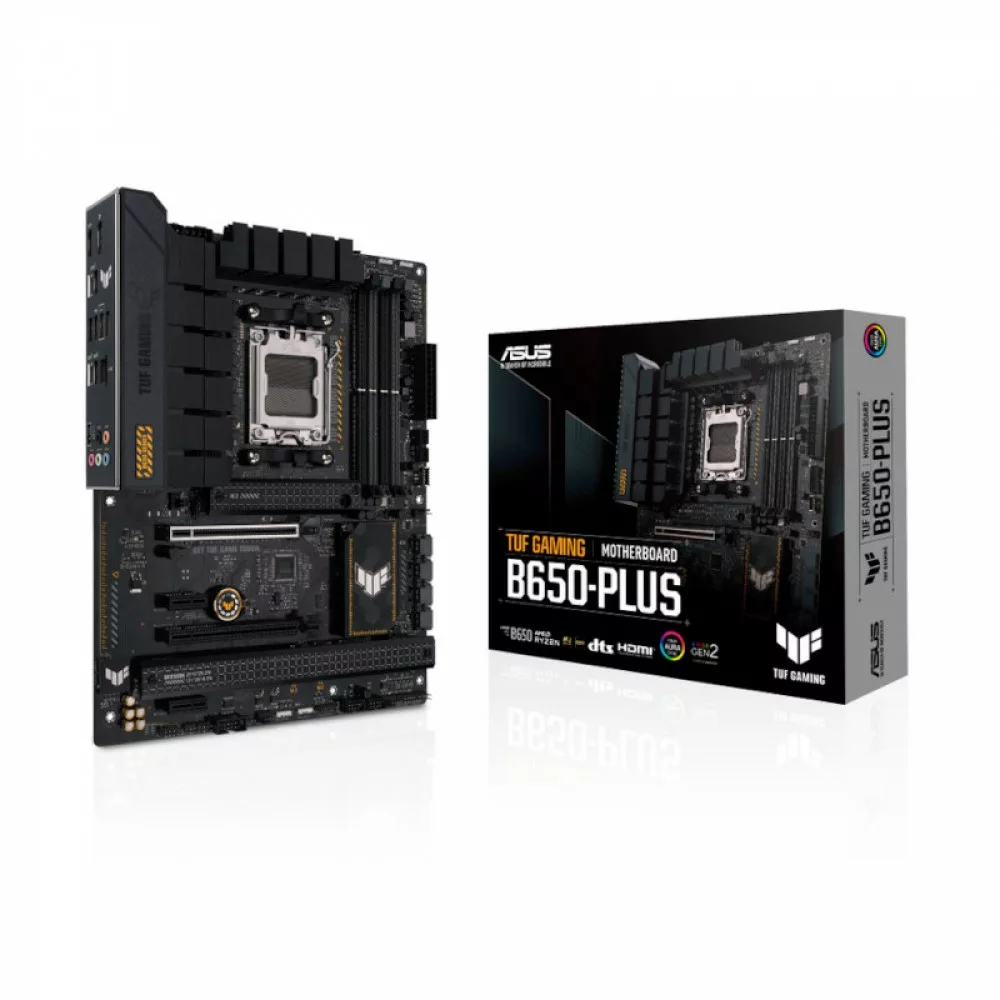 While Asus TUF boards are mid-range options and costlier than popular boards like MSI MAG or Gigabyte D3SH, considering the inflated prices, this is one of the better motherboards in the sub-20,000 range.
A B650 board is completely fine for a processor like Ryzen 5 7600X. If you are certain that you will upgrade to Ryzen 9 processors with the next generations (since AMD has promised support for the same platform until 2025 at least), you can opt for more expensive X670 boards.
Having said that, you won't get any performance benefits but you will get an increased number of ports, storage options and probably PCIe 5.0 with some boards (also available in B650-E for a higher cost)
Asus TUF B650M Plus is an ATX board with ample storage options and PCIe expansion slots.
It has 3 M.2 slots with support PCIe5.0 and two with PCIe 4.0. With standard 3 SATA slots and a Type-C port. In addition, it has Bios Flashback among other standard features like two PCIe 4.0 expansion slots and ARGB headers.
MSI Pro B650M-A WI-Fi – Budget Option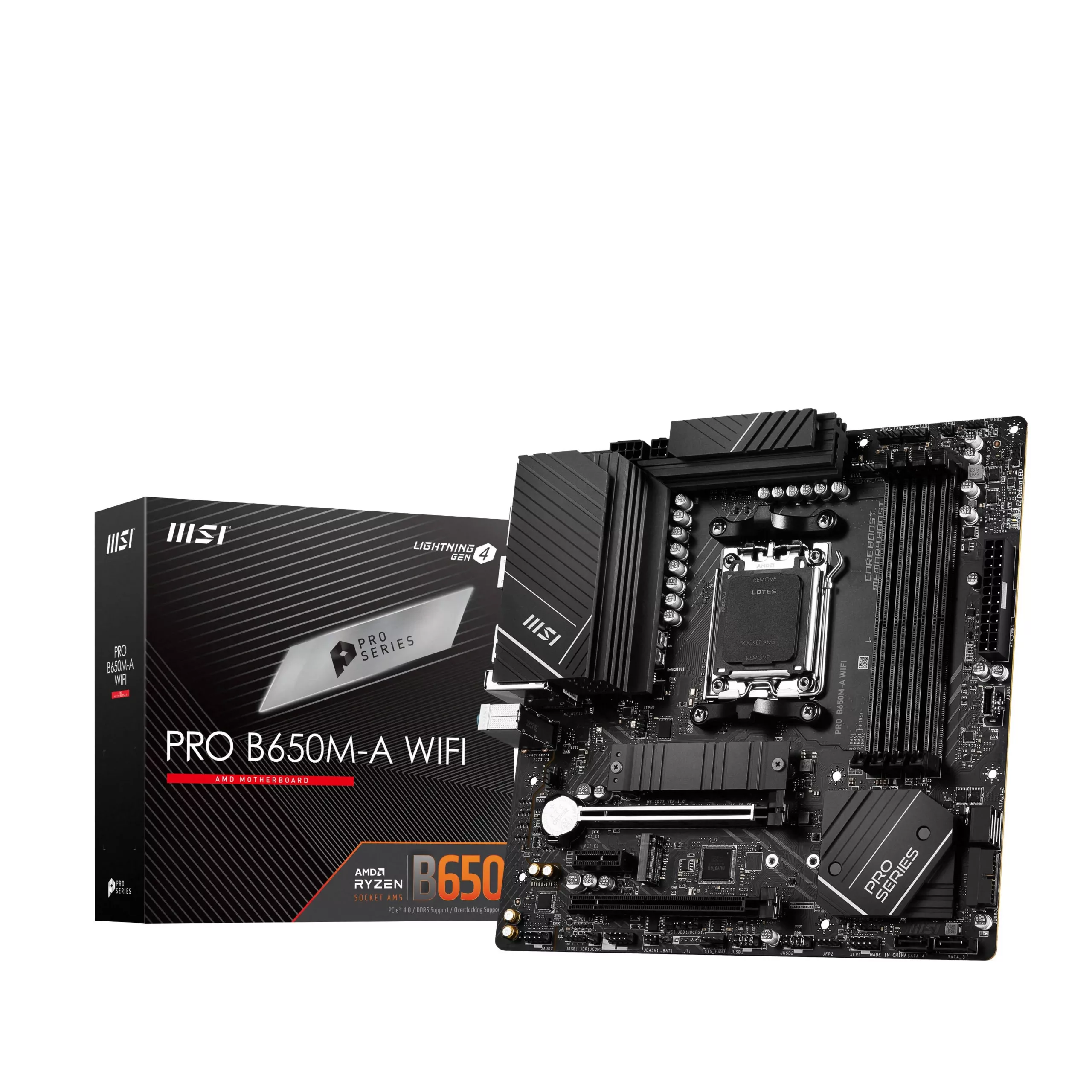 This is the budget motherboard for your Ryzen 5 7600X which is around 15000, that's absurd for a budget option! But, here we are.
MSI Pro B650M-A Wi-Fi is a decent option and there is nothing essential missing from this board but it does have a missing Type-C port at the rear. You still have a USB I/O for USB Type C if you have it in your PC cabinet.
It has 2 M.2 slots but both with PCIe 4.0 and 4 SATA ports. It has a total of 3 PCIe expansion slots and ample USB 3.2 ports.
For Ryzen 5 7600X, this is a great motherboard to consider if you want the cheapest build right now.
Best motherboard for Ryzen 7 7700X
Ryzen 7 7700X is one of the best processors in the market right now delivering a perfect blend of gaming and high-level production performance. If you are opting for Ryzen 7 7700X, you can opt for an X-class motherboard but even a B650 will be fine.
Check: Ryzen 7 7700X review and performance
You can still opt for the same Asus TUF B650 Plus for this or even the MSI Pro B650M-A board for a lower cost.
ASRock B650M Riptide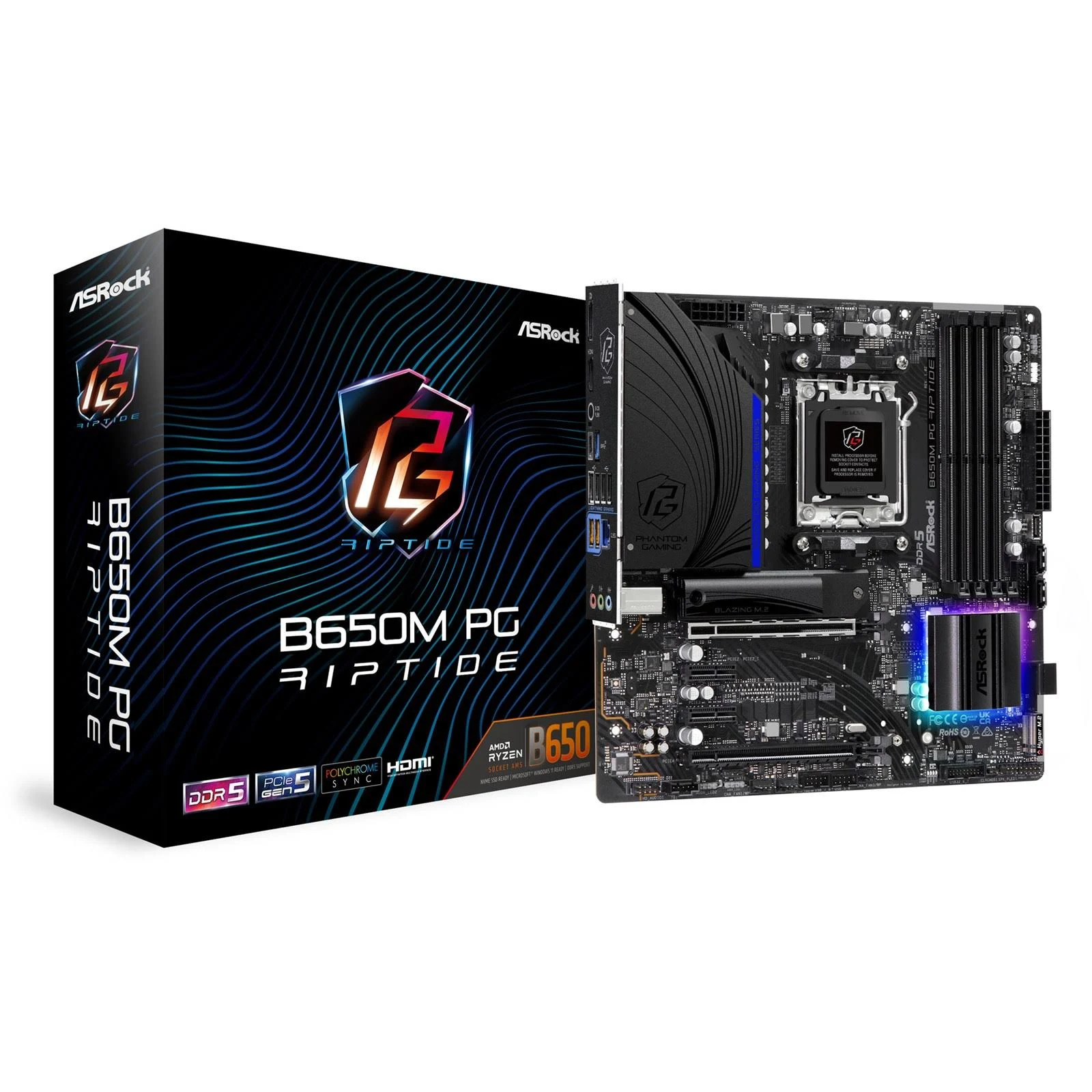 Just like other boards, it is currently much more expensive than it should be. Among the options available, this board is worth considering given its relatively lower cost and the storage options available.
It has a total of 2 M.2 slots and has one with PCIe 5.0. With a total of 4 PCIe expansion lanes, 4 SATA slots and ample Type A USB 3.2 ports and a Type C port at the rear, this is a great option to consider.
GIGABYTE X670 AORUS ELITE AX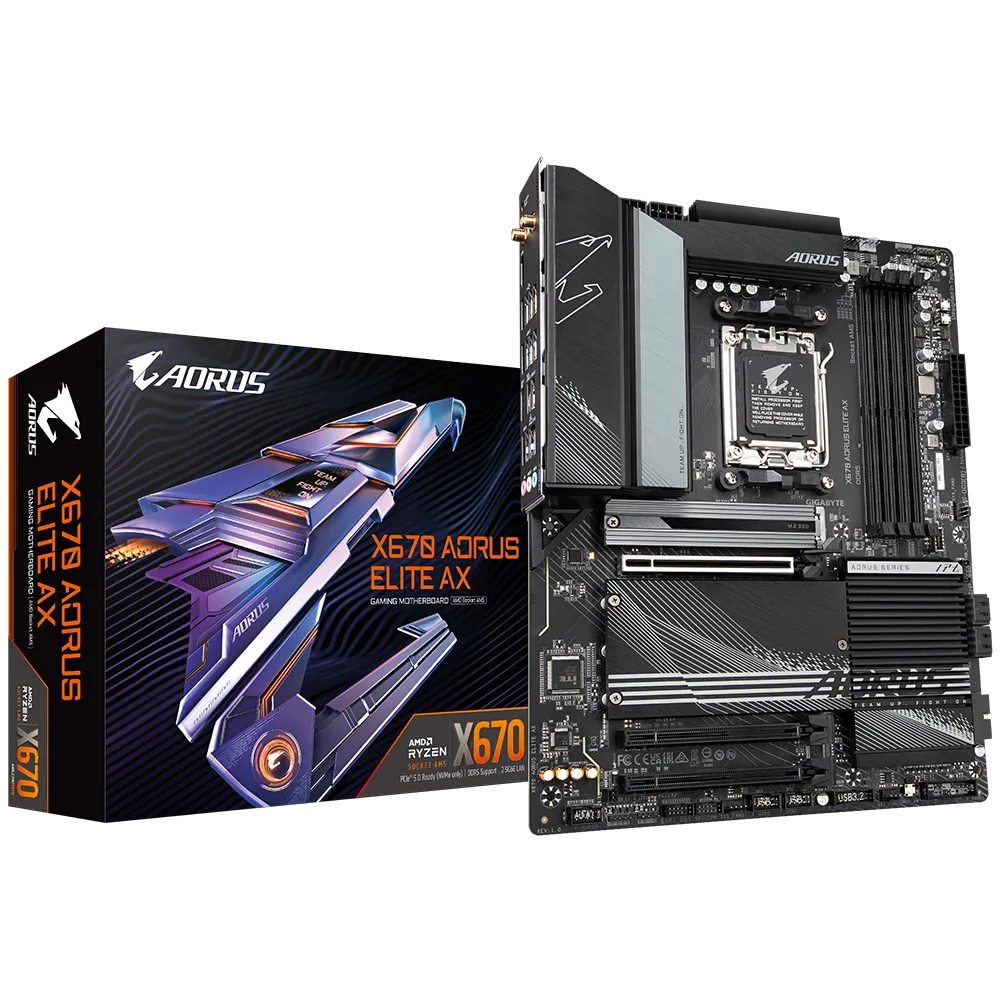 This is one of the more premium motherboards but currently is too expensive. But if you want to with a higher-end option, this can be a good option considering it is ₹26,000 and similar high-end options are significantly more expensive.
It has a total of 4 M.2 slots including one with PCIe 5.0, and the rest three with PCIe 4.0. It doesn't have a PCIe 5.0 slot for GPU which is fine because even the new generation of RTX 4000 and RX 7900 does not use PCI-E 5.0.
It has ample USB 3.0 and higher ports and a Type C port along with other things like ARGB, good VRM cooling and good looks.
Pros
Cons
Best motherboard for Ryzen 9 7900X and Ryzen 7 9590X
Both of these are high-end processors apt for productivity more than gaming. For processes like this, it would make more sense to opt for a better quality motherboard with safeguards, better power delivery, cooling and a lot of expansion/storage options.
If you are opting for a high-end processor like this, it is better to opt for X670 boards over B650 boards, which you obviously will but you can still use B650 if you want to really cut costs.
Asus TUF Gaming X670E Plus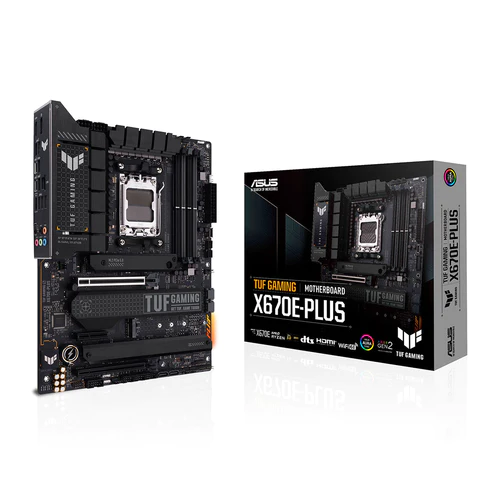 If you want to have the option of PCIe 5.0 for GPU given that next-generation graphics cards are likely to have PCIe 5.0, you can opt for this board.
At this point, one would opt for Asus ROG Strix or Gigabyte Aorus Extreme, but the prices are off the charts, actually more expensive than the Ryzen 9 7950X itself. This board is more than capable of providing everything you would need with PCIe 5.0 for both storage and GPU, ample M.2 slots and USB ports.
It has a BIOS flashback, has good cooling and if you are into overclocking, this board can handle it.
Note: All boards are capable of overclocking, even B650. Serious overclocking is not recommended on lower-tier boards. You can still use all the motherboards listed above for Ryzen 9 processors.
Pros
Cons
Best motherboards for Ryzen 9 5900X
Well, if you don't have the budget for the new Zen 4 processors, you can still opt for Zen 3 processors which is still a very viable option. Processors like Ryzen 9 5900X or even Ryzen 7 5800X3D are great options.
If you are going for such processors here are the best motherboard for Ryzen 9 5900X
MSI X570-A Pro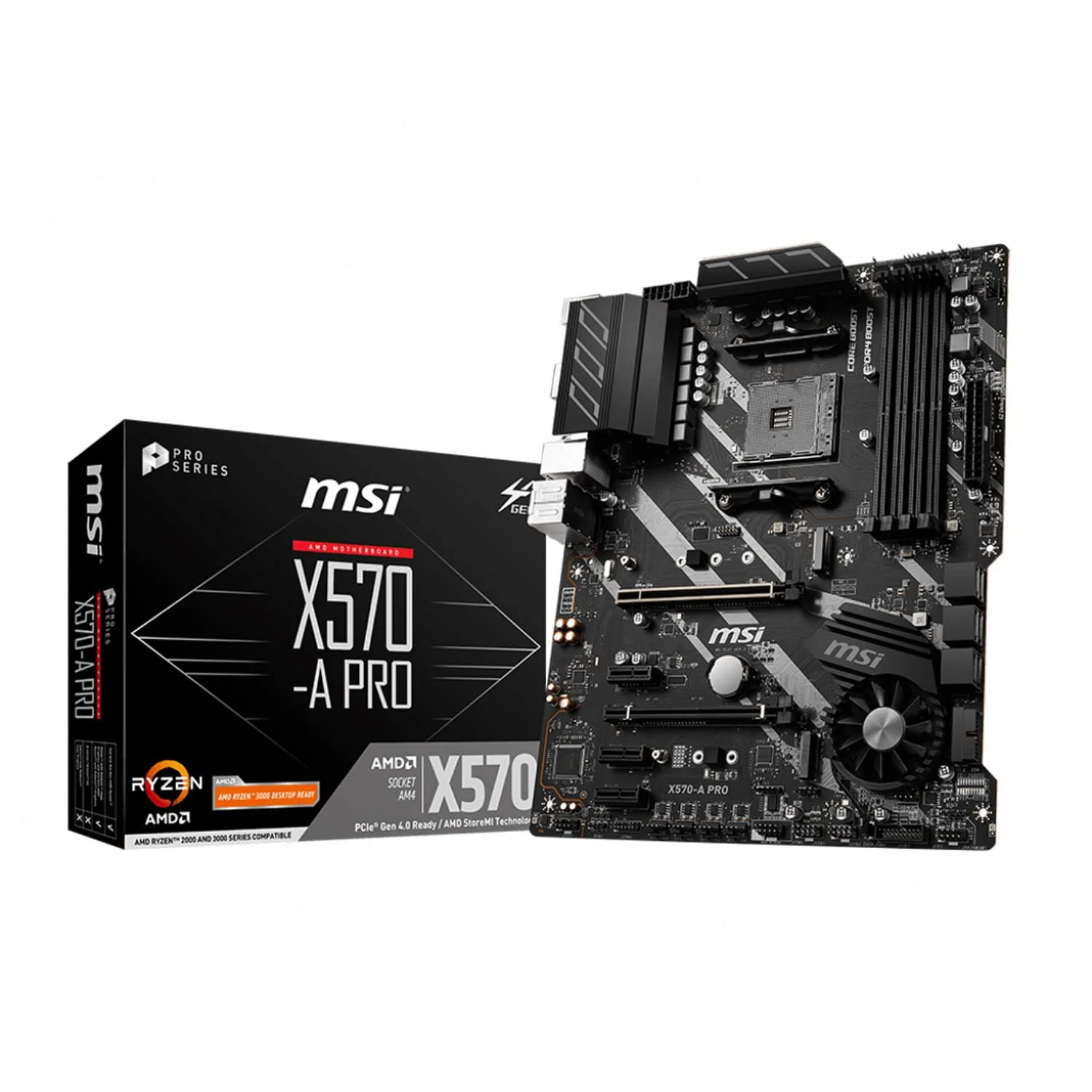 It is a budget X570 board perfect for a value build. It doesn't have a lot of USB ports but has a Type-C port at the rear. With 6 SATA ports and 2 M.2 slots, you can have plenty of storage options.
It is not a top-end board but it is good enough for a budget/value build.
ASUS ROG STRIX X570-F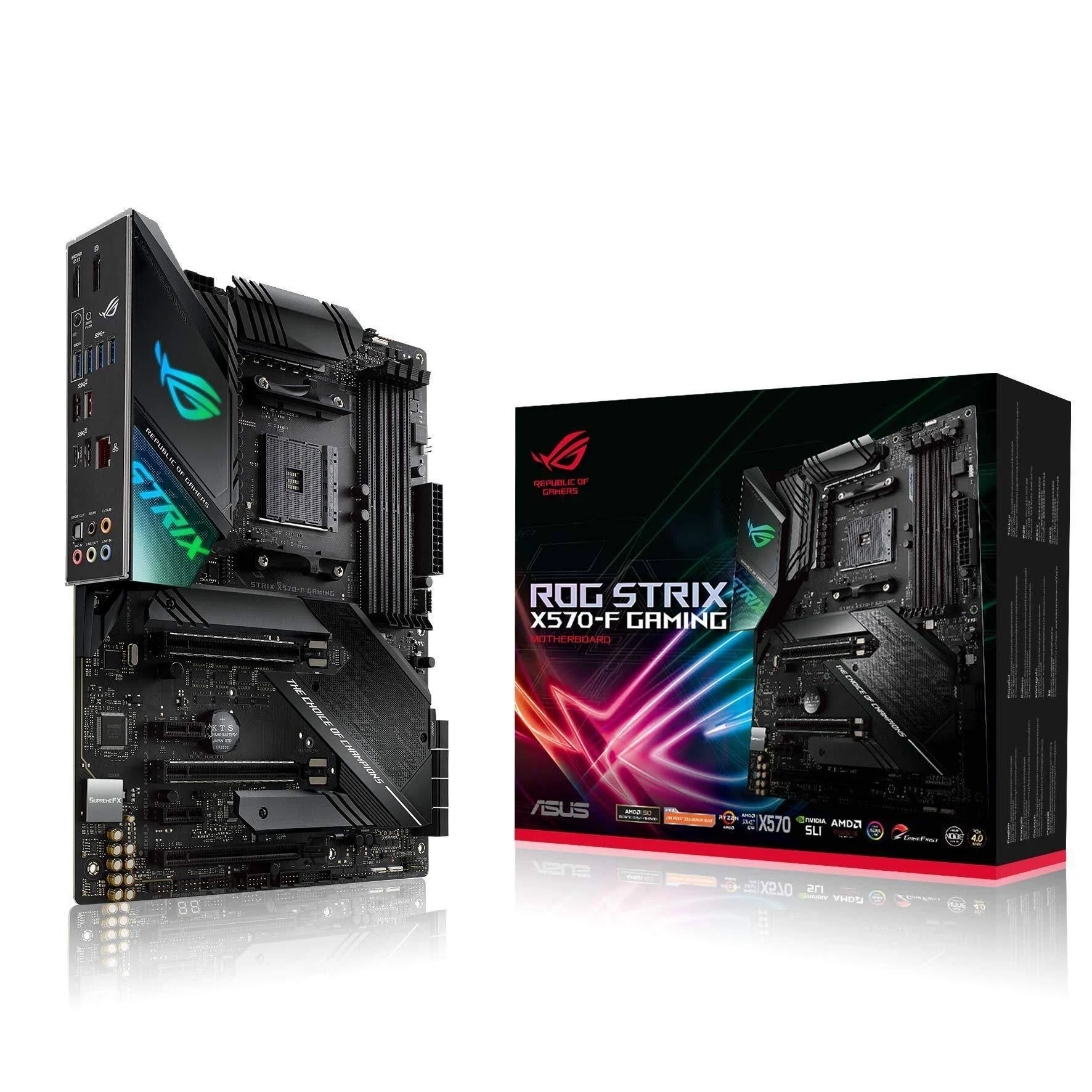 This is a high-end board which will get the job done and more. It can take care of serious overclocking and has plenty of storage options and expansion slots. It has a total of 5 PCIe expansion slots, 3 M.2 slots and 8 SATA ports.
So, you get a lot of storage with this board which is needed for a build focused on productivity.
Best motherboards for Ryzen 7 5800X, Ryzen 7 5700X or Ryzen 7 5800X3D
You can still use the mentioned X570 boards but if you want to go with something more budget oriented you can choose these three:
MSI B550M PRO
MSI MPG B550 GAMING-PLUS
Gigabyte X570 UD Motherboard
Do I need a new motherboard for AMD Ryzen 5 7600X?
Yes, you will need a new motherboard for AMD Ryzen 5 7600X. Zen 4 processors are on a new platform called AM5 which uses a different socket than the AM4 platform. Similar to AM4, AMD has proposed long-term support for AM5 spanning multiple generations, until 2025.
B650 and X670 are the chipsets that support the new Zen 4 processor and that is what you will need if you are going with the new Zen 4 processor like Ryzen 5 7600X.
What are the major things to consider while buying a motherboard for Ryzen 5 7600X or any other Zen 4 processor?
At the time of writing, the prices of new Zen 4 motherboards are really high and choosing between the B650 and X670 is the biggest decision you gotta make. Since there aren't a lot of sensible choices, your choices are narrowed down to very few of the boards.
Consider the number of storage options and a number of USB ports you would need. Having a Type-C port is an advantage. 
Consider if you want to have a PCIe 5.0 for GPU. There are no GPUs right now with PCIe 5.0 but it might be a thing with the next generation of GPUs.
Apart from this, there aren't a lot of other things that would need to look for, since choices are very narrow.
Check: How to choose the best motherboard for your new PC build
Where to get motherboards at the best price in India?
Buying on Amazon and Flipkart is convenient but not at the best price. The second best place is websites like MDcomputers, PCstudio, Vedant Computers, etc. You can check www.pcpricetracker.in to find the best online place to buy motherboards. The best place to buy motherboards in India for the best prices is offline shops. Y
If you live in cities like Mumbai, Bengaluru or Delhi, you can visit the electronics/PC market and get the motherboards at the best prices.
Closing thoughts
If you are choosing a Zen 4 processor for an upgrade or a new PC build, a well-priced motherboard is hard to come by for now. It will take some time for the motherboard prices to go down and until then, you will have to settle for a motherboard which is expensive.