The latest version of Firefox browser is here. This update is brings in the useful feature of PDF editing along with several other features.
It is now possible to edit PDFs: including writing text, drawing, and adding signatures.

Official Firefox Page
Firefox has been able to view PDF files for quite some time. Since version 93, you can also fill out forms directly within the web browser – in either Acrobat Forms or the old XFA format (this old format will soon be retired by Adobe).
Now, PDF editing in the browser itself is a real handy feature. But, apart from PDF feature, Firefox 106 also includes various other noteworthy enhancements, including improved PDF viewing, Firefox view and syncing across devices.
You can now edit annotations made within any document, even those created by other programs. You can change text color, font style, size, alignment, and much more. The changes appear immediately after saving the modified annotation.
This new feature makes it easier than ever before to view files without opening them locally. This means that even though malicious software can sometimes embed itself within a document, this won't affect how you read those documents. In fact, because the content remains safe, you can also share links to these files directly through email.

This is again a welcome feature. Google Chrome also prevents malicious files from opening with its Chrome Enhanced Safe Browsing Feature.
PDF viewers can also access the hidden text layers embedded within many PDF files, allowing them to read those texts aloud, even though they aren't visible to the naked eye.
This allows blind and visually impaired individuals to view documents without needing any special software installed on their computers. And because this information isn't actually part of the document itself, it won't impact its original formatting, layout, or appearance.
Firefox View makes it a breeze to quickly get back to what you've been reading lately – without leaving the browser window. You can also see recent closed tabs at any time through the History panel. Just click "View" next to each tab name to open it again.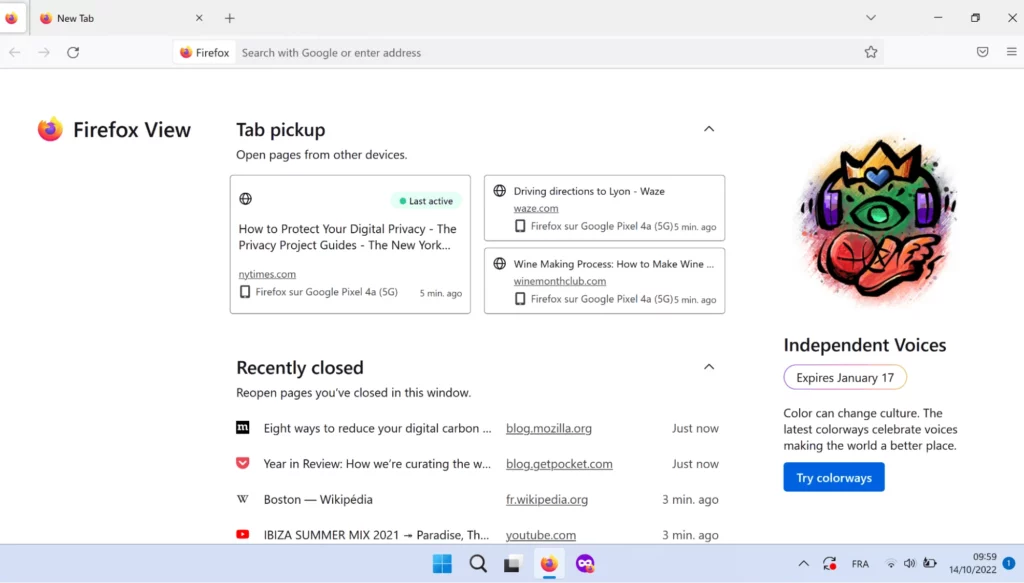 WebRTC's improvements include faster connections and smoother video calling between browsers. The standard supports low-latency communication across clients without requiring any special software installed on either end. This makes it easier than ever before to share content over the web. And since this protocol runs directly within the browser, it works even when JavaScript isn't enabled.
With a slew of recent updates, Firefox may once again become top browser in terms of market share. Google Chrome along with other Chromium-based browser dominate the browser market with almost 85% market share.
Let's hope Firefox continues this great run.
To see the release notes, visit the official site here.