While Nvidia's RTX lineup has completely taken over the GTX line of graphics cards, GTX 1660Ti is not dead yet. In fact, it can still deliver a decent performance, given its price.
If you are looking for a laptop in the price range of ₹70,000 to ₹90,000 ($800 to $1200), RTX 3060 and GTX 1660Ti are the only two viable options available. Should you buy RTX 3060 or save your money buying the 1660Ti laptop?
Well, the answer can be different for different people depending on the overall value of the laptop. Keeping gaming as the main priority, let's compare 3060 vs 1660Ti and see who wins this battle.
Specifications Comparison of RTX 3060 vs 1660Ti
| | | |
| --- | --- | --- |
| | GTX 1660Ti | RTX 3060 |
| Architecture | Turing, TU116-12nm | Ampere, GA106 – 8nm |
| CUDA Core | 1536 | 3840 |
| Boost clock | 1335-1590 MHz | 1283-1703 MHz |
| TGP | 60 – 80W | 60 – 115W |
| Memory | 6 GB GGDR6 | 6 GB GGDR6 |
| Memory Speed | 12 GBPS | 14 GBPS |
| Memory Interface/Bus | 192 bit | 192-bit |
| Memory Bandwidth | 288 GB/s | 336 GB/s |
| Ray Tracing Support | No | Yes |
| Nvidia DLSS Support | No | Yes |
| AMD FSSR Support | Yes | Yes |
Specification of Laptop 1660Ti GPU and RTX 3060
There are clear signs of ageing in the 1660Ti but it is no slouch by any means. Both have 6GB of VRAM and the memory bus interface is also the same at 192-bit. Although all other things like CUDA cores, memory speed, and clock speeds are higher in RTX 3060.
Most importantly, RTX 3060 has Ray Tracing support but honestly, it shouldn't be a big factor since laptops RTX 3060 is not exactly great at Ray Tracing and most users will not want to sacrifice their framerates for visual upgrade (which can be insignificant in many cases).
In India, there are only three laptops that are readily available with 1660Ti and a lot of laptops with 3060. To keep things as fair as possible, we will compare the MSI GF65 laptop with RTX 3060 and 1660Ti.
Note: GF65 with RTX 3060 does not have full-powered graphics but is at 75W which is similar to the 1660Ti laptop. This might skew the results in favour of 1660Ti a little bit.
Having said that, you won't find laptops after 10th Gen and AMD 4000 series with 1660Ti which might put 1660Ti a little behind compared to the 3060.
Gaming Benchmarks
Let's compare some gaming benchmarks of both of these laptops.
| | | |
| --- | --- | --- |
| | MSI GF65 1660Ti | MSI GF65 RTX 3060 |
| Processor | Intel i5-10500H | Intel i5-10500H |
| GPU TDP | 80W | 75W |
| RAM | 16 GB DDR4 | 16 GB DDR4 |
Quick Specs Comparison between two laptops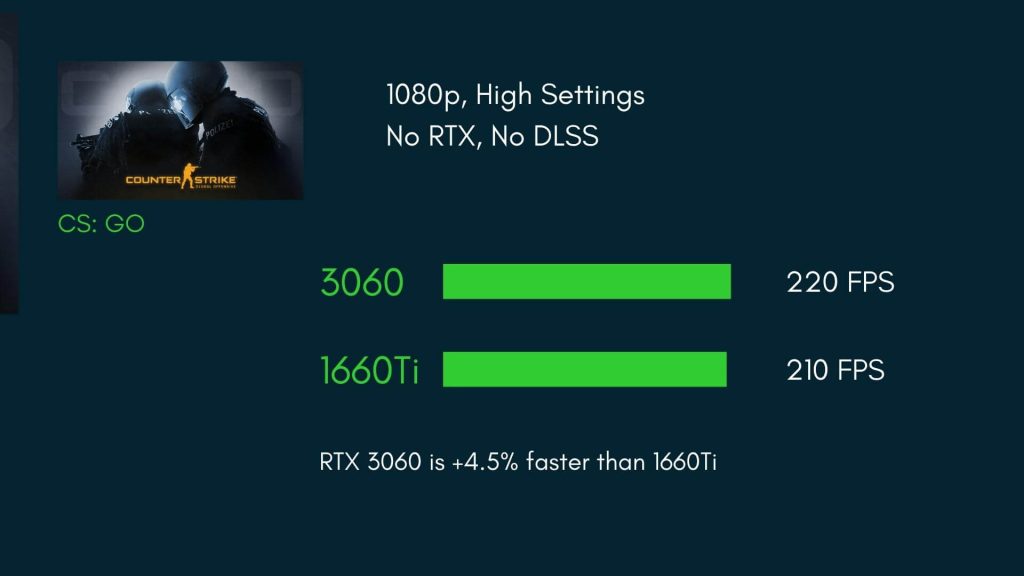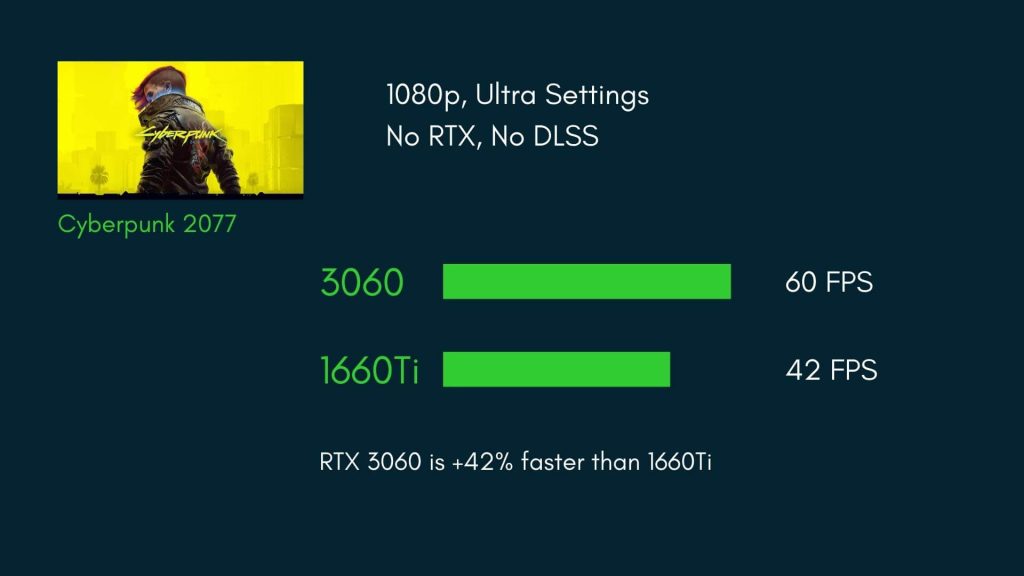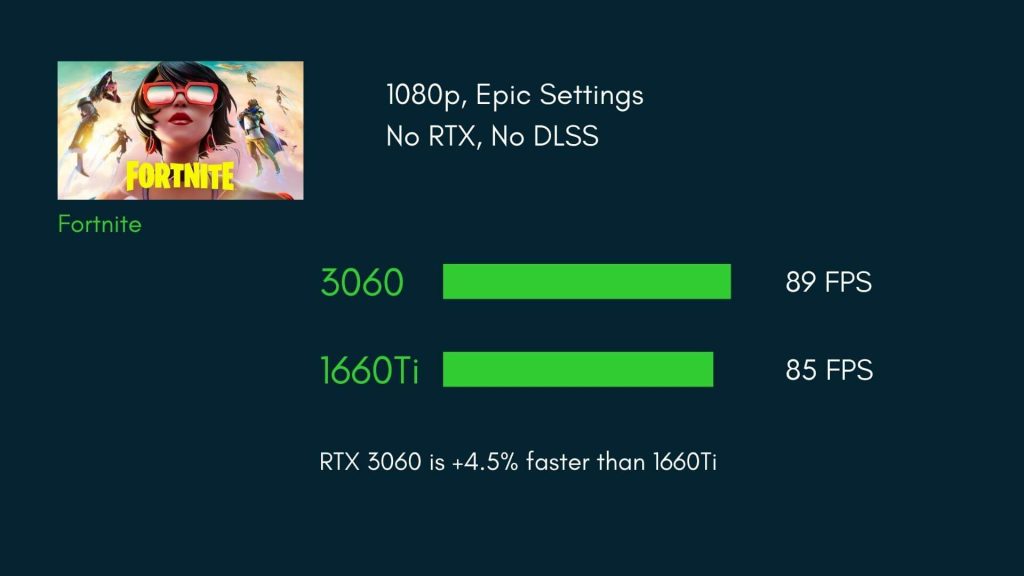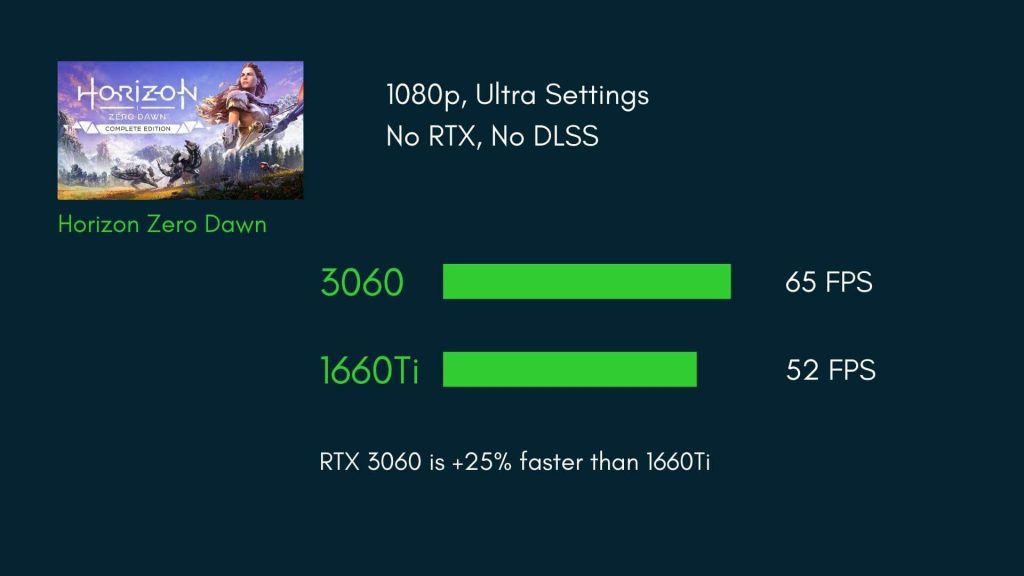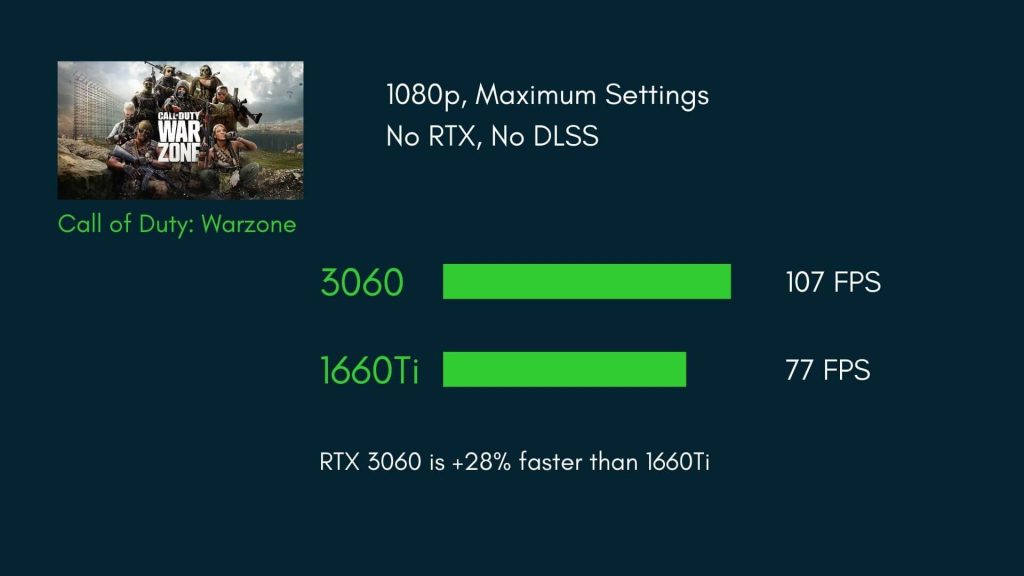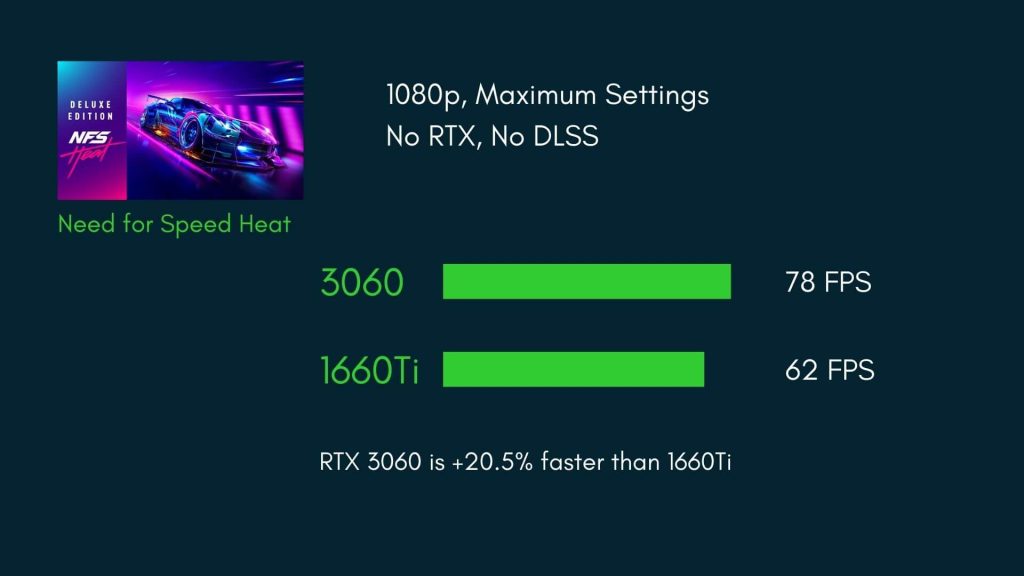 When you account for e-sport titles, the framerate is mainly limited by the CPU and the real difference will be seen in laptops with a more powerful processor. Most of the modern titles run really well even in 1660Ti. You don't even have to sacrifice a lot in visual quality to achieve 60fps in most games.
This makes 1660Ti still a viable option, given its price. Well, there is no Ray Tracing comparison because 1660Ti can't do ray tracing. It doesn't support DLSS but that is not an issue because of AMD's FSSR, which has improved a lot and performs the same as DLSS now.
Content Creation
1660Ti is an older GPU and it shows in the content creation workloads. There are huge differences in Blender workloads which is mainly due to the higher number of CUDA cores in the RTX 3060.
Da Vinci Resolve benchmarks also showed slightly higher performance in RTX 3060 but this mostly depends on the GPU power. If you get a full-powered 3060 laptop, you will get more performance out of it.
While the RTX 3060 is faster in all the content creation workloads, 1660Ti is not too bad either.
Price Difference
There aren't a lot of laptops with 1660Ti currently, (just 3 as of now in India) which might be difficult to judge the price difference. The MSI GF65 with RTX 3060 costs ₹82,000 and the 1660Ti costs less at ₹76,000.
Another laptop, HP Omen with Ryzen 7 4600H and GTX 1660Ti costs a little more at ₹86,000 but it also has a more powerful processor.
Compared to the 1660Ti laptops, there are a lot of 3060 laptops. A full-powered 3060 laptop will cost significantly more than a full-powered 1660Ti laptop.
Verdict
1660Ti is about 3 years old now and it shows in overall efficiency. You can get a good RTX 3060 laptop for about the same price as a 1660Ti laptop. The cheapest 3060 laptop is the MSI GF65 which is ₹82,000 but it is not a full-powered laptop.
You can get a more powerful laptop with a more powerful processor and higher TDP but it will be much costlier.
Considering that no other laptop GPU has 6GB VRAM below 75000, that leaves the 1660Ti as the only option. RTX 3050 and RTX 3050Ti perform far worse than 1660Ti and also limit the performance because of just 4GB of VRAM.
If you manage to get an RTX 3060 laptop at a sale, it is absolutely worth it. Even a relatively low-powered laptop can be a good value if bought at a lower price or at a close price difference.
If you are under a strict budget, 1660Ti might be a worthy option. Many will argue that Ray Tracing capabilities and DLSS give the 3060 laptops a huge lead but it is not. Realistically, even a 3060 laptop is not ideal for Ray Tracing.
As for the DLSS, AMD's FSR is much better now and the improved FSSR 2.0 is as good as DLSS now and you can use it whether you have Nivida or AMD.
Overall, RTX 3060 laptop is a great value laptop and if the price difference is not much and you can stretch the budget, the 3060 laptop is the way to go!