Last Updated on April 2, 2023 by Nahush Gowda
Many of you have heard and also probably used Crucial Ballistix RAM in your system. Yes, that's not going to be a thing anymore. Micron (parent company of Crucial) has officially retired the Ballistix moving forward.
The 6000 series AMD Ryzen processors will start appearing in laptops and seem to be ways ahead in the integrated graphics performance and seriously challenging Intel's 12th gen laptop processors.
A few laptop launches, new mobile launches and a couple of gaming news. Let's go over them.
Most awaited Intel's Arc GPUs are officially coming out in Q2 2022 and Intel's roadmap revealed
People are eagerly waiting for Intel's line of GPUs and the company initially planned to bring out them in Q1 of 2022.
Following Intel's Investor Meeting, Intel has put out the timeline for their Arc GPUs release. They have also revealed a roadmap for their upcoming generation of GPUs.
Arc GPUs for laptops will come in Q1, pretty soon, and the launch of discrete GPUs for desktops will follow suit in Q2 of 2022. Q3 will see the release of Arc GPUs for the workstations.
Additionally, Intel has also announced that they are working on their third-gen GPUs codenamed "Celestial" that is aimed towards the ultra-enthusiast segment.
Intel's roadmap is laid out for the next 3-4 years and is looking to capture each segment every year. The first-gen which is bound to come out this year is called "Alchemist" and the next generation is codenamed "Battlemage".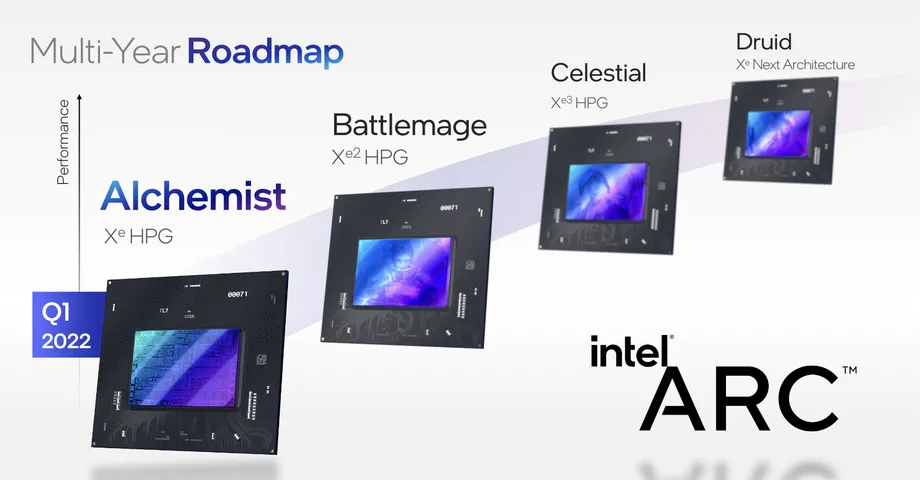 Intel has officially claimed that they will be releasing millions of GPUs to help gamers and people are hopeful that this will help normalise the absurd prices of GPUs.
Garena Free Fire, Applock and 52 more Chinese apps have been banned in India owing to security threat
The Indian government have banned a number of Chinese apps, nearly 300, in the past which posed a security threat. Now a fresh list of 54 apps includes the very popular mobile game, Garena Free Fire.
The government issued this statement following the ban. "In addition, there are other serious concerns as some of these apps can carry out Espionage and Surveillance activities via camera/ mic, accessing fine location (GPS) and do malicious network activity similar to previously blocked apps. These apps were allegedly engaged in activities prejudicial to the sovereignty and integrity of the country also posing a serious threat to Security of the State and defence of India."
A list of all 54 apps which have been banned.
AppLock
APUS Security HD (Pad Version)
Astracraft
Badlanders
Barcode Scanner – QR Code Scan
Beauty Camera – Selfie Camera
Beauty Camera: Sweet Selfie HD
CamCard for SalesForce Ent
Conquer Online
Conquer Online – MMORPG Game
CuteU Pro
CuteU: Match With The World
Dual Space – 32Bit Support
Dual Space – 64Bit Support
Dual Space Lite – Multiple Accounts & Clone App
Dual Space Pro – 32Bit Support
Dual Space Pro – Multiple Accounts & App Cloner
DualSpace Lite – 32Bit Support
Equalizer – Bass Booster & Volume EQ & Virtualizer
Equalizer & Bass Booster – Music Volume EQ
Equalizer Pro – Volume Booster & Bass Booster
EVE Echoes
Extraordinary Ones
FancyU – Video Chat & Meetup
FancyU pro – Instant Meetup through Video chat!
FunChat Meet People Around You
Garena Free Fire – Illuminate
Isoland 2: Ashes of Time Lite
Lica Cam – selfie camera app
Live Weather & Radar – Alerts
MoonChat: Enjoy Video Chats
MP3 Cutter – Ringtone Maker & Audio Cutter
Music Player – Equalizer & MP3
Music Player – MP3 Player
Music Player – Music, MP3 Player
Music Plus – MP3 Player
Nice video baidu
Notes – Color Notepad, Notebook
Onmyoji Arena
Onmyoji Chess
Parallel Space Lite 32 Support
RealU Lite -video to live!
RealU: Go Live, Make Friends
Rise of Kingdoms: Lost Crusade
SmallWorld-Enjoy groupchat and video chat
Stick Fight: The Game Mobile
Tencent Xriver
Twilight Pioneers
UU Game Booster-network solution for high ping
Video Player Media All Format
Viva Video Editor – Snack Video Maker with Music
Voice Recorder & Voice Changer
Volume Booster – Loud Speaker & Sound Booster
Wink: Connect Now
Intel in trouble; Ryzen 6000 series, Zen3+, laptop processors are here and they look mighty impressive
AMD had announced its Zen 3+ processors, codenamed "Rembrandt", during the CES 2022 in January. Since then, we have been patiently waiting for it shown on laptops and here they are.
Over 200 new laptop models will be announced with AMD's Ryzen 6000 series in 2022. AMD claims that the 6000 series will see a 1.3X CPU performance and 2X GPU performance compared to the 5000 series mobile processors.
The Zen 3+ is manufactured on the TSMC 6nm FinFET process which will greatly improve its efficiency.
AMD has announced four categories of Ryzen 6000 CPUs.
-HX for "Ultra-enthusiasts" segment with TDP > 45 W
-H for Mainstream and Gaming segment with TDP of 45W
-HS for Slim and Lightweight Gaming segment with TDP capped at 35W
-U for Productivity and Ultraportable segment with TDP of 15-28W
One of the biggest improvements is the move to RDNA2 for integrated graphics. This will put a huge gap between AMD and Intel in terms of integrated graphics performance. This will hugely benefit the lightweight and productivity laptops.
The shift to RDNA2 has also brought changes to the iGPU models and nomenclature.
The Ryzen 7 and 9 processors will feature Radeon 680M integrated graphics which will have 12 Render Units at 2400 MHz clock speed.
The Ryzen 5 processors will feature Radeon 660M integrated graphics which will have 6 Render Units at 1900 MHz clock speed.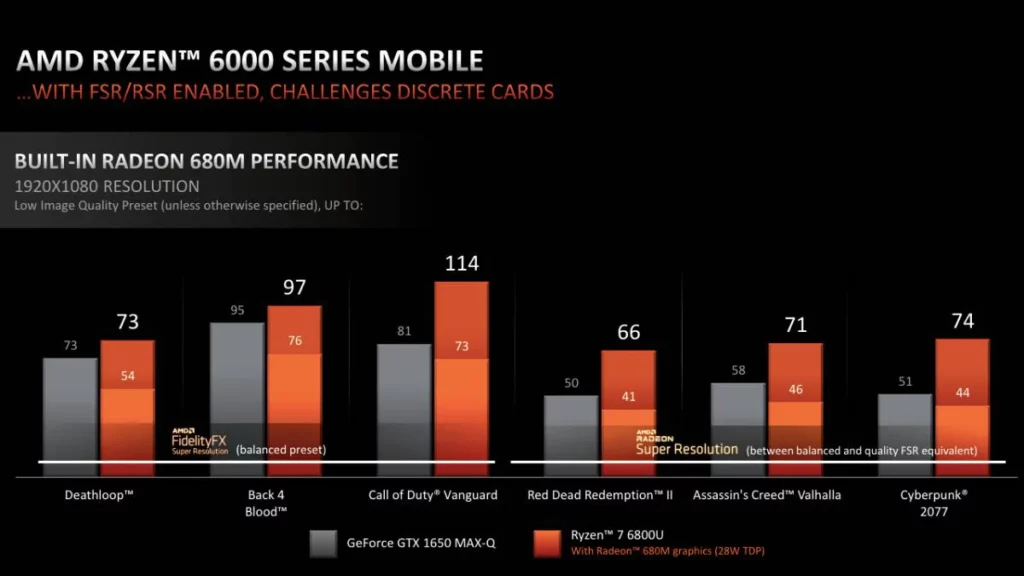 The performance of an integrated GPU coming close to a discrete GPU is super impressive! Although it can't quite catch up with raw performance, it can get some boost with AMD's FSSR and the Radeon Super Resolution (upscaling technology).
In terms of CPU performance, its own comparison has shown Intel's 12th-gen 12900HK outperforming 6900HS in Cinebench but AMD claims that it has much better performance per Watt, at 35W, compared to 110W.
Historically, thin and ultra-portable laptops have been dominated by Intel processors and now AMD wants to take a big pie out of the "lightweight" and "ultra-portable" segments.
Platform improvement
With the new generation, AMD will support DDR5 memory, USB4 at 40GBps, Wi-Fi 6e and Bluetooth LE 5.2. There's also the support for AV1 decode with Display Port 2.1 and HDMI 2.1.
The USB4 should function similarly to Thunderbolt. It will support charging, video output and External GPU.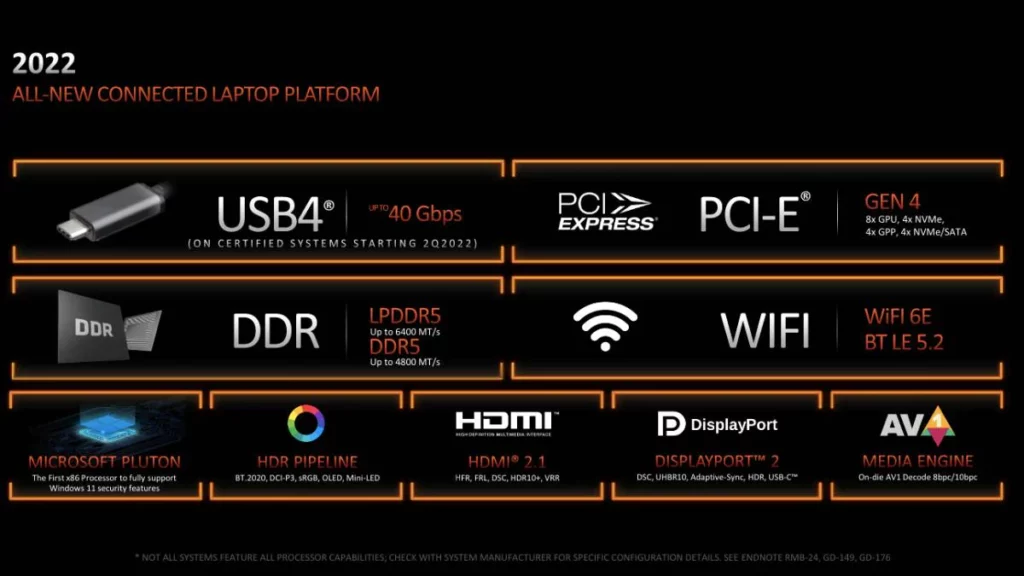 Cyberpunk 2077 now supports AMD FSSR and get next-gene update for PS5 and Xbox Series S/X
Patch 1.5 is a major update that will include support for AMD FSSR, gameplay improvements and next-gen improvements for PS5 and Xbox Series S/X.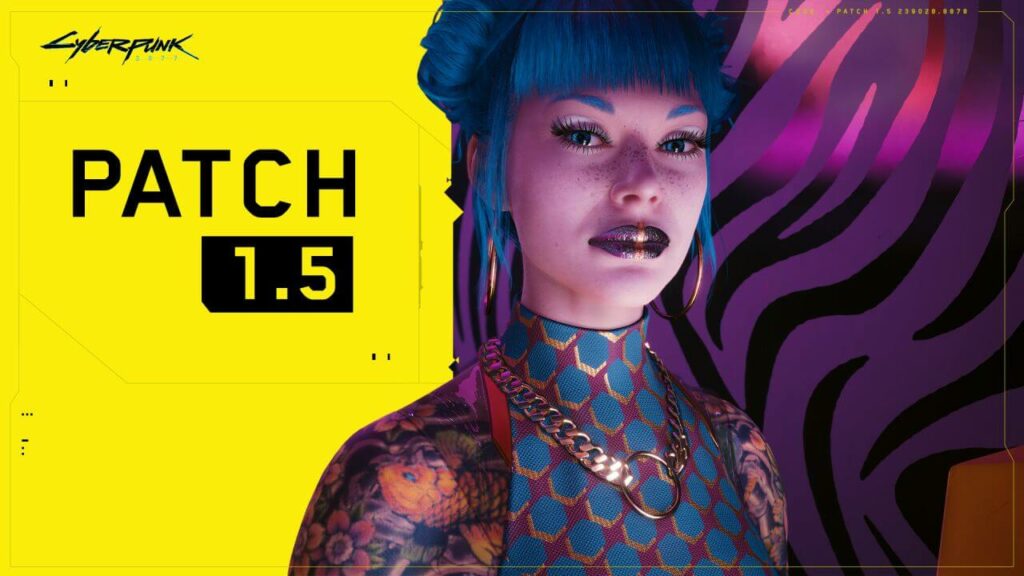 The improvements for the console include ray tracing support, 4K resolution with dynamic scaling, visual improvements, faster loading times and other technical improvements.
On the PS5, the updates will feature support for haptic feedback, adaptive triggers and speakers on the DualSense controller.
The support for FSSR will allow older hardware to play the game at respectable frames. Even with GTX 1050Ti, you can play Cyberpunk at low-medium settings.
For a detailed breakdown of all the improvements, click the link here.
Foxconn partners with Vedanta Group to manufacture chips in India
Foxconn, the largest contract electronics manufacturer and a major Apple supplier, is looking to diversify its business amid the global chip shortage.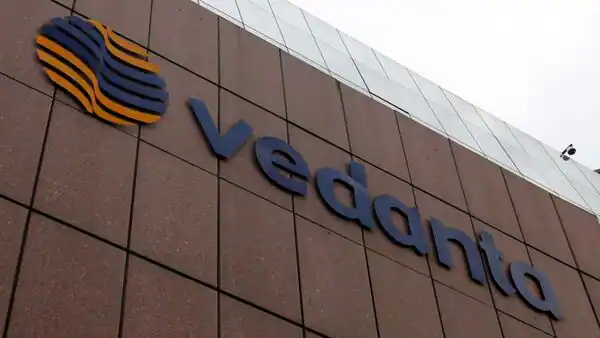 Foxconn has signed an MoU with Vedanta Group to make semiconductors which will give a significant boost to the domestic manufacturing of electronics. It also aligns with the vision of Prime Minister Narendra Modi to create an ecosystem for semiconductor manufacturing in India.
Foxconn has said that it will invest $118.7 million to set up a joint venture where Foxconn will hold 40% of the venture's shares.
Launches of the Week
Asus ROG Phone 5s and 5s Pro
The ROG Phone 5s and 5s Pro launched in India with an upgrade in the processor. The new refresh of the ROG Phone 5 is powered by the Snapdragon 888+ and comes with a few updates over the ROG 5 and ROG 5 Pro.
Read what changes the new ROG Phones have in detail here.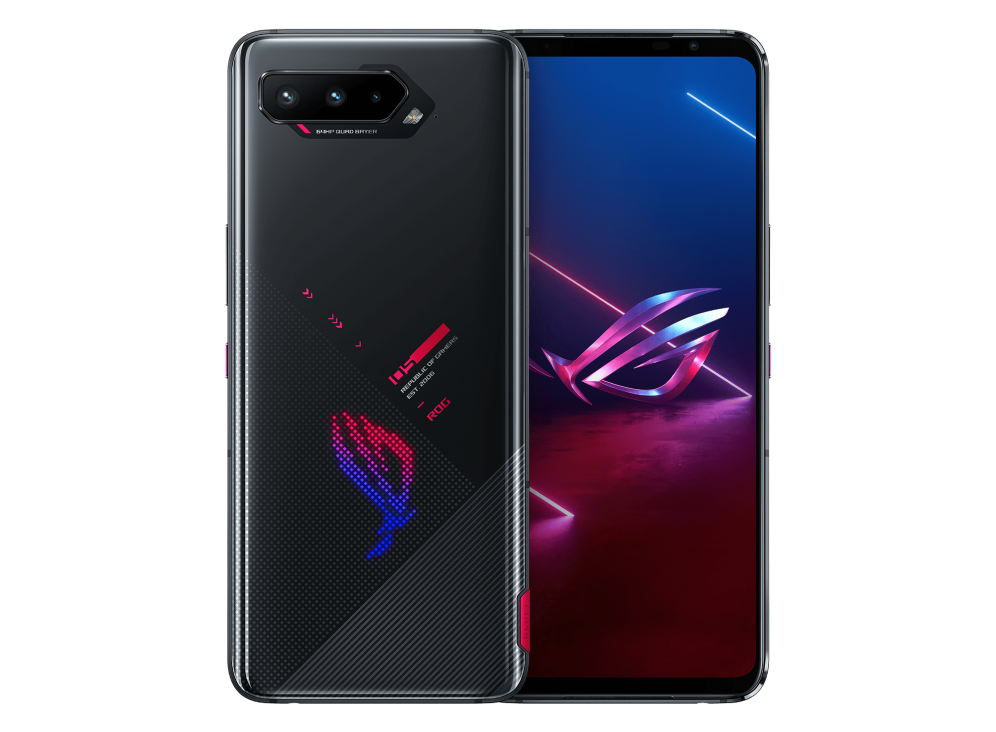 Quick Specs
ROG Phone 5s
ROG Phone 5s Pro
Processor
Snapdragon 888+
Snapdragon 888+
Camera
Triple Camera Rear:
64 MP Sony IMX 686 camera, 13 MP ultra-wide camera and a 5 MP macro shooter.
Front Camera:
24MP
Triple Camera Rear:
64 MP Sony IMX 686 camera, 13 MP ultra-wide camera and a 5 MP macro shooter.
Front Camera:
24MP
Display
6.78 inches, 144Hz sAMOLED
FHD+ resolution
6.78 inches, 144Hz sAMOLED
FHD+ resolution
RAM
8 GB and 12 GB
18 GB
Storage
128 GB and 256 GB
512 GB
Battery
6000 mAh
6000 mAh
OS
Android 11, Running on ROG UI
Android 11, Running on ROG UI
Connectivity
5G, 4G LTE, Wi-Fi 6, Bluetooth v5.2, and GPS/ A-GPS support.
5G, 4G LTE, Wi-Fi 6, Bluetooth v5.2, and GPS/ A-GPS support.
ROG 5s and ROG 5s Pro quick specifications
Redmi 10 2022
Redmi 10 2022 was launched globally without much noise. Although it's not clear when it will be available for purchase, its specifications are official.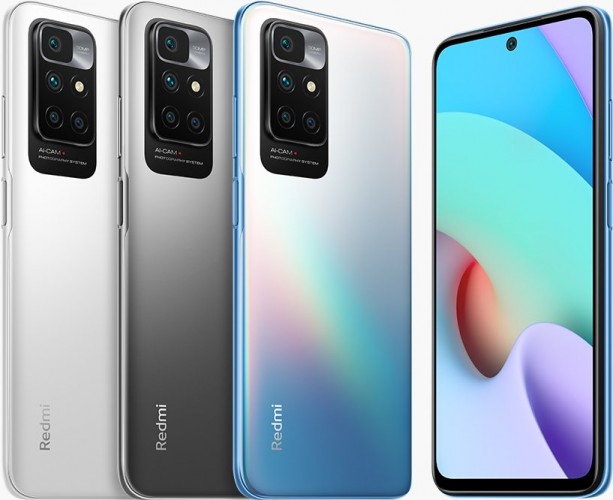 Quick specs
Processor
MediaTek Helio G88
Camera
Quad Camera Rear:
50 MP primary sensor, 8 MP ultra-wide-angle sensor with 120-degrees field-of-view, and two 2 MP depth and macro sensors
Front Camera:
8 MP
Display
6.5 inches, DotDisplay with Adaptive refresh rate of 90Hz
1,080×2,400 FHD+ resolution
RAM
4 GB
Storage
64 GB and 128 GB
Battery
5000 mAh with 18W fast charging
OS
Android 11, Running on MUI 12.5
Connectivity
4G LTE, dual-band Wi-Fi, Bluetooth v5.1, NFC, 3.5mm headphone jack, USB Type-C port
Redmi 10 2022 quick specifications
Acer Predator Helio 300, i9-11900H
The newest Acer gaming laptop comes with a 360Hz refresh rate which is the first laptop in India to do so.
It should be noted that it is not powered by the newest 12th gen Intel processor, but is powered by 11th gen, 11900H (still really good).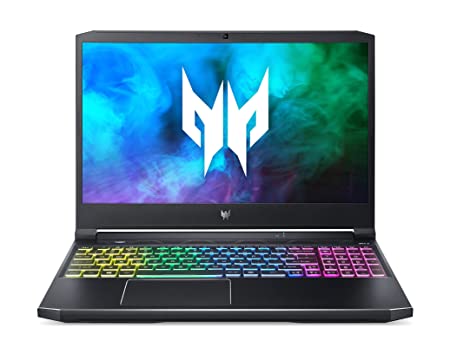 Quick Specs
Processor
Intel i9-11900H
GPU
RTX 3060 (6 GB VRAM)
Display
15.6 inch display, FHD IPS (1920×1080). 360 Hz refresh rate
100% sRGB
Also available in QHD, 165 Hz refresh rate display
RAM
16 GB DDR4 (upgradeable to 32GB)
Storage
1 TB Gen4 NVMe SSD
Keyboard and Webcam
Backlit keyboard with four-zone RGB
720p Webcam
Battery
4-cell 59Whr
OS
Windows 11 out-of-the-box
Connectivity
Bluetooth v5.1, HDMI port, USB Type-C Thunderbolt 4 port, USB 3.2 Gen 1 port, USB 3.2 Gen 2 port with offline charging support, Intel's Killer Wi-Fi 6 AX 1650i for Wi-Fi
Acer Predator Helios 300 quick specs