People have been facing problems with Meta's app families starting with WhatsApp and minor reports about Instagram's login and now Instagram is facing a fresh new issue which is leading to a lot of people potentially losing their accounts permanently.
Just a few days ago, Whatsapp was down for several hours. Currently, users are reporting random suspension of their accounts and many are not able to login into their accounts.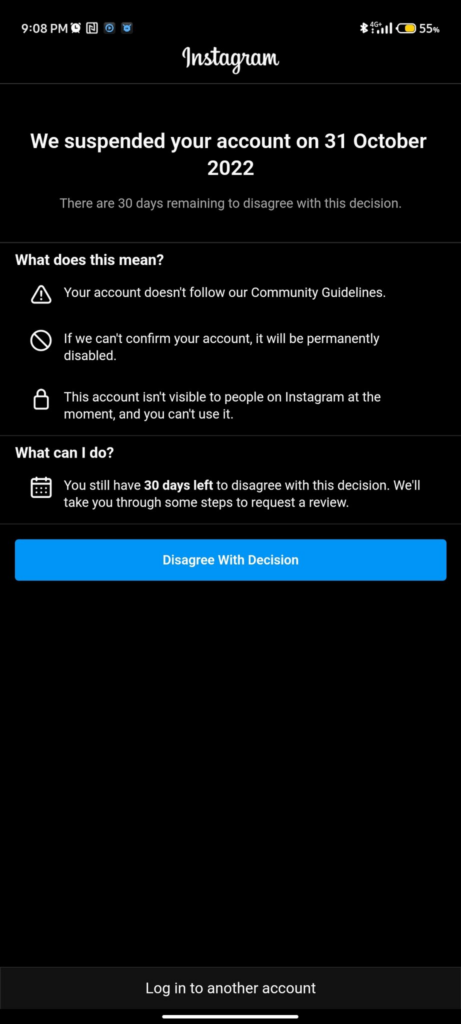 This is what users are receiving out of the blue while their accounts and then not able to login into their accounts.
One of the users took to Twitter saying "Yes! I was simply scrolling the feed and got the suspension screen. Now I can't log back in."
Another user wrote about Instagram going down along with his friends "Pretty sure there is an #instagramsuspended bug right now. Mine and tens of thousands of accounts say they are suspended for breaking community guidelines today. I haven't touched it in weeks and guaranteed it doesn't. And now #instagramdown. Don't worry, I think you'll be fine"
Even the desktop version is down for some users. I personally have been not able to log in to my Instagram account on my desktop for some reason which now seems to indicate that Meta has an underlying problem with their social media apps.
The Downdetector currently shows over 1,200 reports of the app being down at the moment and the number of reports is going up.
This looks really bad for Instagram as so many people are reporting suspended accounts out of the blue which threatens the permanent loss of their accounts.
This comes at the heel of Whatsapp going down for several hours. More and more users are coming to Twitter to report random suspensions.
Many users are panicking as their accounts are getting suspended and this is the official statement that Instagram has put out to curb the panic among users.
While the apps are down, people are complaining about Instagram's downtime with memes.
Some reports have also been suggesting a loss of followers on their accounts. At this point, it is hard to say what is going on with Instagram but it looks really bad.