Apple Event saw quite a lot of launches from the most awaited iPhone 14 to their new extreme performance Apple Watch. We will cover all the information about what was announced during the Apple Event.
Apple launched 3 new Smartwatches
Apple Watch Series 8
While the majority of the focus is on the new iPhone, Apple has done a great job with their Watch series. Apple has launched 3 new smartwatches – Apple Watch Series 8, Apple Watch SE and Apple Watch Ultra.
Apple Watch Series 8 has made some improvements over its last-gen Watch Series 7. These are some of the real improvements Apple has done with their Watch Series.
Most of the things remain the same in the new Apple Watch Series 8 except for the processor and minor changes in the design.
Apple Watch Series 8 uses the S8 SiP processor over the S7 in the older gen. This comes with a performance boost but apart from this, most of the features and specifications remain the same. Apple Watch Series 8 has new watch faces and bands.
Apple Watch Series 8 will be available to order today and will be delivered starting September 16. The price starts at $399 for GPS and $499 for GPS+Cellular. ₹45,900 for GPS only and ₹55,900 for GPS+Cellular.
Apple Watch SE
This is the second generation of the more economical Watch series from Apple. The Watch SE starts at a price of ₹29,990 for the GPS-only variant and ₹34,900 for GPS+Cellular. ($249 and $299)
Apple Watch SE too remains similar in most aspects but does come with a larger screen and the new S8 SiP chip which makes it 20% faster than the previous gen SE watch. With watchOS 9, Apple Watch SE users can enjoy the new Compass app, as well as enhanced fitness and wellness features.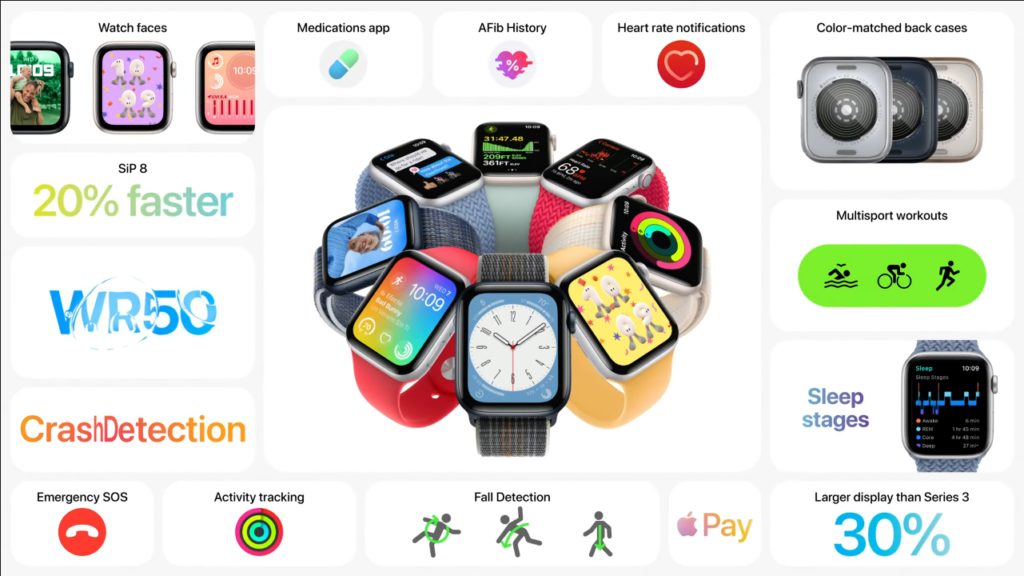 The Apple Watch SE retains the same case design, but with a redesigned matching back case made of a nylon composite material that makes it lighter than ever. Apple Watch SE comes in 40mm and 44mm aluminium cases in midnight, starlight, and silver finishes, and is compatible with all bands.
Apple Watch Ultra
The Ultra avatar of the Apple Watch is made for extreme sports, exploration and adventure. The Apple Watch Ultra is designed to be more rugged and able to take the beating of extreme conditions.
The Apple Watch Ultra features a 49mm titanium case and a flat sapphire front crystal, revealing the largest and brightest Apple Watch display to date. The peak brightness can reach a peak brightness of 2000 nits and the watch can be submerged in water up to 100 feet.
Apple Watch Ultra is packed with features that are made keeping the "outdoors" in mind but remain the same in terms of hardware specifications as the Watch Series 8.
The compass app has been redesigned to show more information. The app displays a new hybrid view that shows both an analogue compass dial and a digital view at the same time. When you turn the Digital Crown, you'll see an additional view with latitude, longitude, elevation, and incline, as well as an orienteering view with Compass Waypoints and Backtrack.
Apple Watch Ultra is WR100 certified to support underwater adventures which can be submerged underwater up to 100ft. It is also certified to EN 13319, an internationally recognised standard for dive accessories such as depth gauges, which are used by recreational divers all over the world.
The Trail Loop band is the thinnest Apple Watch band to date, designed specifically for endurance athletes and runners. The lightweight woven textile is soft and flexible, allowing it to cinch to the perfect fit, and the handy tab allows for quick and easy adjustment.
The Alpine Loop band was designed with explorers in mind, with two integrated layers made from one continuous weaving process that eliminates the need for stitching. The top loops, which are interspersed with high-strength yarn, allow for adjustment and secure attachment of the titanium G-hook fastener.
With a titanium buckle and corresponding spring-loaded loop, the Ocean Band is specifically designed for extreme water sports and recreational diving. It is made of a flexible fluoroelastomer and stretches while utilising tubular geometry for a secure fit.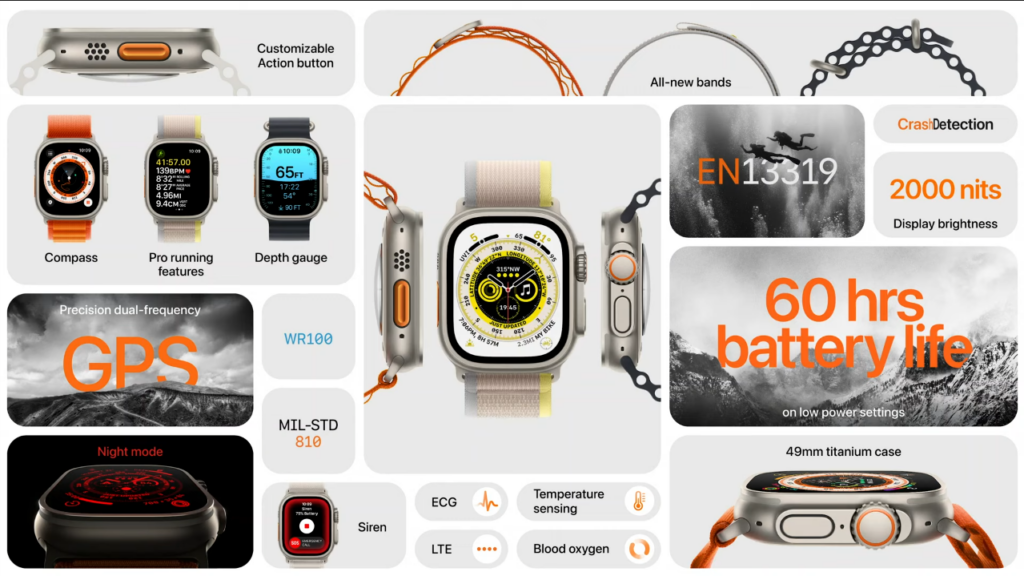 Apple Watch Ultra is ₹89900 in India. ($799)
Apple Airpods Pro
Apple Airpods Pro (Second Generation) is using the H2 chip over the older H1 chip. The new chip enables it to improve sound quality and cancels up to twice as much noise as the previous generation AirPods Pro.
AirPods Pro now offer richer bass and crystal-clear sound across a wider frequency range thanks to a new low-distortion audio driver and custom amplifier. Transparency mode allows listeners to stay connected to and aware of their surroundings.
Using the iPhone's TrueDepth camera, users can create a personal profile for Spatial Audio that delivers a listening experience that is precisely tailored to them. Personalised Spatial Audio with music, movies, and TV shows — with dynamic head tracking — is available on iPhone, iPad, Mac, and Apple TV.
AirPods Pro have an additional 1.5 hours of listening time over the original, for a total of up to six hours with Active Noise Cancellation. 2 Users can enjoy up to 30 hours of total listening time with Active Noise Cancellation by charging the case four times.
Airpods Pro will be available from September 29 and you can order them now for ₹26,900 ($299).
Apple has now launched 4 new iPhones
Apple has now launched 4 new iPhones
iPhone 14 and iPhone 14 Plus
This time around Apple has decided to drop the Mini iterations of the iPhone and instead for a bigger Plus iteration. The iPhone 14 will have a 6.1-inch, Super Retina XDR display with OLED technology with 1200 nits of peak HDR brightness, a 2,000,000:1 contrast ratio, and Dolby Vision.
The iPhone 14 Plus will have the same display underneath but with a bigger screen of 6.7-inch.
Both of them will be powered by the previous gen's A15 Bionic chip but will have 5 core GPU for extra graphical performance and their new Photonic Engine. The performance will remain more or less compared to the previous gen iPhone 13.
The camera department saw some additions which include Photonic Engine, Action mode and Cinematic mode. Upgrades and features for dual-camera systems include:
A new Main camera with a larger /1.5 aperture, allowing for photo and video improvements in all lighting scenarios for better detail and motion freezing, less noise, faster exposure times, and sensor-shift optical image stabilisation.
A new front-facing TrueDepth camera with an f/1.9 aperture for improved low-light performance.
A new Action mode for an incredibly smooth-looking video that compensates for significant shakes, motion, and vibrations.
The Ultra Wide camera, with Photonic Engine, provides a unique perspective for wider shots as well as improvements to low-light photos.
Cinematic mode is now available in 4K at 30 fps and 4K at 24 fps.
The iPhone 14 lineup as a whole introduces ground-breaking safety features that can provide emergency assistance when it matters most, which includes Crash Detection and Emergency SOS via satellite. It can detect car crashes and automatically send SOS, and emergency calls to selected contacts. The Emergency SOS via satellite is handy in cases of emergency where no cellular signal is available.
Read more about it in detail here.
iPhone 14 Pro and iPhone 14 Pro Max
iPhone 14 Pro and iPhone 14 Pro Max will be powered by the new A16 Bionic chip which is more powerful than the older A15.
The iPhone 14 Pro and the iPhone 14 Pro Max feature Dynamic Island — a new design that introduces an intuitive way to experience iPhone — and the Always-On display.
Dynamic Island adapts to display critical alerts, notifications, and activities. The Dynamic Island remains active without interfering with the content on the screen, allowing users to access controls with a simple tap-and-hold.
Continuous background activities such as Maps, Music, or a timer remain visible and interactive, and third-party apps in iOS 16 that provide information such as sports scores and ride-sharing with Live Activities can benefit from Dynamic Island.
iPhone 14 Pro introduces a new class of pro camera system, powered by A16 Bionic, with the first-ever 48MP Main camera on the iPhone featuring a quad-pixel sensor. All the iPhone 14 variants now include the Photonic Engine which improves low-light photos.
iPhone 14 Pro and iPhone 14 Pro Max also have the emergency features like Crash Detection and Emergency SOS via satellite.