AMD's upcoming Ryzen 9 8940HS "Hawk Point" APU has made its appearance on Geekbench, revealing specifications and performance that suggest a modest refresh over its predecessor, Ryzen 7040 "Phoenix Point". The APU is part of the Ryzen 8040 family, which is expected to be officially unveiled at CES 2024.
Key Specifications
The AMD Ryzen 9 8940HS "100-000001319-50_Y" is an 8-core, 16-thread APU with a base clock of 4.0 GHz and a boost clock of 5.2 GHz. It features 16 MB of L3 cache and 8 MB of L2 cache and has a TDP of 35-54W. The APU is part of the Ryzen 8000 "Hawk Point" family.
Read more: How to read AMD processor name
Ryzen 9 8940HS Quick Specs
8 cores, 16 threads
Base clock: 4.0 GHz
Boost clock: 5.2 GHz
16 MB L3 cache, 8 MB L2 cache
TDP: 35-54W
Integrated Radeon 780M iGPU with 12 compute units
RDNA 3 architecture
Performance Benchmarks
Single-core: 2596 points (4% increase over Ryzen 9 7940HS)
Multi-core: 13,258 points (12% increase over Ryzen 9 7940HS)
In performance benchmarks, the AMD Ryzen 9 8940HS APU achieved a single-core score of 2596 points and a multi-core score of 13,258 points. These results represent a 4% improvement in single-core performance and a 12% increase in multi-core performance compared to the Ryzen 9 7940HS.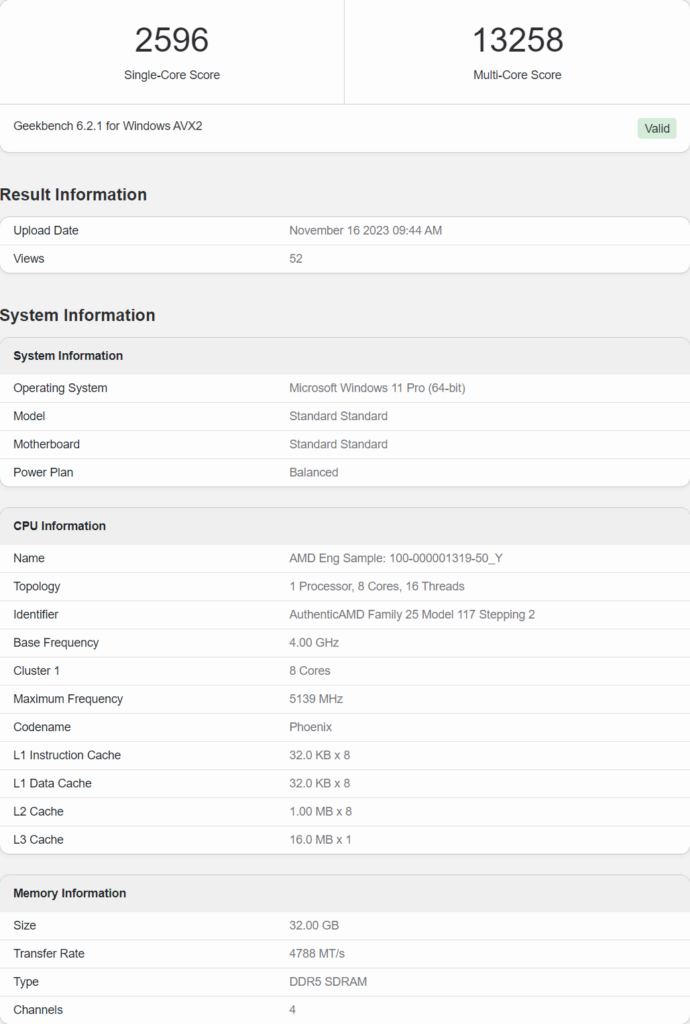 The AMD Ryzen 9 8940HS APU retains the same Radeon 780M integrated graphics with 12 compute units and RDNA 3 architecture as its predecessor. It was tested in a laptop with 32GB of DDR5-4800 memory, but the manufacturer was not specified.
Read More: AMD Ryzen 8000 "Strix Point" APU Leaked
Conclusion
The AMD Ryzen 9 8940HS "Hawk Point" APU appears to be a minor refresh of the AMD 9 7940HS, with slightly improved performance. While the performance gains are not substantial, the APU is expected to offer enhanced efficiency and compatibility with the upcoming FP7, FP7R2, and FP8 mobile platforms.
This is the first Ryzen 8040 series APU to appear on Geekbench, and we will hopefully see more of the SKUs in this series enter testing.