We all know Qualcomm Snapdragon has been a dominant force in the Android smartphone market. But, when it comes to Windows-on-Arm laptop processor, Snapdragon has been less than stellar. This might change with newly announced Snapdragon X Elite SoC.
Qualcomm announced their latest Windows-on-Arm laptop processor Snapdragon X Elite along with launch flagship mobile processor Snapdragon 8 Gen 3.
The latest Snapdragon X Elite SoC, featuring the brand-new Oryon CPU cores, might change things in the Windows laptop CPU market dominated by AMD and Intel.
Qualcomm has been trying for years for pie of Windows laptop processor. The journey started with Snapdragon 8cx Gen 1 then some more generations. This was not enough for to gain much interest from Laptop manufacturers and consumers alike.
Things took a change in direction with Qualcomm's Nuvia acquisition from early 2021 paving way for what we have today, Oryon CPU cores powering Snapdragon X elite processors.
Now, let's dive deeper into the next generation of Qualcomm's laptop chips.
Technical Specifications of Snapdragon X Elite
CPU – Prime Cores: 12x Oryon, 3.80 GHz (2C Turbo: 4.3GHz) | mfg Process: 4nm
GPU – Adreno SD X Elite: 4.6 TFLOPS
NPU/AI – Hexagon: 46 TOPS (INT4)
Memory – LPDDR5x-8533: 136GB/sec | Capacity: Up to 64 GB
Storage – UFS 4.0
Connectivity – Wi-Fi: Wi-Fi 7 + BE 5.4 (Discrete) | Modem: Snapdragon X65 (Discrete) | USB – 3x USB-C, USB 4
High Level Overview
Snapdragon X Elite comparison with previous generations
Snapdragon X Elite
Snapdragon 8cx
Gen 3
Snapdragon 8cx
Gen 2
Snapdragon 8cx
Gen 1
Prime Cores
12x Oryon
3.80 GHz 2C Turbo: 4.3GHz
4x C-X1
3.00 GHz
4 x C-A76
3.15 GHz
4 x C-A76
2.84 GHz
Efficiency Cores
N/A
4x C-A78
2.40 GHz
4 x C-A55
1.80 GHz
4 x C-A55
1.80 GHz
GPU
Adreno
SD X Elite
4.6 TFLOPS
Adreno
8cx Gen 3
Adreno 690
Adreno 680
NPU
Hexagon
46 TOPS (INT4)
Hexagon 8cx Gen 3
15 TOPS
Hexagon 690
9 TOPS
Hexagon 690
9 TOPS
Memory
8 x 16-bit
LPDDR5x-8533
136GB/sec
8 x 16-bit
LPDDR4x-4266
86.3 GB/sec
8 x 16-bit
LPDDR4x-4266
86.3 GB/sec
8 x 16-bit
LPDDR4x-4266
86.3 GB.sec
Wi-Fi
Wi-FI 7 + BE 5.4
(Discrete)
Wi-Fi 6E + BT 5.1
Wi-Fi 6 + BT 5.1
Wi-Fi 5 + BT 5.0
Modem
Snapdragon X65
(Discrete)
Snapdragon X55/X62/X65
(Discrete)
Snapdragon X55/X24
(Discrete)
Snapdragon X24
(Discrete)
Process
4nm
Samsung 5LPE
TSMC N7
TSMC N7
Source: Anandtech
The Oryon CPU: A Game-Changer
The Oryon CPU cores are the result of Qualcomm's acquisition of Nuvia in early 2021. These cores are designed to be high-performance, fully-custom Arm CPU cores, marking a significant departure from Qualcomm's previous reliance on Arm's Cortex designs in previous generations like 8cx.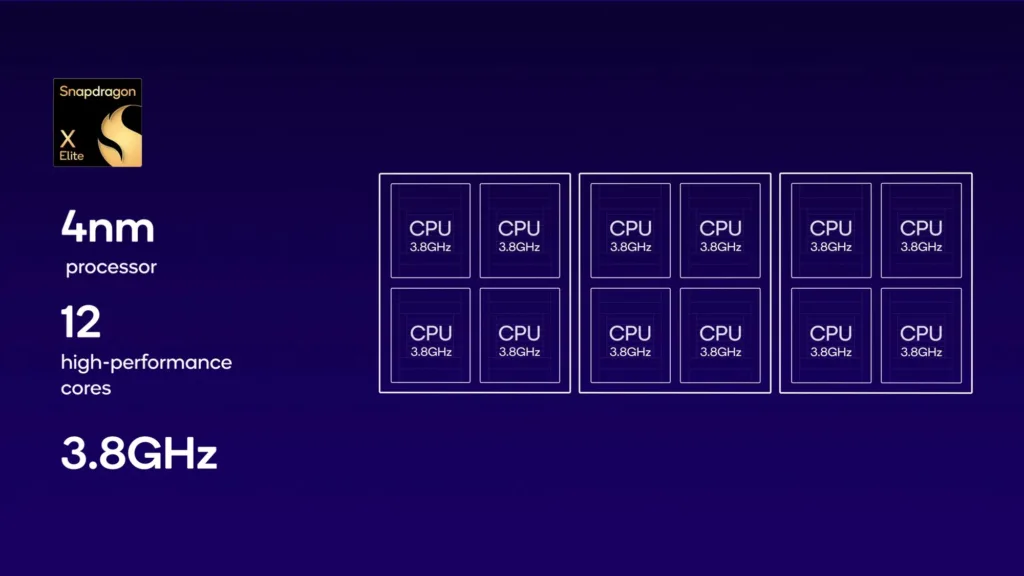 Unlike its predecessors, the Snapdragon X Elite SoC will feature 12 Oryon CPU cores, replacing the traditional big.LITTLE architecture for a homogenous CPU design. This is a great move that could redefine the performance metrics for Windows-on-Arm laptops.
Memory Powering the Orion CPU
The Orion CPU is powered b latest LPDDR5x RAM which can go up to insane 8533 Mbps. Making X Elite with one of the fastest memory in the market. The connection between RAM and CPU will be via 128-bit LPDDR5x memory bus.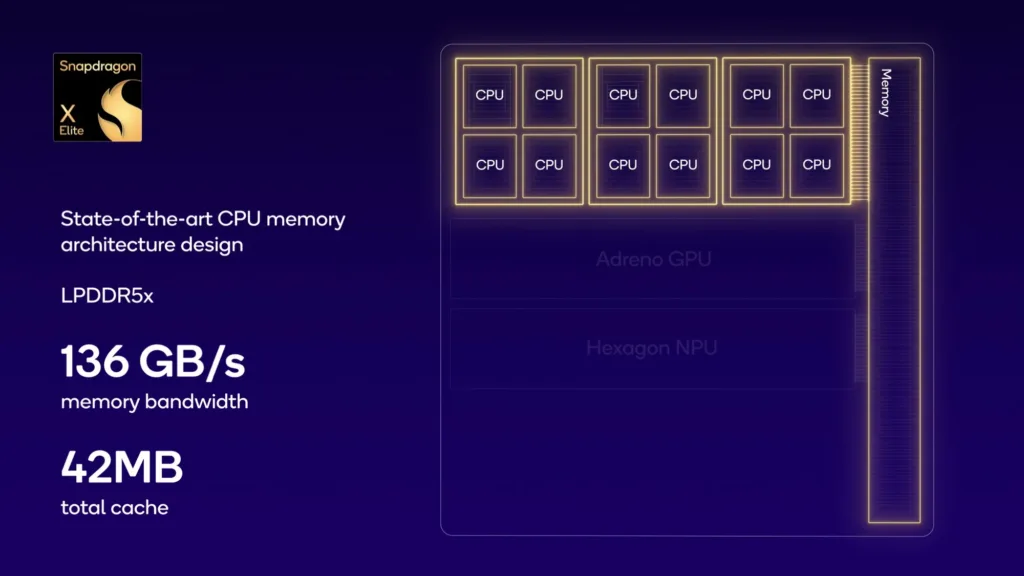 Coming to cache, Qualcomm has stated total combined cache (L2 + L3) at 42MB. This is the total of all cores. In comparison, Apple M2 processor at 28 MB combined cache and M2 Pro has 56 MB of combined (L1 + L2) cache. So
The GPU : Powered by latest Adreno
The Snapdragon X Elite also features Qualcomm's latest generation Adreno GPU, which supports DirectX 12 and ray tracing.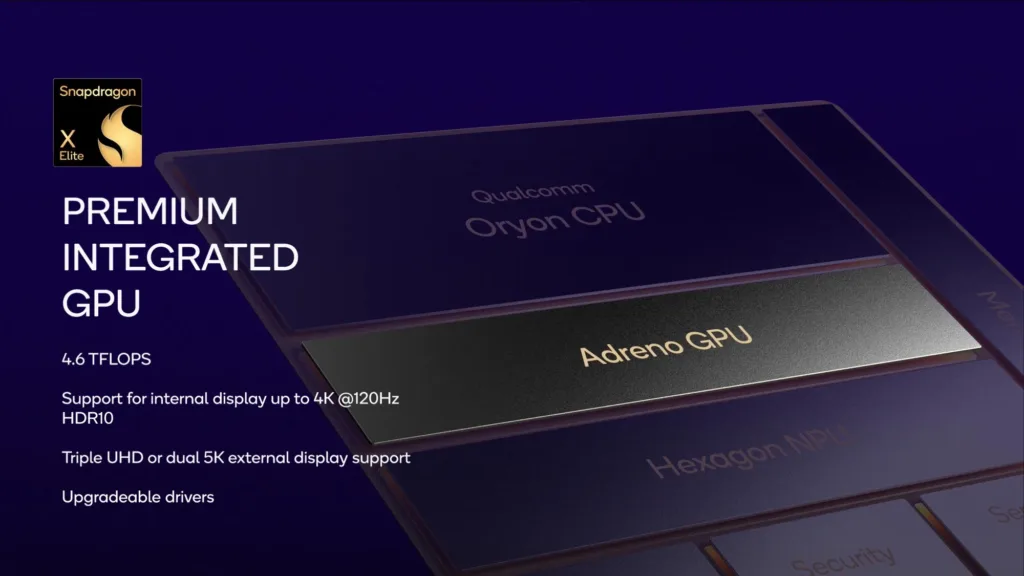 The GPU game of Snapdragon has always been great. No surprise, the GPU specs of Snapdragon X elite is great too.
NPU: ready for AI era
On the AI front, the Hexagon NPU has been significantly revamped, offering 45 TOPS of performance, a substantial increase from the previous generation.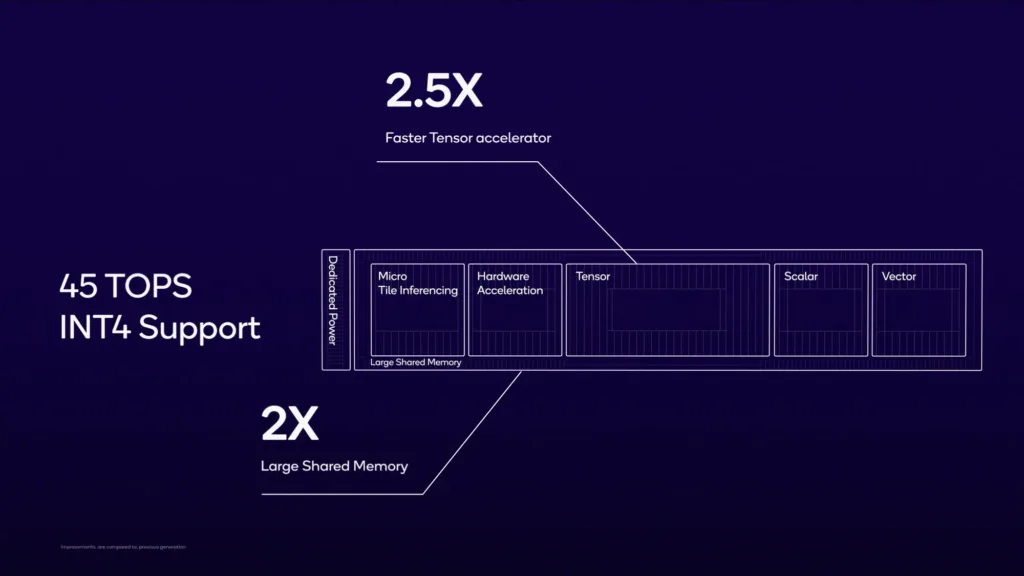 Qualcomm categorically stated capability of X Elite to run generative AI workloads, like –
running 7b Llama 2, at an astounding 30 tokens per second.
Ability to run generative AI LLM models over 13B parameters on-device with blazing-fast speeds.
I/O Capabilities
The SoC supports USB4 and offers PCIe 4.0 connectivity for NVMe storage. Interestingly, both Wi-Fi and the modem are discrete components, indicating Qualcomm needing this processor in market as soon as possible, as integrating their own Wi-Fi- modem would have taken more time.
Performance Metrics and numbers
Qualcomm claims that the Snapdragon X Elite delivers twice the multithreaded performance in Geek bench 6 compared to an Intel 12-core mobile CPU design.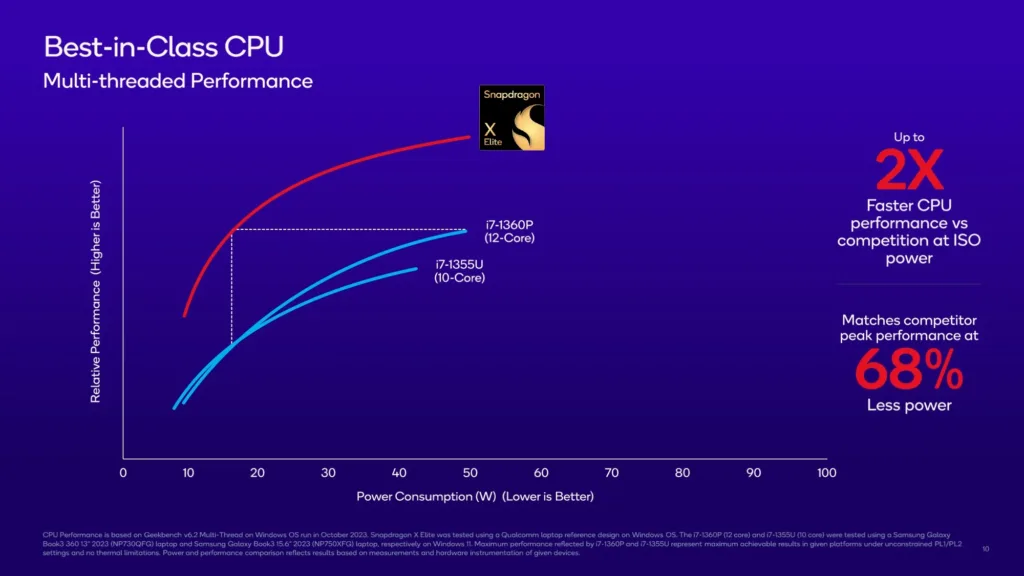 Even more impressively, it reportedly achieves this at one-third of the power consumption. Against Intel's best 14-core (H-class) chips, Qualcomm still leads by 60% in performance.
Even though X Elite numbers are great. They are practically comparing to be launched (2024) Processor with current gen Intel processors. Gap ma reduce by then
The Road Ahead
The Snapdragon X Elite is slated for a mid-2024 release, and it's clear that Qualcomm is betting big on this chip. It will not only define the company's future in the Windows-on-Arm laptop market but also set the stage for its next generation of mobile SoCs.
Conclusion
The Snapdragon X Elite SoC is a defining moment for Qualcomm. With its Oryon CPU cores, revamped GPU and NPU, and cutting-edge I/O capabilities, this chip has the potential to redefine the Windows-on-Arm landscape. Apple has already proved ARM powered PC CPU's can be beast, especially in perf/Watt.
Thus, Snapdragon X Elite is not just an incremental update; a substantial shift. And if Qualcomm's performance claims hold up, Intel, AMD, and even Apple should be on notice.