Nearly two weeks after its official launch, Threads' iPhone app is getting its first significant update. Many features that are currently available on Twitter will soon be added to the app. It hasn't updated its Android app yet.
Since its launch on July 6, 2023, Instagram Threads has generated a lot of buzz online. Given that Twitter was in a tizzy about recently announced restrictions and regulations, the timing of Threads' arrival on the scene may have been a little too perfect. Currently, Threads is here with a brand-new upgrade.
According to Cameron Roth, the creator of Threads, the most recent iOS version has a few minor changes as well as translations, a feature that is quite vital. Because Meta is presently engaged in litigation on laws that restrict its ad business there, the EU is one major exception to the general availability of Threads. Being able to translate posts is essential on a worldwide social network.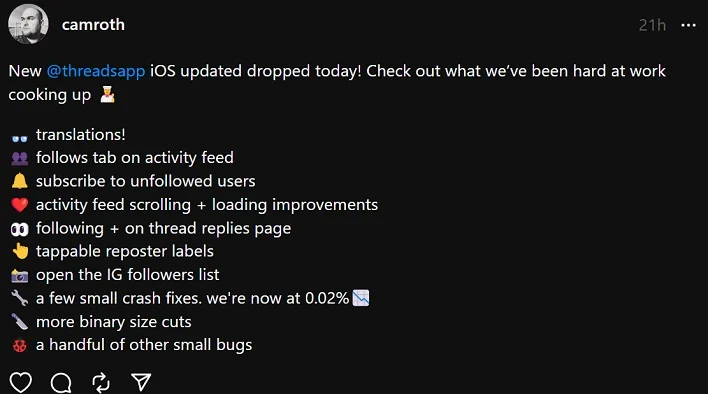 The most recent version allows users to subscribe to other people's posts without really following them. There are also other bugs that were fixed that some users had with the app when the first version was released two weeks ago. Though it is a direct competitor of Twitter, Threads positions itself as a text-based extension of Instagram. Some well-liked features that both Instagram and Twitter offer, such as DMs (direct messaging), are still missing from the new Meta app.
The most recent revision of Threads also adds a little background modification to the activity stream. These are referred to as "tappable reposter labels." It displays a user's Instagram followers and enables one to subscribe to those who have unfollowed them. Despite the fact that the update is currently accessible, Cameron Roth warns users that they might need to restart the app or wait until the end of the day in order to see the changes.
Although Adam Mosseri, the head of Instagram, reiterated in a Threads post that Threads has no desire to replace Twitter, the platform was launched with the slogan "Twitter killer." When compared to Twitter, Threads does lack some features, such as revealing the number of views. This would prevent the user from learning how many times their post was read.
There have been recent reports of declining Twitter user traffic. Adam Mosseri, the CEO of Instagram, says that the new text-based Instagram app Threads from Meta is the "public square" for organisations "that never really embraced Twitter."