Intel's highly-anticipated Meteor Lake CPUs are once again in the news, with the latest leak revealing the Intel Core Ultra 7 1002H 16-Core CPU on Geekbench. This is not the first time that this SKU has been spotted online, as it was also seen on Intel's own database a few weeks ago.
There have been multiple leaks about the new CPUs in the past week, including information about a new naming convention. Intel is reportedly planning to name their forthcoming mobile series as "Core Ultra 100H." This would be a departure from the previously used 1000H naming scheme.
While there are still a significant number of 1000H engineering samples undergoing testing, the recently surfaced CPU labeled as Core Ultra 1002H is not a new processor. It is highly likely that this pre-production sample is actually the Core Ultra 165H, which is a higher-tier SKU in the Core Ultra 100H lineup.
Intel Core 7 1002H Specifications
The Intel Core Ultra 7 1002H "Meteor Lake" CPU is a 16-core processor with 6 P-Cores and 10 E-Cores. It has a base frequency of 3.40 GHz and a boost clock of up to 5.0 GHz. The CPU also has 24 MB of L3 cache. In Geekbench 6 benchmarks, the CPU scored 2439 points in single-core and 12,668 points in multi-core, which is on par with the Core i9-13900H.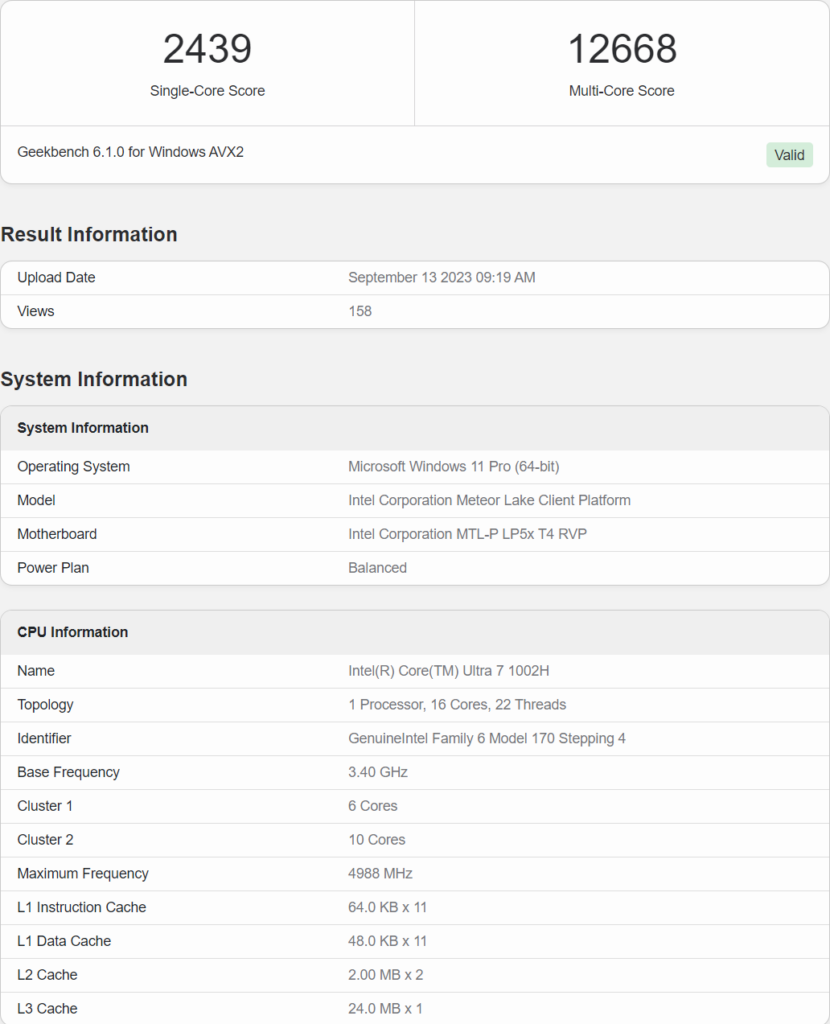 The Intel Core Ultra 7 1002H "Meteor Lake" CPU is a qualification sample, which means that it is a pre-production model that is still being tested. The distinct nomenclature and the fact that it is being tested on Intel's reference platform suggest that this is a high-performance SKU.
The CPU scored 2439 points in the single-core Geekbench V6 benchmark, which is the highest score for any Meteor Lake CPU so far. The multi-threaded score was also very good, at 12,668 points. This puts the CPU on par with the Core i9-13900H, which is a 14-core chip based on the Raptor Cove & Gracemont architectures.

The variance between the single-core and multi-threaded scores is only 1.4%, which is well within the margin of error. This suggests that the CPU is well-balanced and performs well in both single-threaded and multi-threaded tasks.
Intel will unveil the Meteor Lake CPU at the Innovation 2023 event next week.