The developer of PUBG and Callisto Protocol is best known for its games. But today, the team showed off something very different. The company recently gave a teaser about Ana, a "hyper-realistic" virtual human being, meant to "assist" in the development of Web3.
Kraton debuts its "virtual human" technology in February with a demo that features "motion-capture-based vivid movements, pupil movements enabled by rigging technique, and even real baby hairs on the skin." The publisher announced its intention to use carefully designed virtual humans in its games and Esports demonstrations, as well as to create truly virtual influencers and singers such as "robot" Instagrammer Miquela.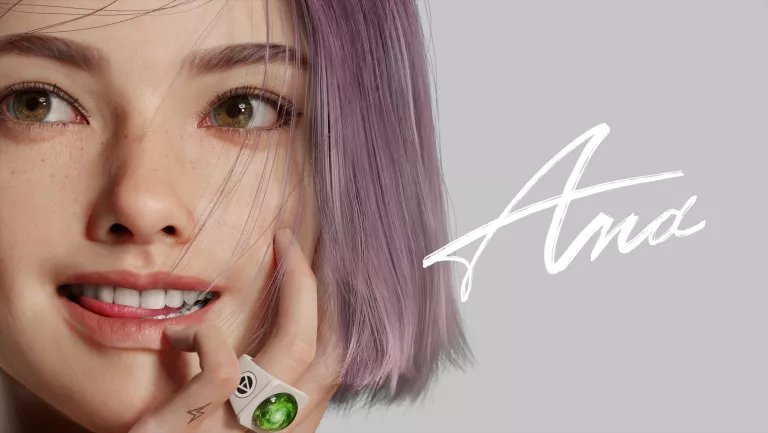 ANA, developed by Krafton, which is also known for the popular battle royale game PlayerUnknown Battlegrounds, was announced on Wednesday in a pair of images. Stills feature only her head – or more accurately, her face – but show a pink-haired and playful woman who looks as if she's deeply intrigued by what you're going to say next.
Based on the images, ANA does look somewhat real. Still, there is something off about the teeth, her too-perfect skin, and the plasticky-looking fingers lightly touching her cheeks. It is nevertheless quite striking thanks to the inclusion of imperfections such as faint pores, wrinkles, and hairs on the skin.
The character was built using Unreal Engine — which itself has a tool specifically for realistic digital people — along with what Krafton describes as "hyperrealism, rigging, and deep learning."
"We expect her to attract the interest and popularity of Gen Z around the world," Josh Seokjin Shin, head of Krafton's creative center, said in a statement. "Ana will release an original music track and expand her scope of activity as an influencer into various areas across entertainment and esports."
The transition to Web 3.0
Through the creation of 'Ana,' Krafton is probably aiming to tap into the Web 3.0 ecosystem. "ANA proudly displays a hyper-realistic appearance, blurring the lines between a digital character and a real human. With human-like features, such as the baby hairs and fluff on her skin, ANA truly looks, unlike any other virtual human that currently exists through other technologies," Krafton wrote.
As the third generation of web technologies evolves, Web 3.0 will become the future of evolved and advanced virtual platforms. As the concept relies on machine learning and artificial intelligence, it combines with decentralized blockchain technology. As gaming and social media platforms expand into the metaverse, new forms of interaction are added, creating an immersive virtual world and the gaming company expects Ana to "help establish" its Web3 ecosystem.