Redragon makes good budget mechanical keyboards. Those who want to get the taste of mechanical keyboards often start with something low-priced, like Redragon Keyboard. But, Redragon knows how to make good keyboards under budget.
Redragon has a host of keyboards in the budget segment and we will talk about the one "K599". Redragon K599 is a wireless 60%, 70 keys, compact keyboard. Costing just about ₹4299 ($55.99), it is perfect for people getting into the world of mechanical keyboards or even someone who wants a compact wireless keyboard.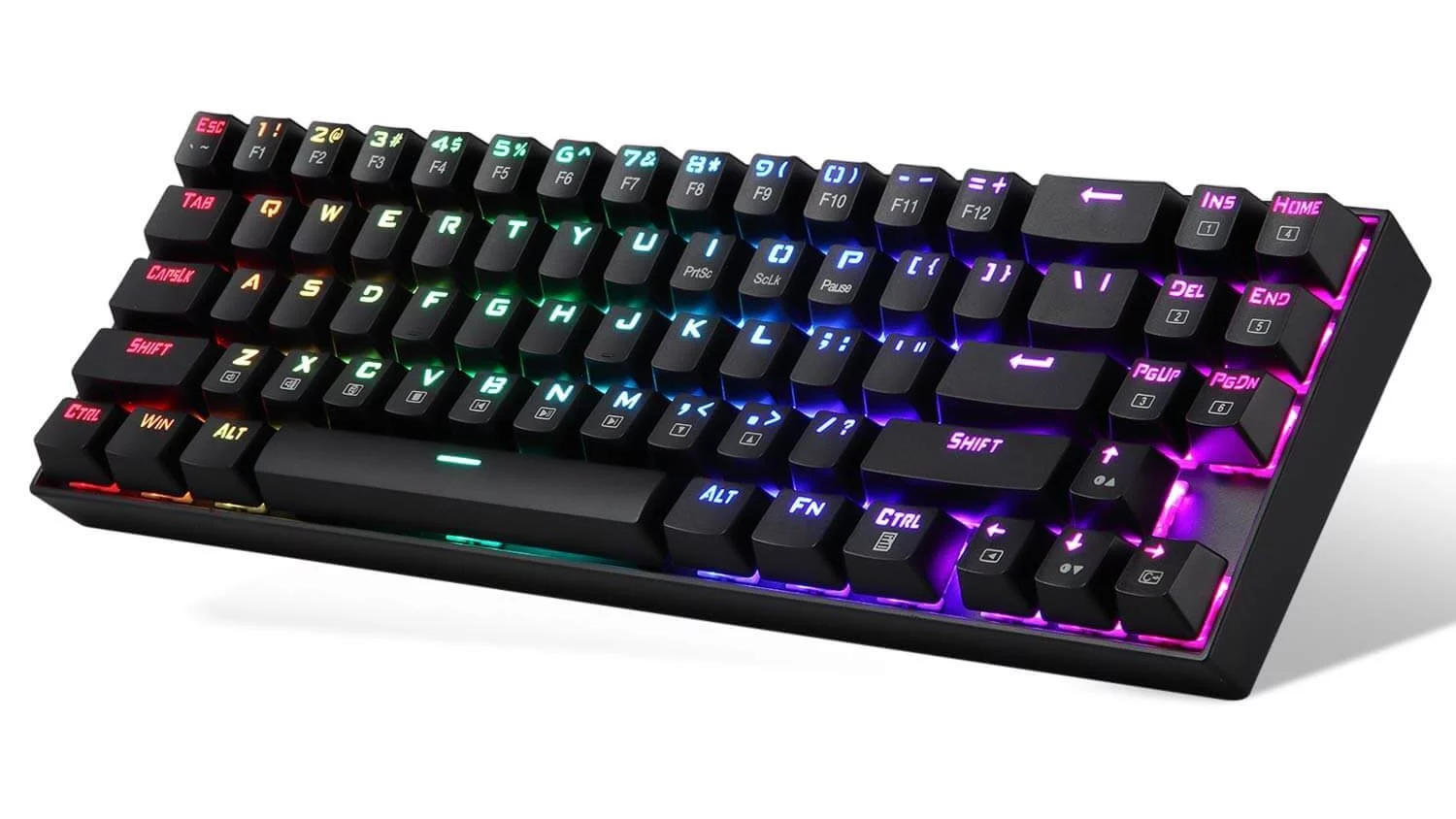 Is Redragon K599 any good? Here's our review of the Redragon K599.
Let's divide the review into 5 parts.
Switches
Keycaps
Overall Build Quality
Latency, RGB
Battery Life
Redragon K599 has a really good build quality
Despite being a budget mechanical keyboard, the overall build quality of the keyboard is awesome. The PCB plate is made of metal, most probably some steel, and the base is plastic. Although the plastic used is of good quality with a good finish.
If you tap on the bottom of the keyboard, it won't feel too hollow which affects the sound of the keyboard. It weighs 660 g which is not too light, not too heavy. Perfectly balanced as all things should be. It has a "one-level" retractable stand for more inclination if you need it.
Overall: 8/10 for design, ergonomics, material and build.
Redragon K599 has generic Outemu switches but you can change it if you want
Redragon K599 sports linear Red Outemu switches which is the mostly found in budget keyboards. But, thanks to the keyboard's hot-swappable ability, you can change the switches to anything you like.
Note: It only supports 3-pin, Cherry-style switches.
Stock switches are not bad by any means but it is not great either. This keyboard uses its own stabilizers which are pre-lubed and perfectly fine.
The linear Red switches are light to type on and perfectly fine for fast typing or gaming. The sound it produces is relatively silent and "click" is more pronounced and high-pitched. If you are a beginner, this won't matter much since you will have nothing to compare the sound with.
Overall: 6/10 for switches sound, actuation force and typing experience.
Redragon K599 keycaps are amazing for the price
The keycaps used on the K599 are ABS double-shot. The quality of keycaps is amazing and is perfect to type on. Although the fonts used are not very tasteful, they can boil down to personal preference.
Quality-wise, they are good plus they are shine-through keycaps. RGB lights will illuminate the keycaps' letterings which look really good when RGB is on.
Overall: 9/10 for quality, weight and fonts.
RGB on the Redragon K599 is good enough but not the best
Many RGB keyboards under budget feature RGB with zone lighting and do not give you the option to use a single colour. Redragon K599 has a number of lighting effects along with a few solid colours.
This was one of the selling points for me since I wanted a solid white or blue colour for lighting. Although it has software support, it is only supported under wired mode. The software is not very impressive and offers very little in terms of customisation.
You can change the lighting effects and colours on the keyboard itself with different key combos which you will find in the manual.
Overall: 8/10 for lighting effects, software and customisation
Redragon K599 has no issues with wireless connectivity or latency
Redragon K599 offers two modes for connecting to your host device. Type-C detachable wired mode and 2.4GHz wireless mode. You will find the receiver in the housing at the bottom of the keyboard.
There is usually no noticeable lag in registering the keypresses, there were a couple of instances where the keyboard started to lag for a few seconds.
Apart from that couple of instances, I did not notice any latency issues while typing or even gaming. Although you might want to use the keyboard on wired mode while competitive gaming since there is no way to tell when the battery will exhaust leaving you disconnected in the middle of the game.
Overall: 9/10 for connectivity options and latency
Redragon K599 has a good enough battery life
The battery life on Redragon K599 is quite impressive. With RGB on, I was getting 3 days of battery life on a single charge with around 10-12 hours of daily usage. With RGB off, I was getting 4 to 5 days of battery life on a single charge.
On heavy usage, the keyboard can manage at least 30 hours of battery backup with RGB on so you don't have to worry about charging the keyboard every other day.
Overall: 7/10 for battery life
Final Verdict
Redragon K599 is an excellent value keyboard at a price below 5000. Plus, it offers wireless mode and a good RGB (single colour + RGB). You can buy this keyboard if you are looking for a compact wireless keyboard at an absolutely low price.
If you are up for it, you can make the keyboard even better by modding it which is easier since it is also hot-swappable.
Redragon K599 Mod Guide
This is a very simple mod and there isn't any lubing or any other complicated process involved. The goal of this mod was to make the keyboard look and sound better.
What you need:
A keycap puller and a Switch remover are included in the box along with some extra switches. You can use the provided tools or get a keycap/switch puller like this one.
A screwdriver
Foam (optional)
Switches of your choice
Keycap sets
Removing the Keycaps from Redragon K599
The first step is to remove all the keycaps. Hold your keycap puller and press down on the keys from the side. You will hear a small click at the end when your keycap puller has caught the key. Pull it with a little force and your keycap will be out.
Pull off all the keycaps one by one and 25% of your work is done. If you just want to replace the keycaps with a new one, you can put the keycaps back on.
Removings switches from the Redragon K599
The second step is to remove the switches. Getting out the Outemu switches is notoriously hard and you will have to use a considerable amount of force. You will have to wiggle the switch a little before completely pulling it out.
Putting back Matcha Green switches
I have used Akko switches which is the best balance between cost and performance. Specifically, I have used Akko Matcha Green (linear) switches. I got 2 packs of 45 switches since the keyboard has 70 switches.
If you are doing this for the first time, take care when aligning the pins onto the PCB plate. If you are not aligning it properly, you will bend the pins.
Repeat the process until you fill out each key with the new switches. You can lube the switch if you want but it's a tedious process and requires too much patience, which I clearly didn't have! The switches I used were factory-lubed so I didn't bother lubing them again.
Do a test to see if all the switches are put properly
Connect your keyboard to your PC and open up this website. It will help you see if any switches are bent or not connected properly. If all looks good, you can go ahead and put all the keycaps on.
You can also use it to put keycaps in the proper place if you don't remember the layout of the keyboard or forget any keys' positions.
Put the keycaps on the keyboard
The final step is to put all the keycaps on the switches. Check the layout of the keyboard and place all the keys in the proper position.
The keycaps I have used in this mod are TaiHo Ocean Deep ABS keycaps. Cost: ₹2099.
You are done!
Look at this beautiful keyboard. This is the final result of the keyboard after the mod.
What more can be done
This is a very simple mod, apt for a beginner. You can add foam between the case and the PCB plate to remove any hollow sounds. You can lube or film the switches, which again, is a tedious process and good switches usually do not need lubing.
If you wish to dampen the sound a bit more, you can lube switches. You can colour your case, or get a different case. You can even swap out the plate on top of the PCB for something like aluminium or brass for a more accentuated sound.
These things require more money and time. Swapping out the switches, and keycaps or adding foam are the easiest things to do and the most effective.
Where can you get the switches, keycaps, lubes, etc. in India?
There is a bigger market in countries like the USA for custom keyboards. On the other hand, the custom keyboards market isn't that huge in India. You will have a difficult time sourcing good parts in India without the need of importing them.
There are some websites where you can buy switches, keycaps and other things easily.
www.meckeys.com
www.stackskb.com
www.genesispc.com
www.keychron.in
These are websites specifically for keyboards. You can find some things on Amazon too but it is often priced significantly more.
Where did I get the things I used in this mod
Switches
Akko Matcha Green Switches – You can buy them from here.
Keycaps
Tai Ho Ocean Deep ABS keycaps – You can buy them from here.
Foam
From the packaging. 🙂
Keyboard
Redragon K599 – You can buy from here
The bottom line, Redragon K599 is an amazing keyboard. It's compact, has arrow keys and is hot-swappable. You can mod this keyboard to your heart's content. Even stock, Redragon K599 is a worthy contender in the budget mechanical keyboard segment.